Is bulging fat making you feel uncomfortable?
Liposuction may be the perfect solution for you. Liposuction removes fat from problem areas giving you a flatter and more toned appearance.
Our liposuction procedures are top notch. See for yourself with the before and after photos of our patients below.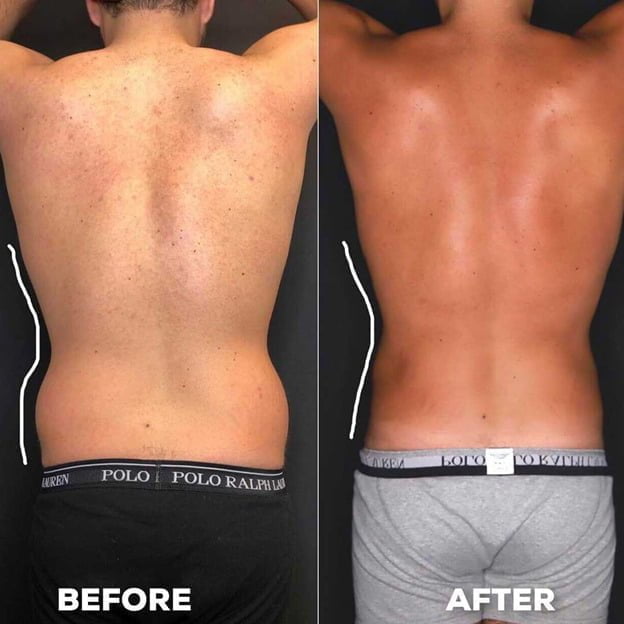 LIPOSUCTION IN BOWLING GREEN, KY AND NEWBURGH, IN
Are you unhappy with the appearance of stubborn fat cells that won't respond to diet and exercise? Are you looking to eliminate bulge for a flatter and more toned look? There is now a proven successful treatment for eliminating fat cells for a thinner-looking you. With effective in-office liposuction treatments, you can say goodbye to your unwanted bulge. Contact us today to discuss the best liposuction options available.
REQUEST A
CONSULTATION

---
Discover the best comprehensive cosmetic services and plastic surgery procedures. Our patient care coordinators are on hand to help you feel empowered and informed about the services available to you and are always available to answer any questions you may have about our practice, individual procedures, or office policies.
Contact us to schedule an appointment today.
START YOUR JOURNEY NOW
Take the first step toward achieving your aesthetic goals. Simply complete the form below to schedule an online consultation today.
WHAT IS LIPOSUCTION?
Liposuction, or lipoplasty, is an innovative treatment designed to target and remove the appearance of problem fat cells from the body. Common areas of the hips, thighs, stomach, and arms often accumulate stubborn fat cells that do not respond to diet and exercise. With our specialized, in-office liposuction procedure in Bowling Green, KY and Evansville/Newburgh IN, the fat cells are broken down and removed for a smoother and flatter shape and appearance. Treatments provide a personalized solution to help you look and feel your best.
BENEFITS OF IN-OFFICE LIPOSUCTION:
Minimal downtime
Performed in our fully accredited onsite AAAASF certified surgical facility
Natural looking results
HOW DOES IT WORK?
During treatment, a specialized solution is first injected into the treatment area. This solution is designed to make the cells easier to break up and eliminate. Once the injection takes effect, a series of tiny incisions are made near the targeted treatment area. A small tube is gently inserted through the incisions that provide the suction power necessary for removing the stubborn fat cells. The tube works to capture the broken down cells and eliminate them from the body permanently. Results are noticeable immediately following treatment and are long-lasting. This highly effective solution is a reliable remedy for achieving a slimmer looking you. For optimal results, liposuction can also be paired with other cosmetic procedures designed to provide the fat destroying results you desire.
WHO IS A CANDIDATE?
Anyone who is unhappy with the look of their body as a result of stubborn fat could benefit from this innovative solution. If you are looking for an effective treatment for removing fat and achieving a smoother and slim appearance, you could qualify as a candidate. However, the best way to determine if you are a candidate is through a consultation with one of our highly skilled plastic surgeons.
If you are ready to say goodbye to your problem fat, in-office liposuction in Bowling Green KY or Evansville/Newburgh IN could be the solution you have been searching for. Reach out to us here at Salameh Plastic Surgery to learn more. Contact us today and schedule your consultation!
MEET OUR PLASTIC SURGEONS
Salameh Plastic Surgery Center is a plastic surgery center dedicated to effective, natural-looking results for every patient. As a double-board certified plastic surgeon and graduate of both Vanderbilt & Yale, Dr. Bernard Salameh combines both a passion for his field with innovative techniques to benefit his patients. With an integrative approach to every procedure, our plastic surgeons use modern plastic surgery best practices and years of experience to create customized treatment plans made to reach each patient's goals while giving the most natural, anatomically proportional outcomes.

Dr. Salim (Sam) Saba is double-board certified plastic surgeon, Dr. Saba trained at the top-rated plastic surgery programs at The University of California San Diego and The University of Texas Southwestern. He has previously honed his skills at several major hospitals in New York City, and he put his skills to charitable use working with a non-profit during his five-year tenure at the American University of Beirut. Dr. Saba's approach to plastic surgery is deeply patient-centered; his philosophy can best be expressed by the statement he's most known for: "I will regard and treat you in the operating room and thereafter, as I treat my family and closest friends."
Contact us today to schedule your consultation!