See The Difference: ARTAS Before & After Photos
Hair Transplant Before & After
The Best Hair Restoration Treatment
Regain your confidence when you choose our hair restoration procedure using ARTAS technology. Take a look at real hair restoration before and after photos as well as reviews from satisfied patients to help you discover why our patients chose Dr. Salameh and ARTAS for their hair restoration surgery.
The Salameh Plastic Surgery Process
ARTAS robotic hair transplant is an FDA-cleared technology that is utilized by Dr. Salameh to provide natural hair restoration. It offers minimally invasive, permanent hair restoration with like the results shown in our before and after photos.
Schedule Your Personalized Consultation
What Our Patients Say
Dr. Salameh is committed to excellence, attentive to detail, and devoted to patient outcome. He is the epitome of professional.
Dr Salameh and his entire staff are amazing. He and his staff go above and beyond to make sure you are taken care of.
How it Works
Developed by hair transplant researchers collaborating with physicians, the ARTAS System uses robotic technology to reduce human error throughout the hair implantation procedure. It is a clinically proven solution that never uses staples or stitches. You get precise graft dissection and follicle placement to ensure zero damage to your hair and no scarring on your head. You'll never have to worry about how short you cut your hair to hide scarring from your procedure!
Avoid the long recovery time and unnecessary scarring and side effects from other procedures when you try ARTAS with Salameh Plastic Surgery.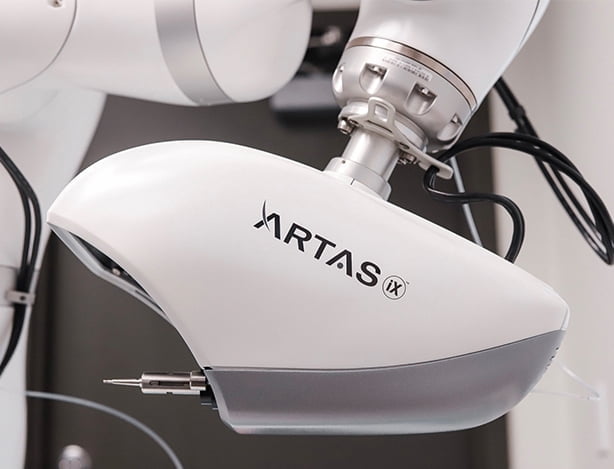 Working with the Best Team
Many studies show that by the age of 35, over 50% of men have suffered from hair loss, thinning hair, or a receding hairline. Discover how Dr. Salameh and his team can help you fight back against disappearing hair and achieve incredible results through the ARTAS System.
Meet the Plastic Surgeon
Dr. Salameh is committed to achieving natural-looking results based on the patient's anatomic characteristics and proportions. This commitment is reflective of an integrated approach to the profession designed to accommodate each patient's specific needs by combining the most advanced aesthetic techniques, surgical and nonsurgical procedures, a rejuvenating skin care regimen, and a superior artistic eye to achieve the most natural results.
Get in touch with our team now to schedule a consultation and discuss a change to your best asset. Speak with Dr. Salameh today!
Meet Dr. Salameh