Male Gynecomastia Frequently Asked Questions
Will gynecomastia go away with diet and exercise?

While men with "fatty" or false gynecomastia can improve their condition through weight loss through diet and exercise, those with glandular gynecomastia will likely not find these methods to be effective. Although diet and exercise may tone your chest, gynecomastia presents with thick glandular tissues in the breasts rather than excess fat. This means that diet and exercise are not effective gynecomastia treatments on their own.

What causes gynecomastia?

Experts are unsure why some men have unbalanced levels of estrogen to androgen. However, specific medications can lead to gynecomastia, as can the use of steroids, especially in the long term. 

What options do I have concerning surgery for gynecomastia?

Gynecomastia liposuction is the most successful treatment for this issue. The plastic surgeon will remove the excess tissue and then tighten the remaining skin over the chest. The plastic surgeon may also reposition the areolae and nipples if necessary. 

What is gynecomastia surgery recovery like?

The initial recovery period after gynecomastia surgery will likely take around 1-2 weeks. During this time, you should avoid strenuous activity. After this time has elapsed, you should be ready to resume normal activities, such as work and light cardio and lower body exercise, depending on your plastic surgeon's advice. Chest and upper body workouts should be paused until four weeks after your surgery, at which point you can begin to resume these activities incrementally.



How much does Gynecomastia Surgery Cost in Indiana & Kentucky?

Gynecomastia surgery starts at $5,900. Actual cost depends on several factors, including personal history, BMI, and desired outcome. A customized quote will be given during your consultation with our Patient Ambassador team.
Patient Reviews
Based on 623 reviews
S. Nicole
Dr. Saba is the absolute best!  He has the best bedside manner and is so very thorough and explains why he is is is not doing something. That only proved that there is thought to each body, not just the cookie cutter procedures. appreciated
His staff is second to none. I could not have asked for better ladies to take care of me. They are very thoughtful have been very tentative to my needs and have addressed every concern. There is not one bad thing I can say regarding Dr. Saba and his staff. If you are looking to get any procedures done please don't waste your time with others. He is worth every penny! Thank you Dr. Saba and all of your amazing staff!! Would 10/10 schedule a 100 times over. Get. The. Surgery!!
B. Emily
Dr. Saba and his whole surgery staff are so comforting and careful to listen to their patients. Would recommended to anyone!
M. Jennifer
I had Rhinoplasty and Breast augmentation at Salameh Plastic Surgery. I'm looking better everyday swelling and bruising wise. I've experienced ZERO pain during this whole process. That's right. ZERO PAIN (pain meds and a GREAT anesthetist, Erin).
R. Chandra
Dr. Salemehs office went above and beyond to make sure I was involved in everything going on for my surgery. It was explained in detail for every step, before and after care as well. 100% recommend
W. Jennifer
I have now had surgery with Dr. Salameh and Dr. Saba!  I have been very satisfied with both of them!  They are the best at what they do!  They both seem to love what they do and genuinely care about their patient's happiness!  I would highly recommend them to anyone!  They're top notch in my book!
W. Kelly
The experience was well above my expectations! Very knowledgeable staff (Jerri) as well as Dr. Salameh.   All of my questions were answered and they spent a lot of time educating me far beyond my questions. I learned a lot and Have already scheduled my next appointment. I'm not a big review writer but felt they deserved my time and anyone searching the reviews would appreciate hearing about my first time experience.
What's In The Blog?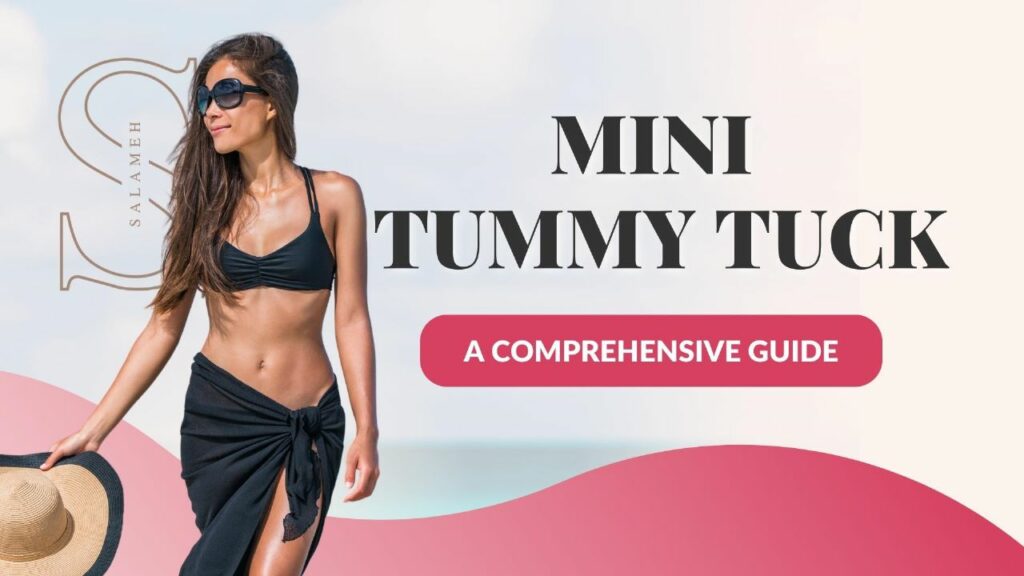 Mini Tummy Tuck: A Comprehensive Guide
A mini tummy tuck is a cosmetic surgical procedure that targets the lower abdomen. It is usually done to remove excess skin and fat, resulting in a flatter, more toned appearance. A regular tummy tuck is a more extensive procedure targeting the upper and lower abdomen. In contrast, a mini tummy tuck is a less…