Choose ARTAS Hair Transplants
At Salameh Plastic Surgery, we use the revolutionary robotic ARTAS System for all our hair transplant procedures. This sophisticated system is the most technologically advanced method for hair restoration surgery. Discover the newest revolution in the hair restoration industry through the unparalleled results and performance of ARTAS hair transplants.
ROBOTIC HAIR RESTORATION
The ARTAS System is a physician-assisted robotic transplant procedure that can restore hair for both men and women. It uses ultra-precise robotics and algorithms to perform FUE (follicular unit excision). It is minimally invasive to ensure natural results and negligible side effects.
For permanent results that last, there is no better choice than the ARTAS System. Within three months, you'll see visible hair growth that will continue over the course of the year. The best results are most noticeable about six months after the procedure.
See the results for yourself in our Before & After Gallery.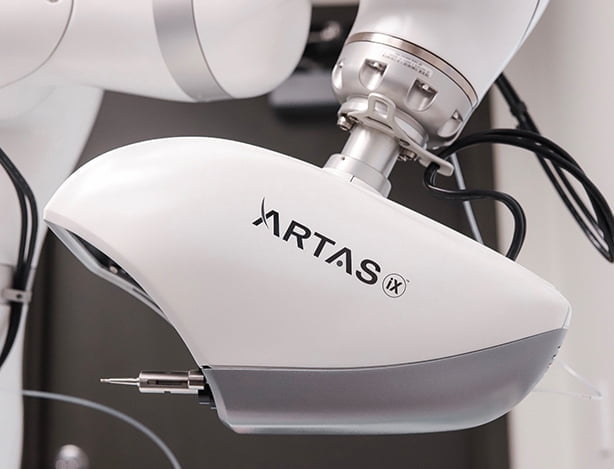 Benefits of ARTAS Hair Transplants
From thinning hair to receding hairlines and hair loss, the ARTAS System is capable of restoring hair for both men and women. Some of the advantages of this robotic system include:
Nearly Painless Procedure
No Scarring or Stitches
No Scalpel, Staples, or Suturing
Natural-Looking Results
Minimal Downtime
ARTAS utilizes precision robotics to provide accuracy, consistency, and speed throughout the procedure for better results than manual hair restoration methods.
ARTAS VERSUS TRADITIONAL METHODS
Created by Restoration Robotics, the ARTAS Robotic Hair Transplant System incorporates FUE into its automatic procedures. While it is physician-assisted, the risks associated with manual transplants are eliminated.
With traditional hair restoration methods, physicians had to undergo a labor-intensive procedure with each patient to manually dissect thousands of hair follicles from the donor area and transfer them to the scalp. A massive improvement on the original process, ARTAS hair transplants are quicker, safer, and much more accurate.
The ARTAS System identifies the best hair follicles from the donor area for processing. During extraction, it protects all follicles and delivers the highest quality grafts available. Due to the improved speed and consistency, you will experience successful restoration in just a single session.
ARTAS AT SALAMEH PLASTIC SURGERY
At Salameh Plastic Surgery, we believe that robotic hair restoration is the best option for anyone considering hair transplant surgery. We have used this technology on countless patients, and we have the experience necessary for successful transplants every time. Schedule a consultation with Dr. Salameh today to discuss whether ARTAS hair restoration is right for you!
Call us now!