Awake Liposuction in Indiana & Kentucky
Do you have stubborn fat that won't budge, even after diet and exercise adjustments? Are you looking for a minimally-invasive way to get rid of excess fat? Awake liposuction at Salameh Plastic Surgery Center may be a great solution for you!
Awake liposuction, also known as tumescent liposuction, is a procedure that targets unwanted or excess fat in the body. Unlike traditional liposuction, which requires general anesthesia, awake liposuction is performed while the patient is awake and alert. The patient can see the results as the procedure is performed, allowing for more control and communication with the surgeon.
The procedure is performed under local anesthesia, which takes a safe procedure under general anesthesia, and makes it safer.
Shorter recovery time compared to traditional liposuction.
The procedure is performed in our in-house, fully accredited, AAAASF-certified surgical facility designed for your safety and comfort in mind.
At Salameh Plastic Surgery Center, we are proud to offer our patients the latest and most advanced techniques in plastic surgery, including awake liposuction. Our experienced and highly qualified double-board surgeons are experts in this procedure and are dedicated to providing patients with the best possible results. Schedule a consultation with us to see how awake liposuction can help you look and feel your best!
Liposuction before and after
Results from Our Satisfied Patients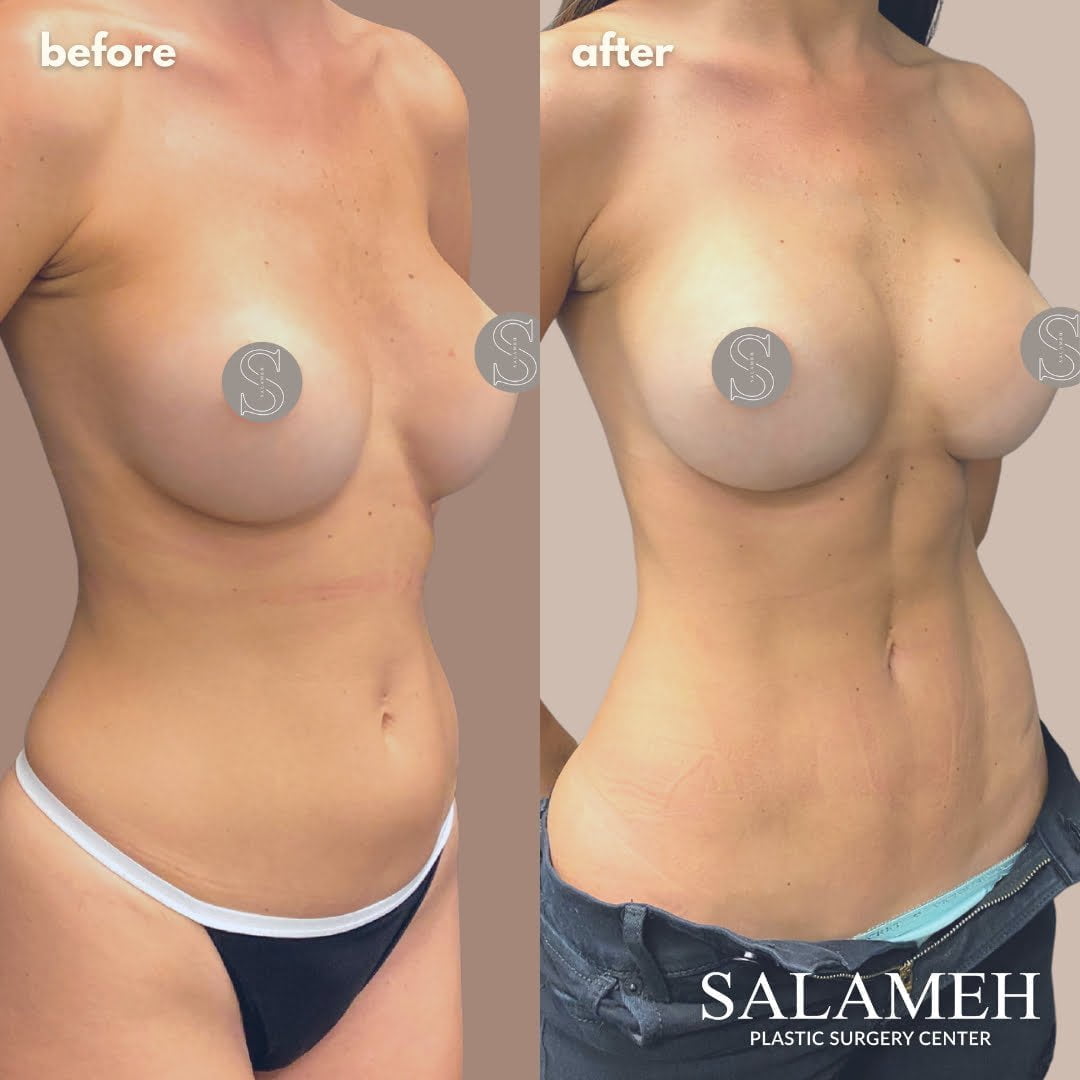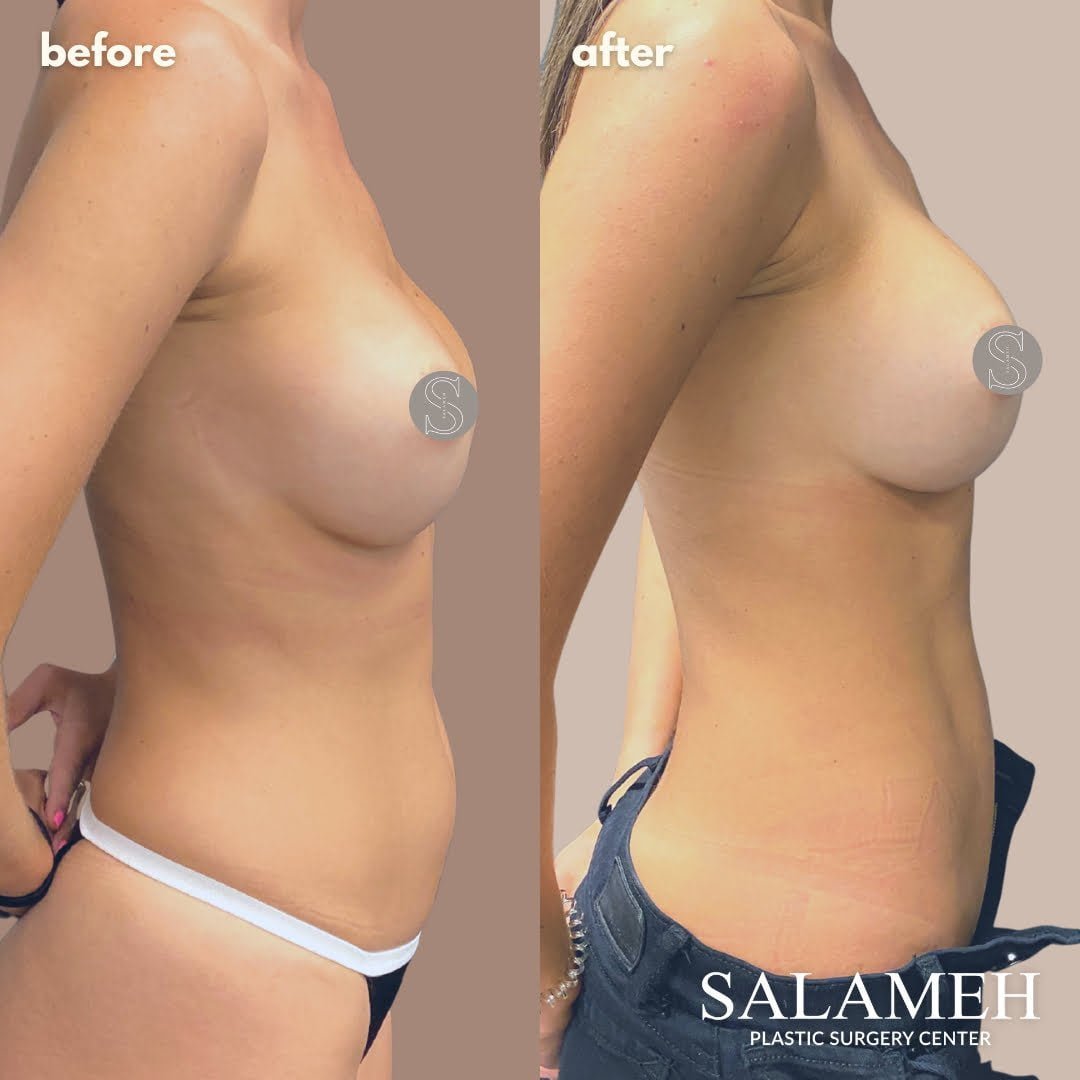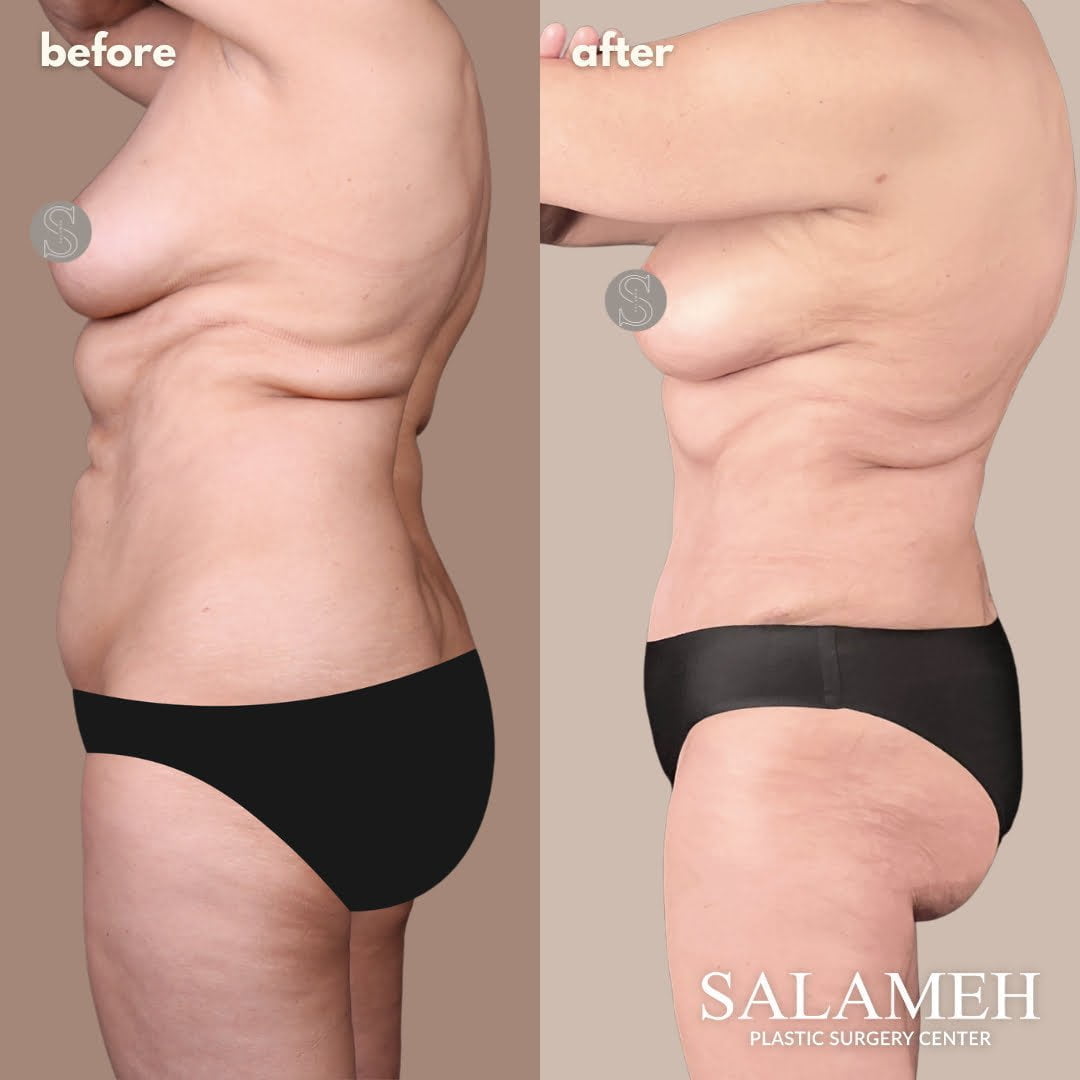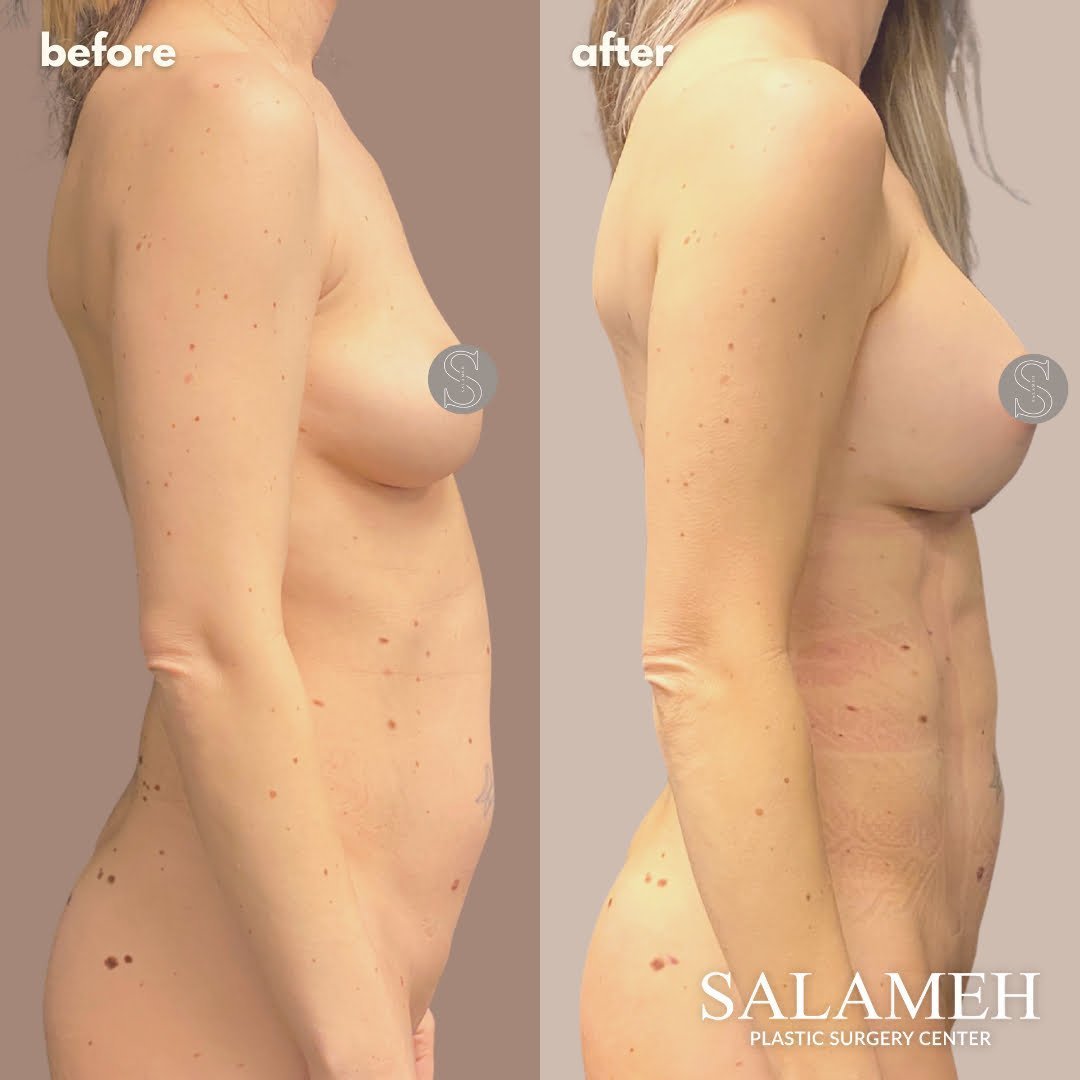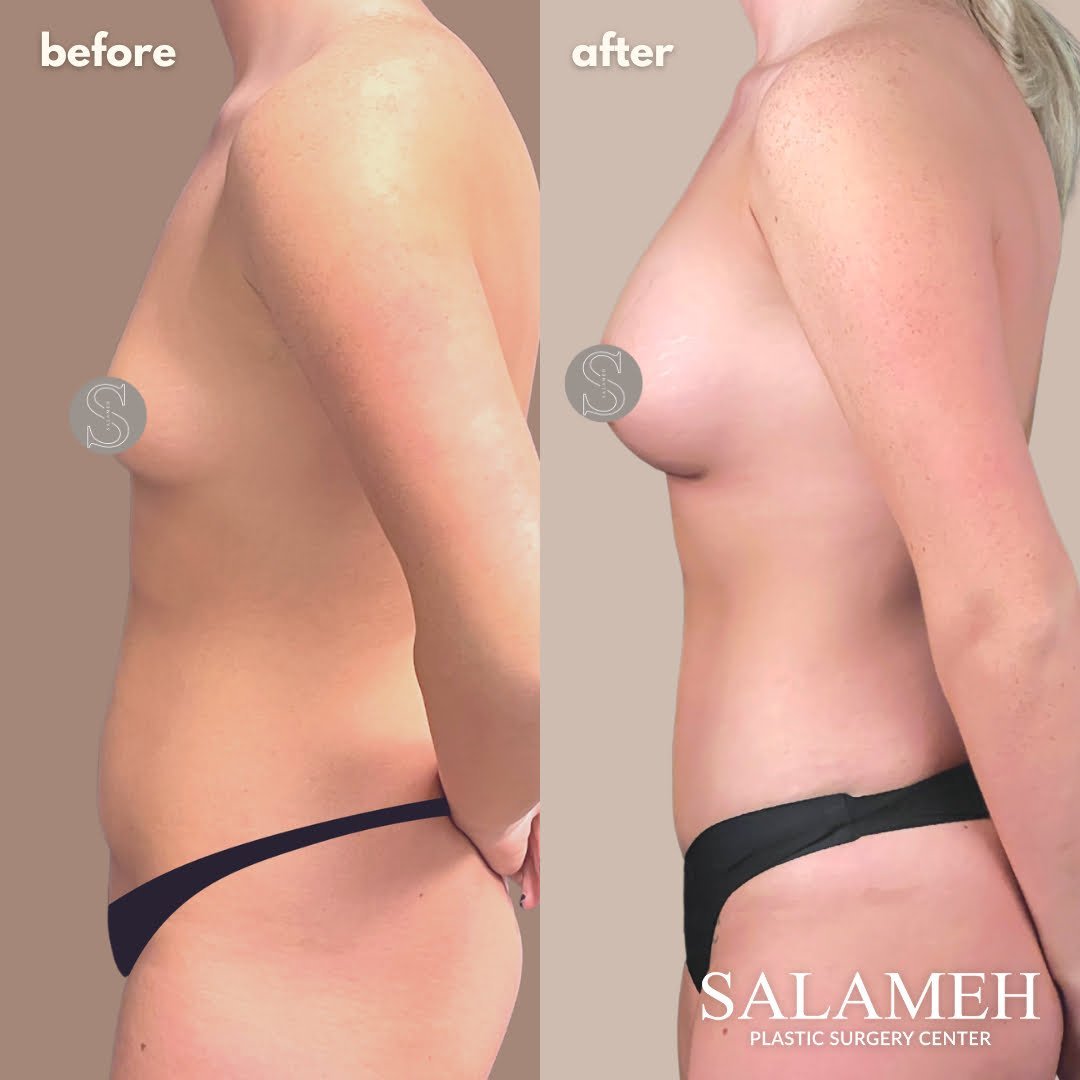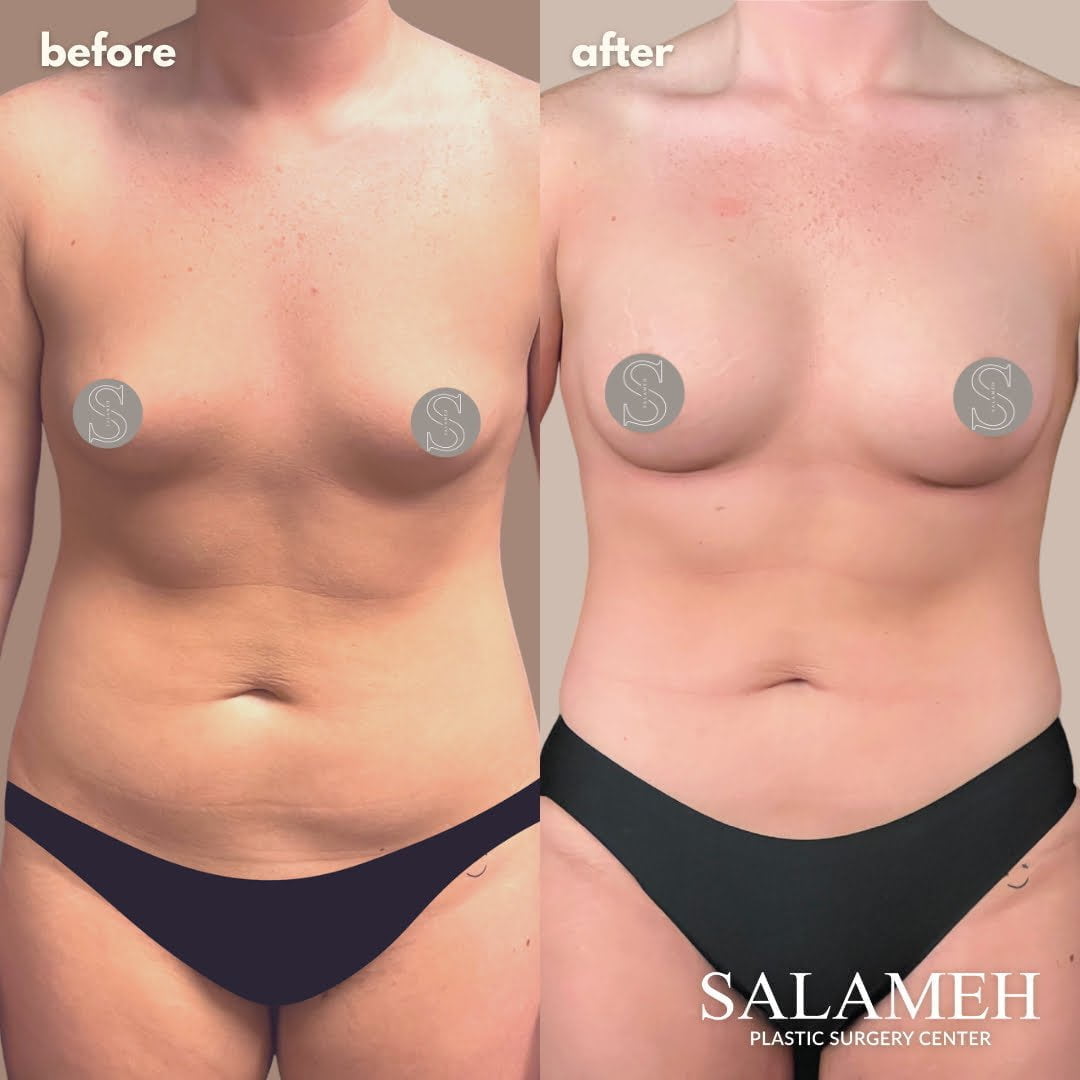 See More Before and Afters
Awake Liposuction Frequently Asked Questions
What is awake liposuction?

Awake liposuction, also known as tumescent liposuction, is a minimally invasive procedure that targets and removes unwanted or excess fat from the body. Awake liposuction is a less invasive and more efficient procedure than traditional liposuction. It offers several benefits to patients: seeing the results as the procedure is performed, reduced after-procedure pain and discomfort, and a natural-looking outcome.

How is awake liposuction different from other types of liposuction?

Unlike traditional liposuction, which requires general anesthesia, awake liposuction is performed while the patient is awake and alert. This allows patients to be more involved in the process and to have more control over their results.

Is awake lipo safer than other liposuction methods?

Awake liposuction is considered a safer option than traditional liposuction methods. This is because the tumescent technique involves the injection of a large volume of a local anesthetic solution into the treatment area before the procedure. This solution not only numbs the area but also helps to minimize bleeding and bruising during and after the procedure. Additionally, because the patient is awake and able to communicate with the surgeon during the procedure, there is less risk of complications such as nerve injury or skin damage.

 

However, it's important to note that liposuction is still a surgical procedure and therefore carries some inherent risks, such as infection, bleeding, and scarring. Also, Choosing an experienced and board-certified plastic surgeon and having realistic expectations about the outcomes is essential.

How does awake lipo feel?

Patients are generally awake during 'awake liposuction' although you may find yourself somewhat more relaxed than you would under normal circumstances. The main advantage is that the patient is responsive, so direct feedback is possible between the patient and surgeon.

How do I prepare for awake liposuction?

Since awake liposuction does not utilize general anesthesia, post-operative pain, nausea, and vomiting are not as much of an issue. With that said, avoiding any heavy meals within 6 hours of liposuction under local anesthesia is generally a good idea. Additionally, a cocktail of a mild sedative and an oral pain medication is usually given no less than one hour before the procedure to minimize pain and discomfort during liposuction.

Am I a good candidate for awake liposuction?

The ideal candidate for awake liposuction is someone who is in good overall health, within 30% of their ideal body weight, and has localized pockets of fat that are resistant to diet and exercise.
Awake liposuction is not recommended for pregnant people with a bleeding disorder or who have an active infection in the area to be treated.
The procedure is not a weight loss solution and is not recommended for significantly overweight people.
Risks associated with awake liposuction include bleeding, infection, and uneven contouring.
Having realistic expectations and understanding that the procedure is not a substitute for a healthy lifestyle and regular exercise is essential.
A consultation with a surgeon is necessary to determine if someone is a good candidate for the procedure. The surgeon will evaluate the patient's medical history, current health condition, and the areas of the body to be treated.
It is crucial to choose a qualified and experienced plastic surgeon to perform the procedure to minimize the risks and achieve the best possible outcome.
Our plastic surgeons will also discuss the expected results, recovery time, and potential risks and complications.

Does awake liposuction hurt?

While you will be fully awake during the procedure, local anesthesia enables us to provide a pain-free procedure. Swelling, bruising, and pain post-procedure are to be expected as part of the natural healing process.

How much does awake liposuction cost?

The cost of awake liposuction can vary depending on several factors, including the location of the practice, the experience of the surgeon, and the size and number of areas being treated. Awake liposuction starts at $3,900 per area and goes up depending on BMI, past medical history, and other factors.

How long does it take to recover from awake liposuction?

After the awake liposuction procedure, patients can expect swelling, bruising, and discomfort in the treated area. This is normal and will typically subside within a few days. 

The recovery process is usually shorter than traditional liposuction, and most patients can return to normal activities within a few days. However, it is important to avoid strenuous exercise and heavy lifting for at least a week after the procedure to allow the treated area to heal correctly.

When will I see results from awake liposuction?

Depending on how much fat is removed during your procedure, you can expect to see final results within one to three months.
Patient Reviews
Based on 623 reviews
Gerri
Hello I'm Gerri. I recently received a procedure at Dr.  Salameh's office by Dr. Saba. The healing process and body contouring results have completely exceeded my expectations. I have seen immediate results and I am looking forward to sharing my experience to inspire others to take that step in feeling good in your own skin.
What's In The Blog?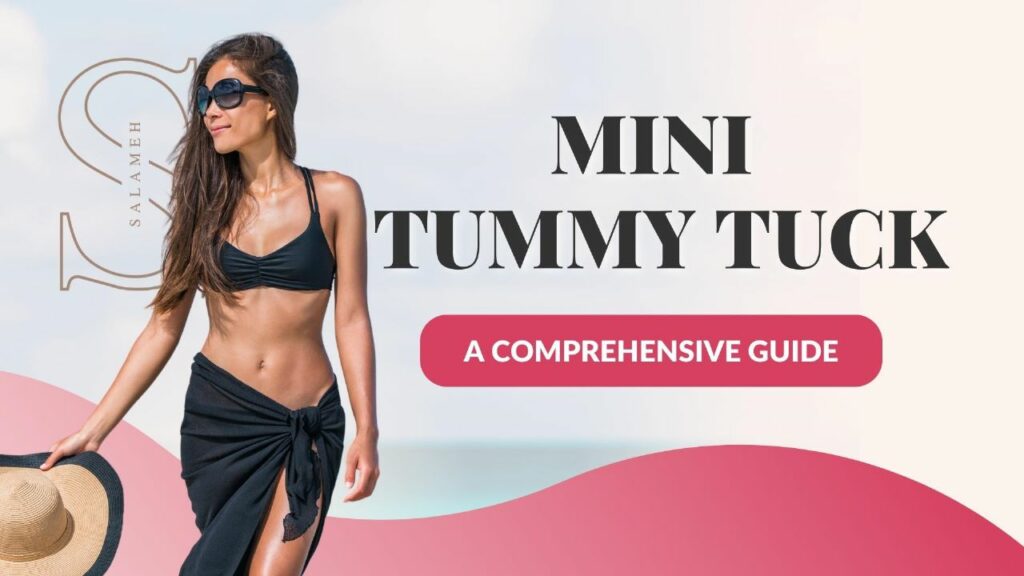 Mini Tummy Tuck: A Comprehensive Guide
A mini tummy tuck is a cosmetic surgical procedure that targets the lower abdomen. It is usually done to remove excess skin and fat, resulting in a flatter, more toned appearance. A regular tummy tuck is a more extensive procedure targeting the upper and lower abdomen. In contrast, a mini tummy tuck is a less…