Fat Transfer in Indiana & Kentucky
A fat transfer is a unique procedure designed to address various aesthetic concerns. Fat transfers can provide contouring to combat loss of fullness and collagen to help you look younger and more sculpted. Under the direction of our surgeons, fat grafting is a straightforward procedure that will help restore volume and create smoother skin for a more youthful appearance that will last for years to come.
In a fat transfer procedure, fat is harvested from a "donor area" on the body and injected into a targeted area, like the breasts, buttocks, hips, abdomen, or face, for more fullness and volume. 
Performed in our fully accredited in-house, AAAASF-certified surgical facility using the most innovative and modern technology.
Involves very small incisions to minimize swelling and bruising.
Provides a permanent, personalized solution to help you look and feel your best.
How will you know if a fat transfer process is right for you? You'll have the opportunity to consult with one of our surgeons regarding the best treatment plan for your needs. At Salameh Plastic Surgery, we pride ourselves on patient care that is highly individualized and tailored to address your specific concerns in an environment that is safe, private, and comfortable.
Fat Transfer before and after
Results from Our Satisfied Patients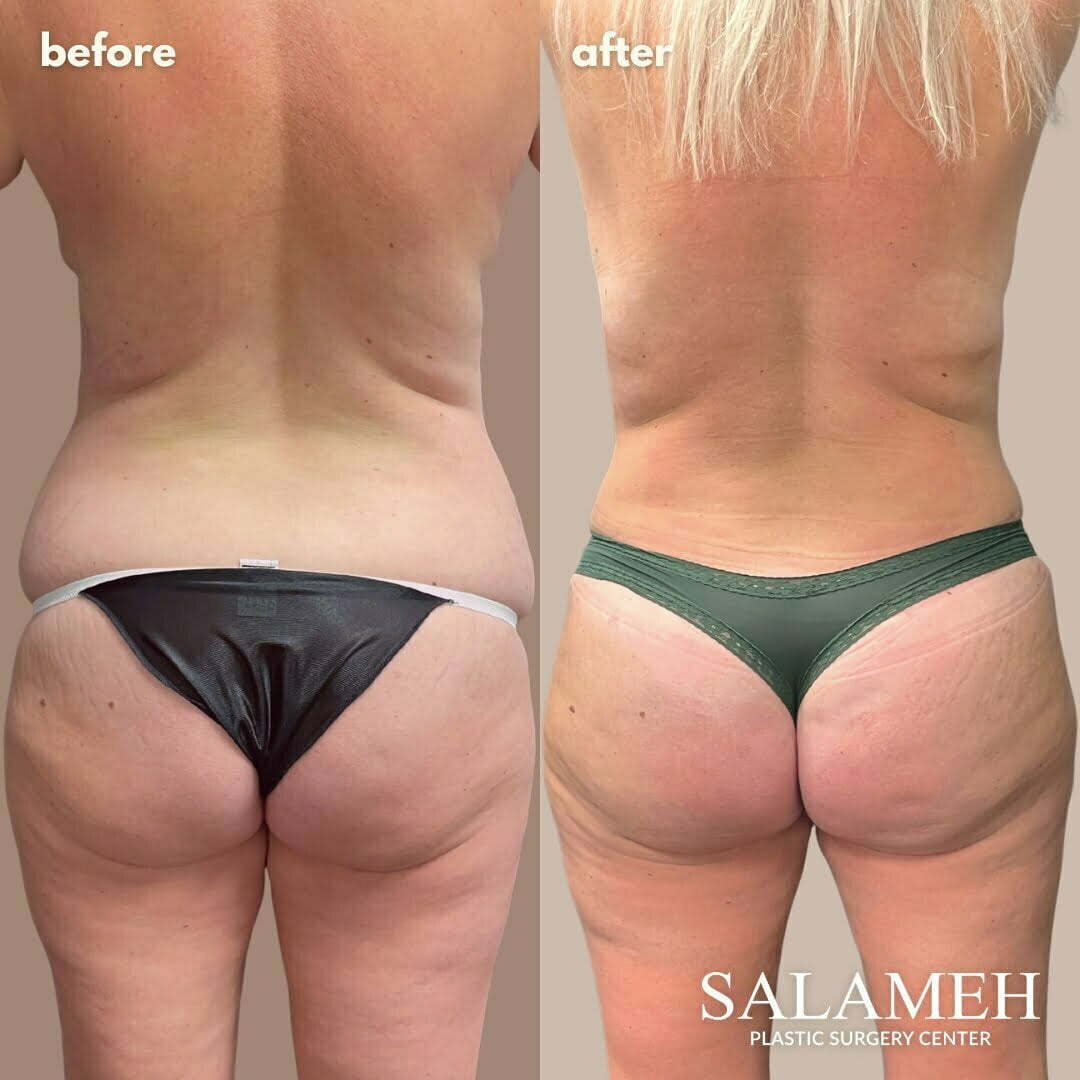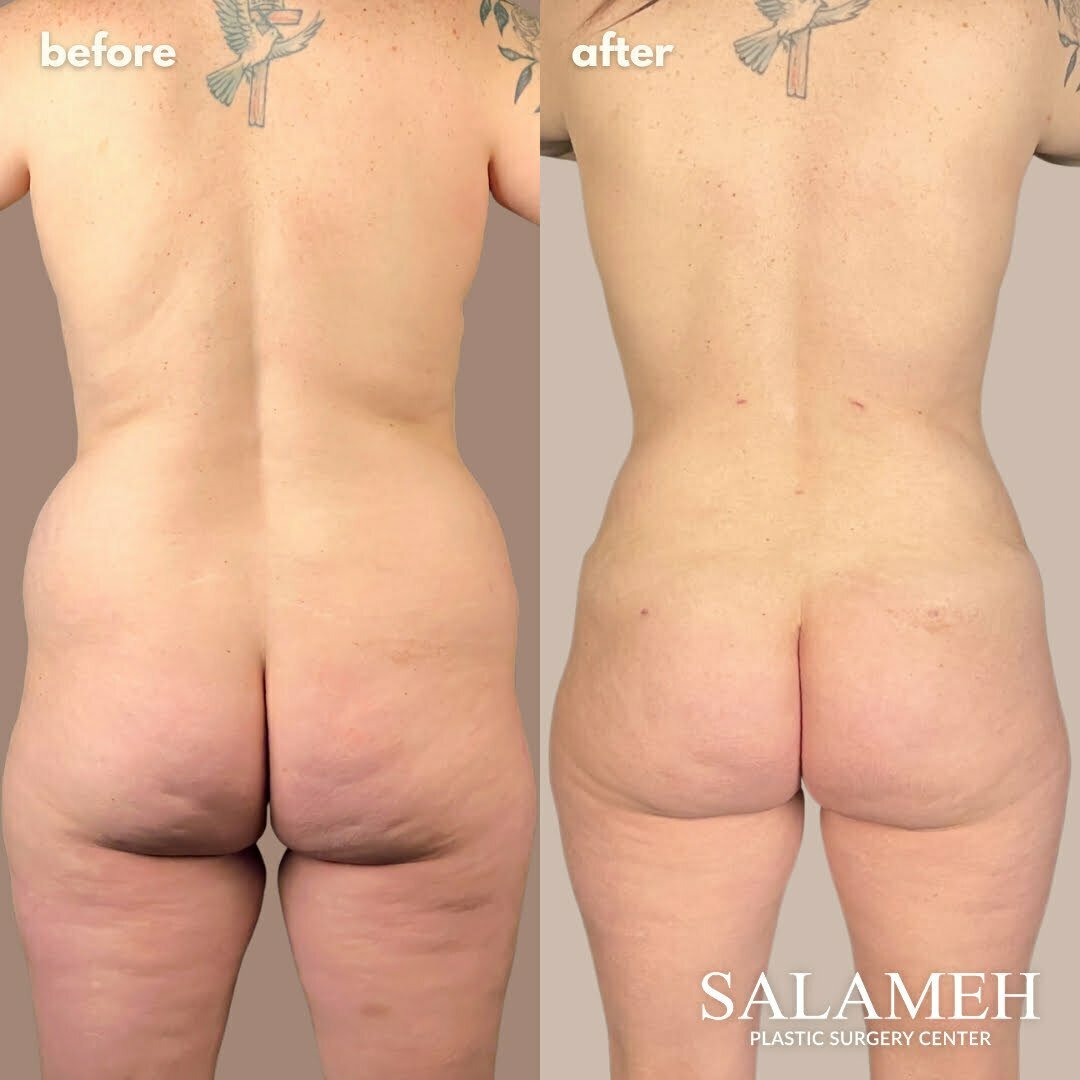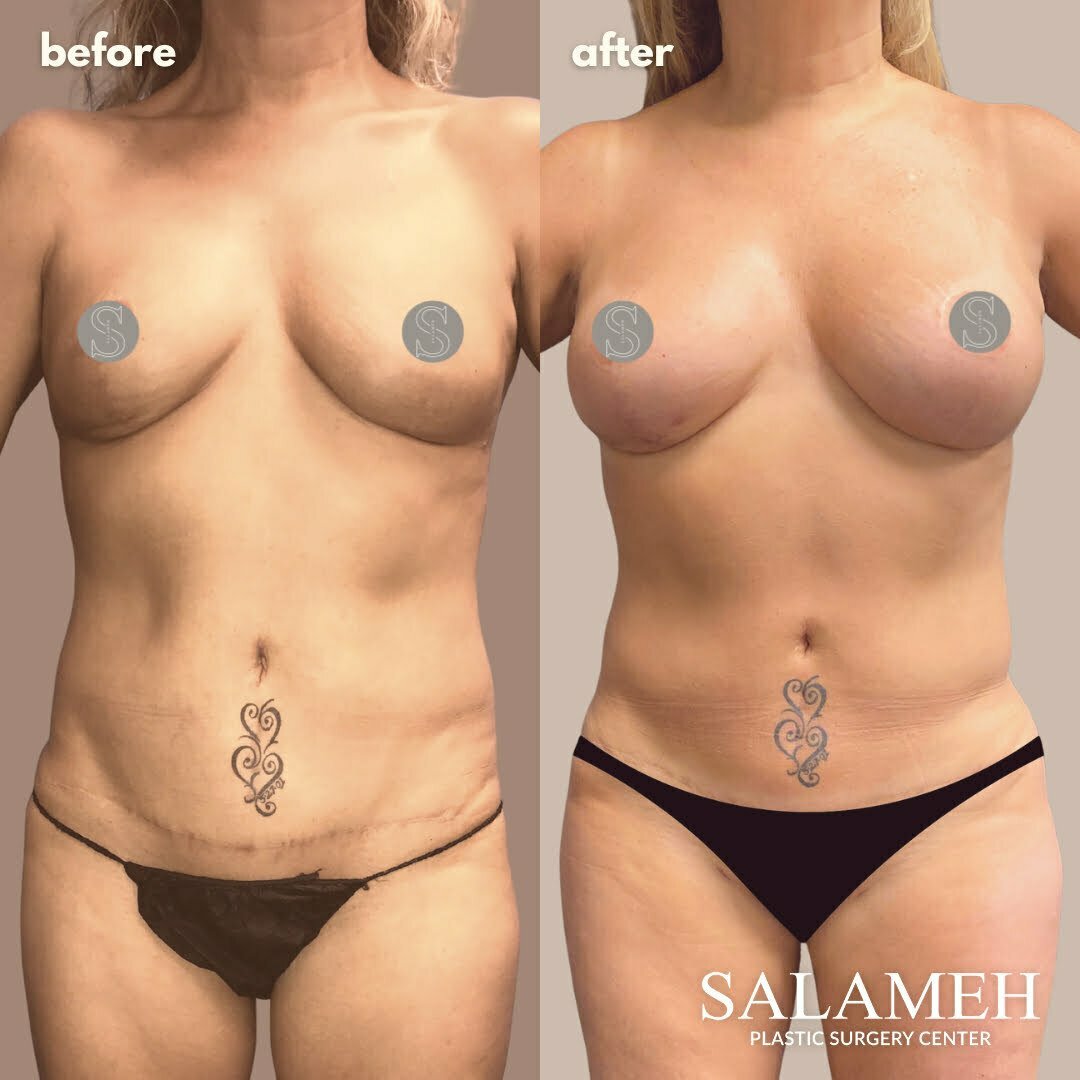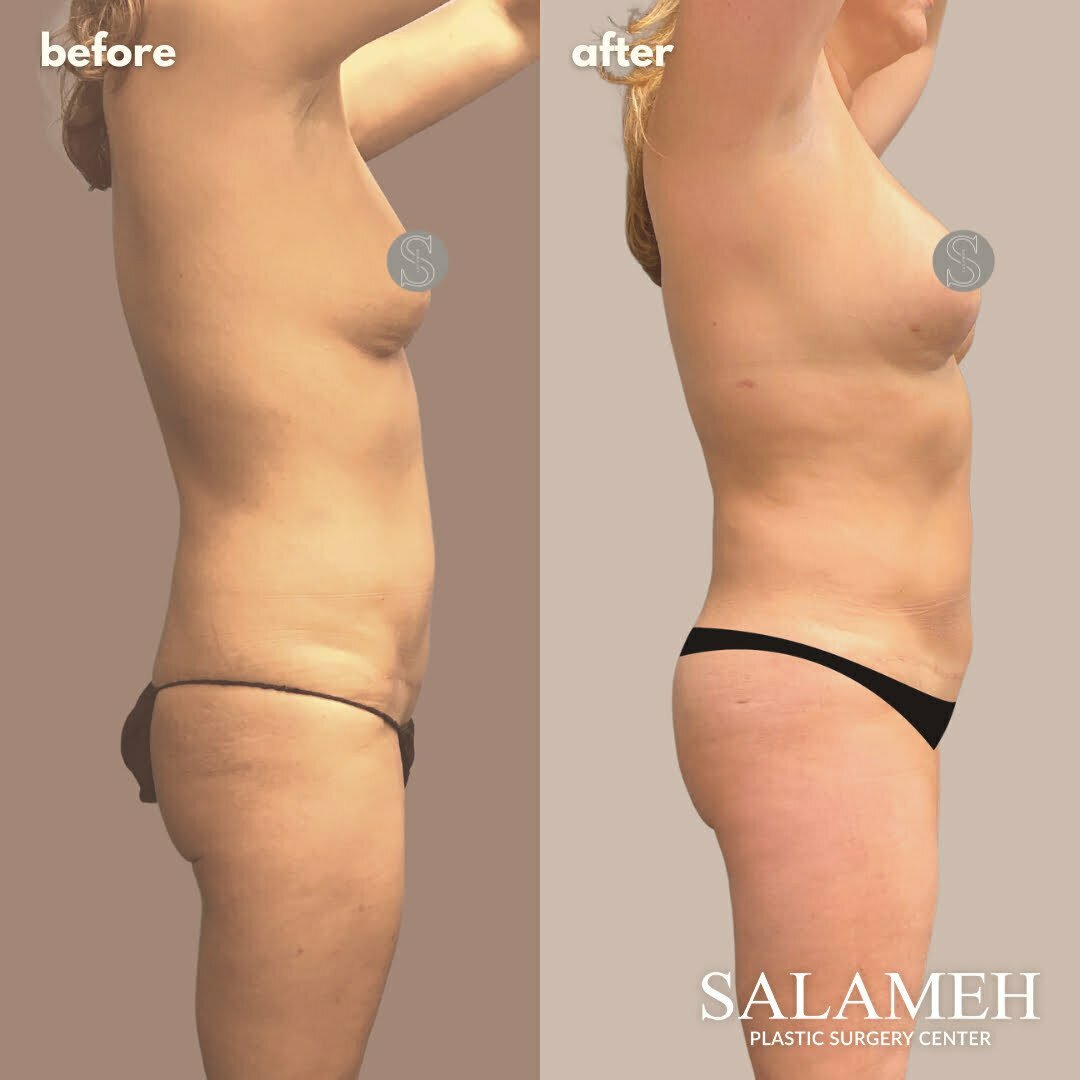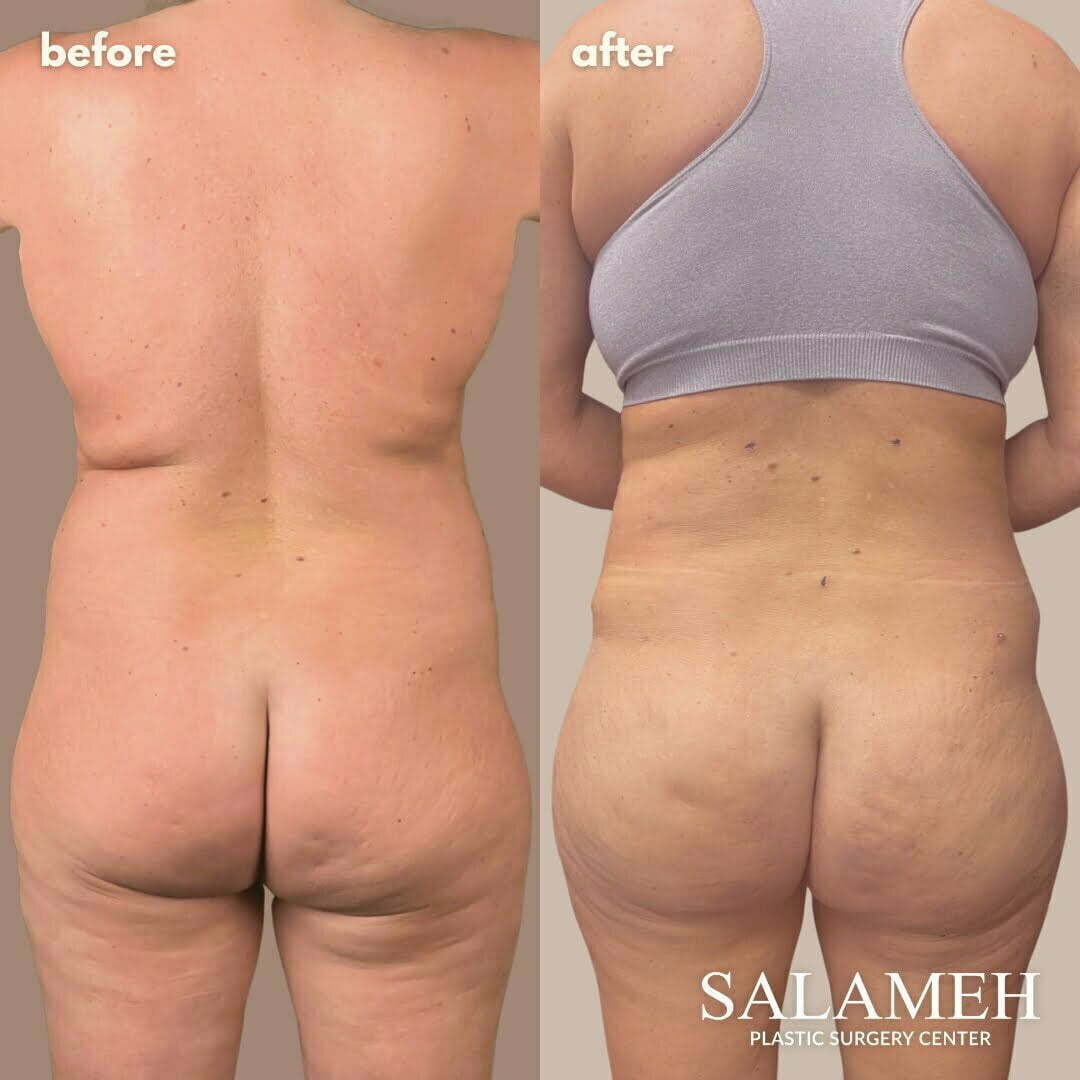 See More Before and Afters
Fat Transfer Frequently Asked Questions
Fat transfer is a cosmetic procedure that involves removing unwanted fat from one area of the body, such as the stomach or thighs, and transplanting it to another area, such as the face, breasts, or buttocks. It is a natural way to enhance your appearance and restore volume to areas that have lost shape and fullness.

How does fat transfer work?

Using liposuction a fat transfer procedure removes unwanted fat from one area of the body, such as the stomach or thighs. The harvested fat is then carefully processed and purified before being injected into the desired area. Because the fat used for the transfer comes from your own body, there is no risk of rejection or allergic reactions.

What areas can I have fat grafted to?

Fat transfer can be used to enhance many areas of the body, including the face, breasts, buttocks, and hands. The procedure effectively restores volume to the cheeks, temples, and jawline and fills in wrinkles, lines, and hollows. It can also be used to augment the breasts and buttocks and restore volume to the hands.

Fat transfer is considered a safe and effective procedure when performed by a qualified and experienced plastic surgeon, like the team at Salameh Plastic Surgery Center. As with any surgical procedure, there are risks and potential complications, but these are generally rare and can be minimized with proper care and follow-up.

What is fat transfer recovery like?

Fat transfer recovery time can vary depending on the treated area, but most patients can return to work and normal activities within a week or two. Swelling and bruising are common after the procedure but can be managed with ice packs, compression garments, and pain medication as prescribed by your surgeon.

How long do fat transfer results last?

The results of fat transfer are considered long-lasting, but the duration of the results can vary depending on the area being treated and the individual patient. Some patients may require additional treatments to maintain the desired results.

How much does fat transfer cost?

Fat transfer starts at $4,900 at Salameh Plastic Surgery Center. Actual cost depends on several factors, including personal history, BMI, and desired outcome. A customized quote will be given during your consultation with our Patient Ambassador team.
Patient Reviews
Based on 623 reviews
T. Amanda
Dr. Salameh and his team make you feel comfortable, excited and assured during your transformation!!! They listen in detail, make you feel welcome and are excited for your transformation. Would recommend to ANYONE wanting to make a change, they are amazing.
L. Leeann
I went here with an issue that many others told me could not be fixed. The nurses were awesome & so sincere, esp Jordan, & I've already seen huge improvements. Can't wait to see the final results.
W. Whitney
I have seen Dr. Salameh and Carli and can't say enough great things. Dr. Salameh was extremely informative and made surgery as painless as possible. Carli always gives great skin advice. I drive all the way from Louisville to visit this facility and won't go anywhere else.
W. Jamie
My entire experience with Salameh Plastic Surgery in Newburg was the absolute best!  The ladies that did my virtual & in person consultation were great.  They  answered every question I had and put me at ease with any concerns I had.  Everyone that had a part in my procedure took excellent care of me! The girls that got me ready, the anesthesiologist, Dr.Saba & everyone in the OR was amazing.  I will definitely come back to Dr Saba for any procedures I need in the future.  Start to finish was a great experience!
B. Camrin
Dr. Salameh and his team have been incredible from my first consult throughout my follow up visits. Dr. Salameh listened to all of my concerns and ensured I got the precise, natural outcome that I was wanting. Thank you to the entire team!
What's In The Blog?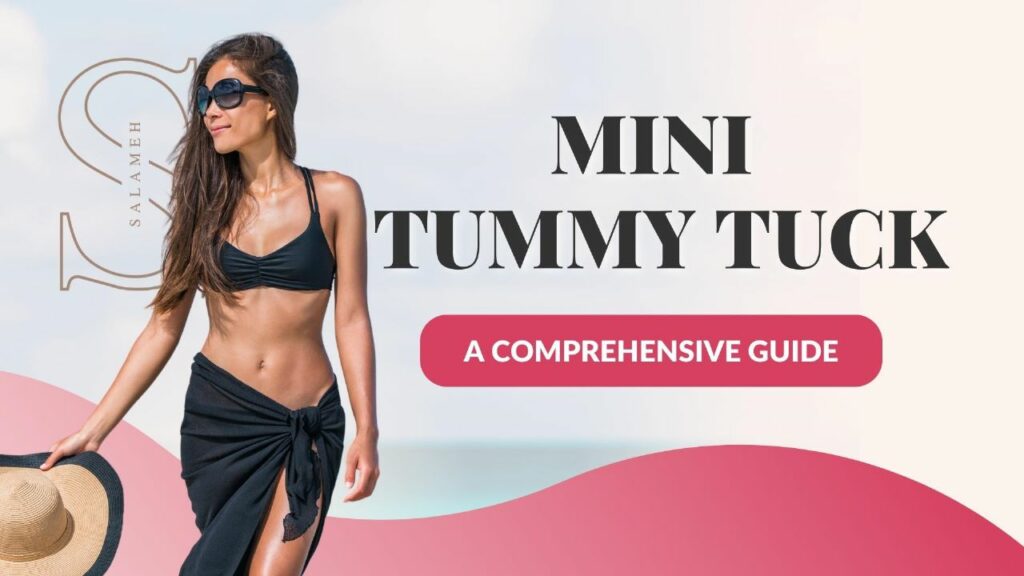 Mini Tummy Tuck: A Comprehensive Guide
A mini tummy tuck is a cosmetic surgical procedure that targets the lower abdomen. It is usually done to remove excess skin and fat, resulting in a flatter, more toned appearance. A regular tummy tuck is a more extensive procedure targeting the upper and lower abdomen. In contrast, a mini tummy tuck is a less…