Mommy makeover in Kentucky & Indiana
Motherhood is a defining moment. But for some, the post-birth journey can present new challenges in physically bouncing back to your pre-pregnancy figure. Sometimes, an exercise and diet regimen aren't enough to get the natural pre-pregnancy silhouette back. A Mommy Makeover surgery at Salameh Plastic Surgery Center can restore and reshape your body to a more youthful appearance. 
Mommy Makeovers typically include a tummy tuck, liposuction, and breast combination surgery. Other procedures, such as Brazilian butt lift and labiaplasty, can be added to achieve your desired cosmetic look.
Consolidating procedures into a full Mommy Makeover package can help you achieve results more quickly, save recovery downtime, and save you money.
Our Mommy Makeover procedures are performed in our fully accredited onsite, AAAASF-certified surgical facility designed for your safety and comfort.
Our team of Mommy Makeover specialists works with you closely to develop a personalized procedure plan based on your desired outcome. Reclaim your body and confidence by giving us a call today.
Mommy Makeover before and after
Results from Our Satisfied Patients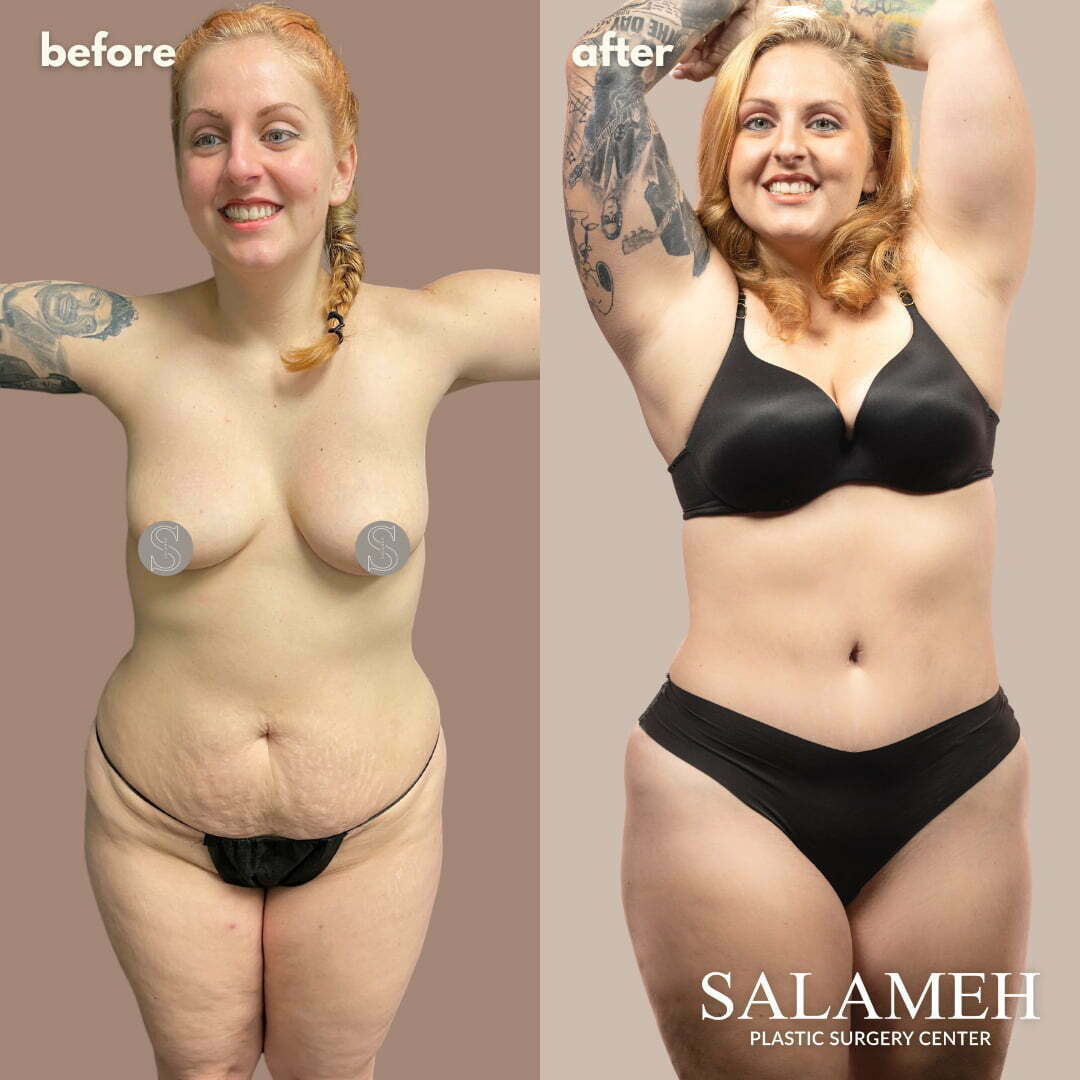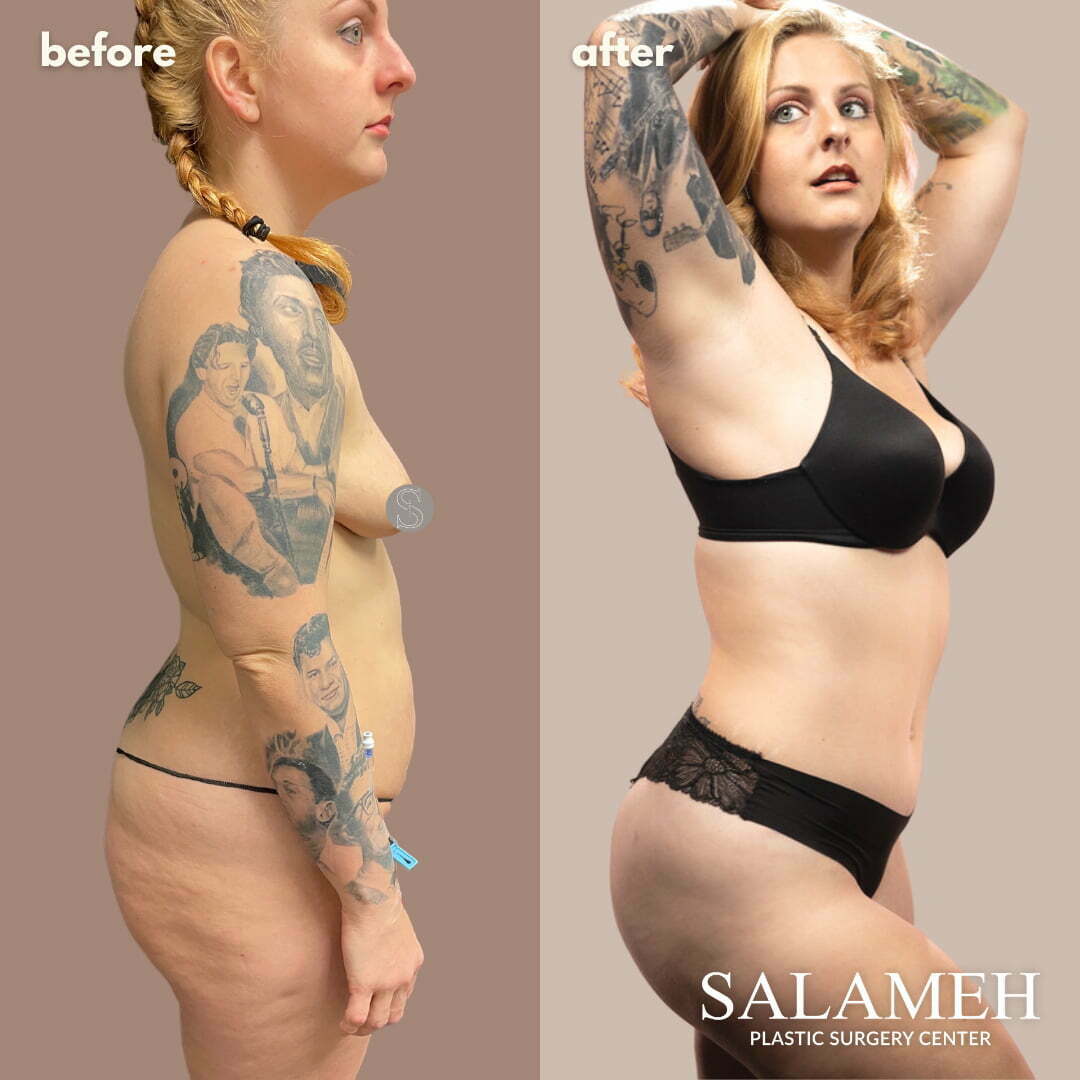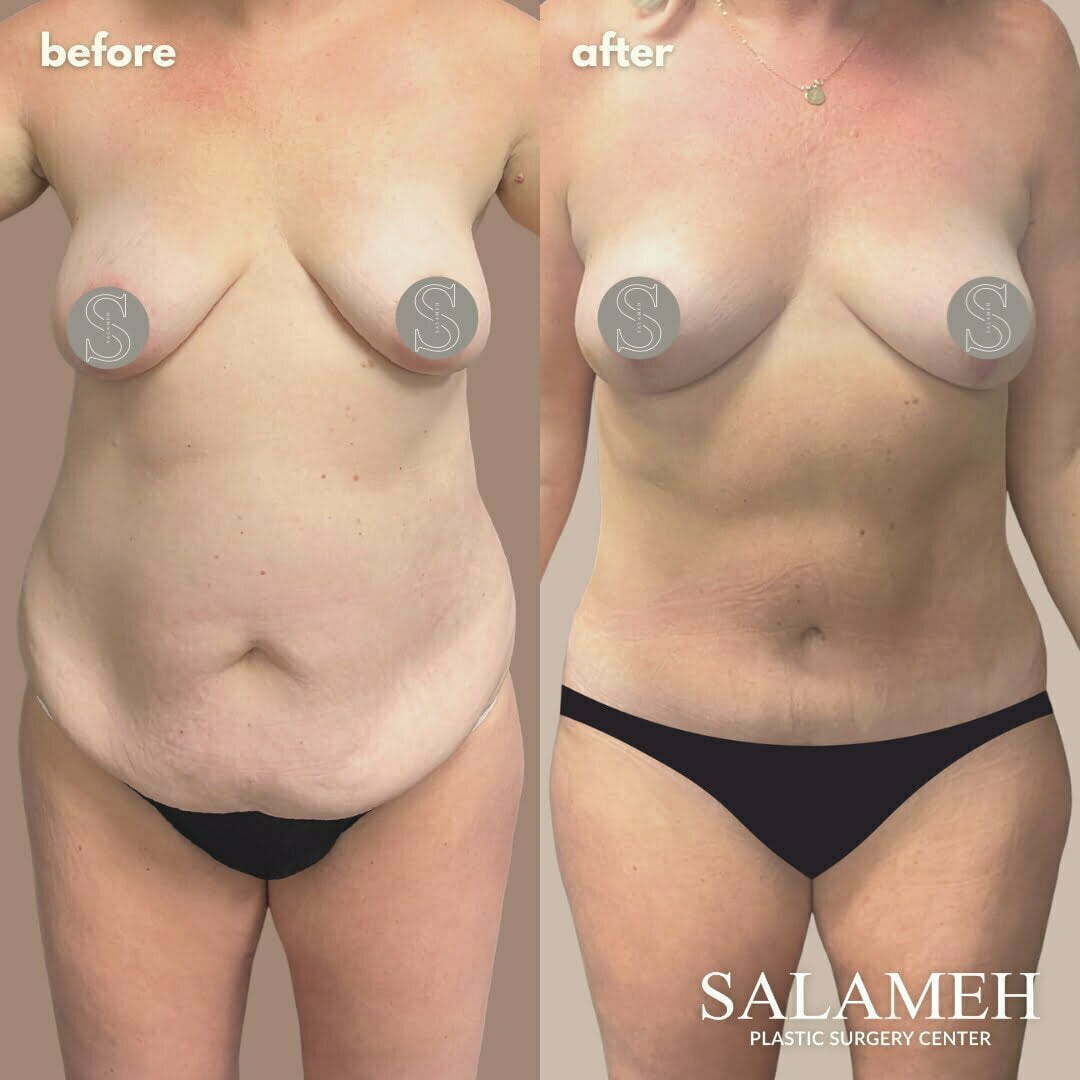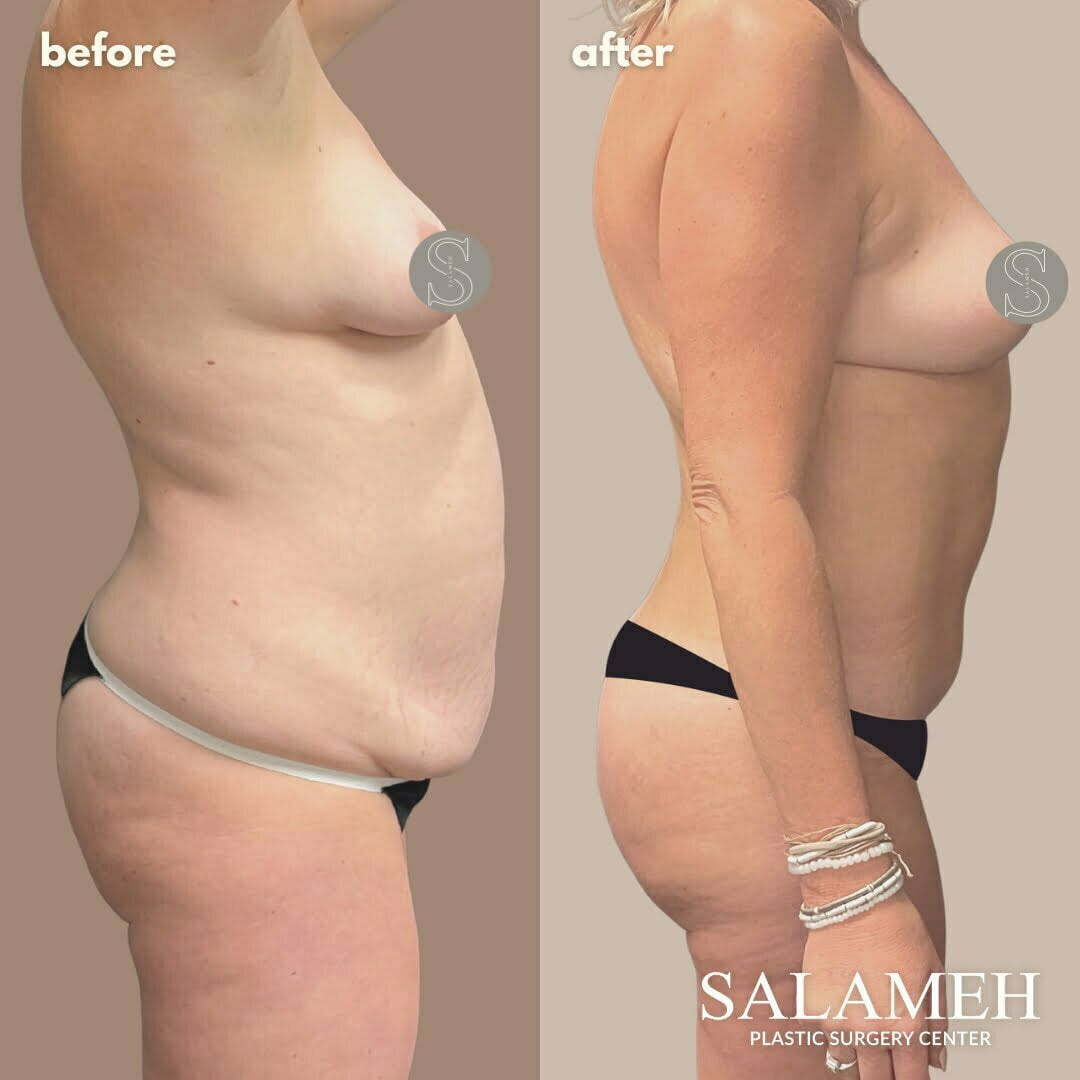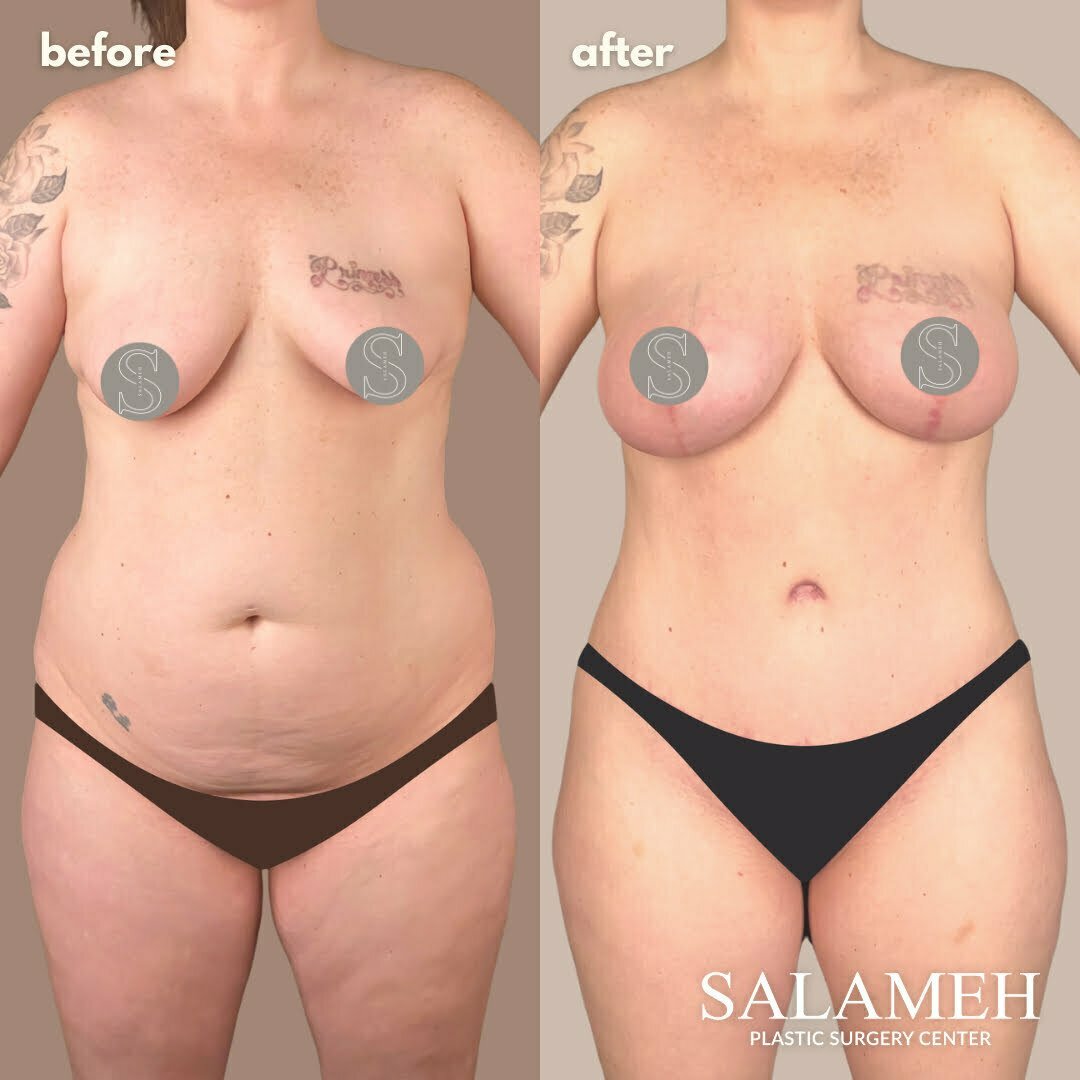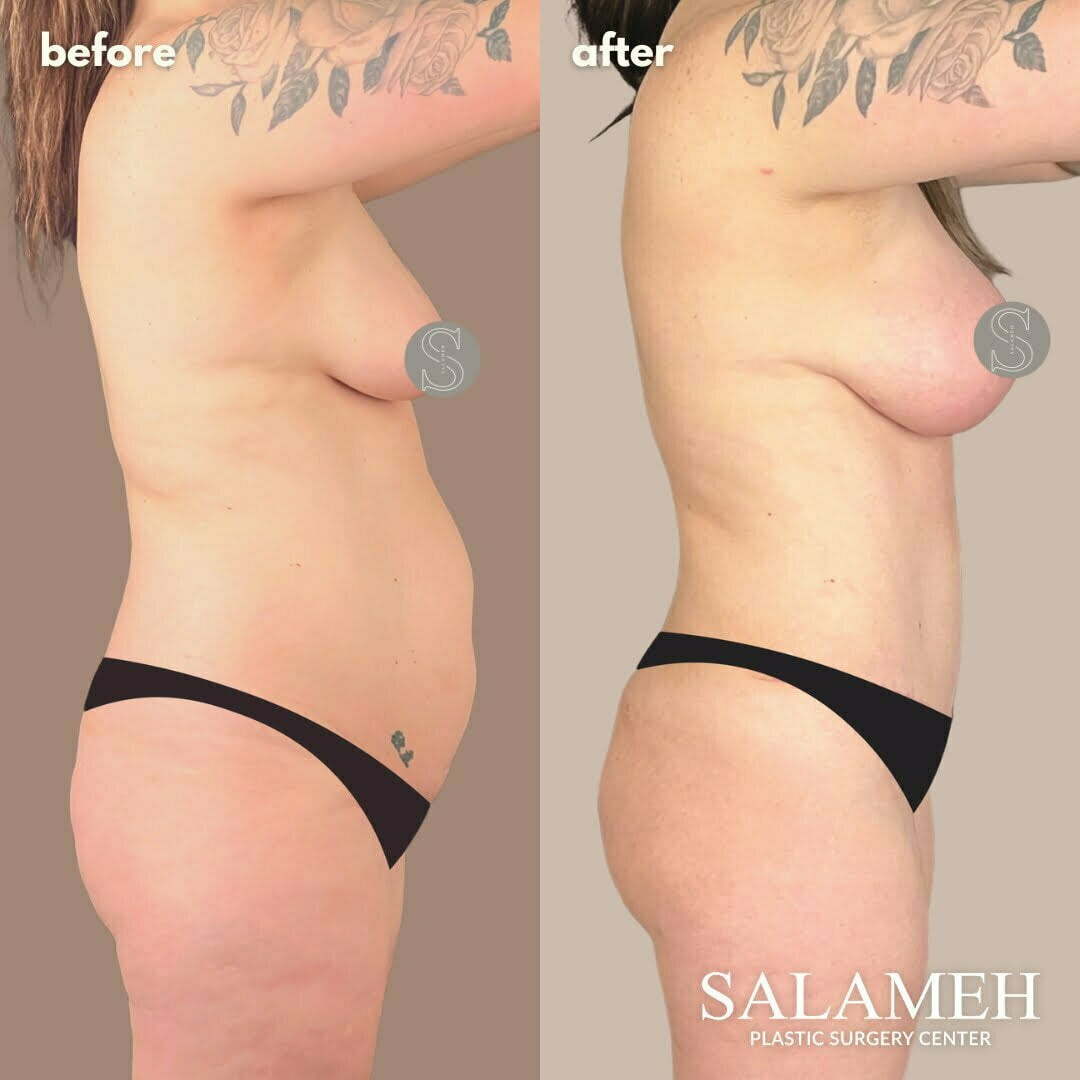 See More Before and Afters
Mommy Makeover Frequently Asked Questions
What is a Mommy Makeover?

A mommy makeover combines cosmetic procedures to remove loose skin and excess fat, tighten muscles, and lift breasts. Most mommy makeovers include liposuction, tummy tuck, and breast procedures.

What does a mommy makeover surgery include?

A Mommy Makeover surgery typically involves a combination of procedures that include liposuction, tummy tuck, and breast procedures. Sometimes, we may add fat transfer to the buttocks and, occasionally, labiaplasty. However, if your vision of a perfect mommy makeover includes anything additional, contact us!

How long will it take to complete my mommy makeover?

Depending on the number of body areas involved, a Mommy Makeover procedure takes about four hours to perform. In your consultation, we will discuss your specific treatments and how long it will take to complete your Mommy Makeover package.

How long does it take to see results?

Typically, results are visible in 1-2 weeks once swelling diminishes. You will see your best results when the swelling is completely gone, which may take several months.

How long does mommy makeover recovery take?

Most patients need rest and recover two weeks after their surgery. It usually takes patients four to six weeks to resume heavy lifting and vigorous exercise.

How much does a mommy makeover cost?

Mommy makeovers at Salameh Plastic Surgery start at $15,900.  Actual cost depends on several factors, including personal history, BMI, and desired outcome. A customized quote will be given during your consultation with our Patient Ambassador team.
Patient Reviews
Based on 623 reviews
DM. Sarah
I had a complete mommy makeover and the customer service from beginning to end was amazing! Even a year later! I'd highly recommend them to anyone.
B. Terry
Everyone is so nice, helpful and very knowledgeable. I was so nervous about my surgery and the team made me feel so comfortable. They explained everything that would take  place and talked to me until I fell asleep. I knew I was in good hands. Dr. Salameh is very caring and does excellent work. I would recommend Salameh Plastic Surgery.
H. LaDonna
I can't say enough good things about Dr. Saba and his staff!  I was very apprehensive about having my procedure when I went in for a consultation. I was treated amazingly from the second that I walked through the door.  Dr. Saba spent as much time as I needed to assure me that I would do wonderful with the surgery that I was wanting. I had questions that I forgot to ask at my consultation, so I scheduled another appointment with Dr. Saba to ask those question. He and Gerry ( she is amazing) were more than happy to answer my questions and again they gave me the assurance that I needed to commit to my surgery. It was a GREAT success. Thank you so much for helping me feel good about myself again!!
H. Mia
 I had an amazing experience!
Great facility. Very friendly staff.
I would recommend it to all my friends!
N. Tiffany
I had my procedure with Dr. Salameh this morning! Everything from start to finish has been perfect: Consultation, to phone calls, pre-op check up to the morning of! Everyone at Salameh is so helpful and professional. They truly have a great bedside manner and treat patients with the utmost respect!
What's In The Blog?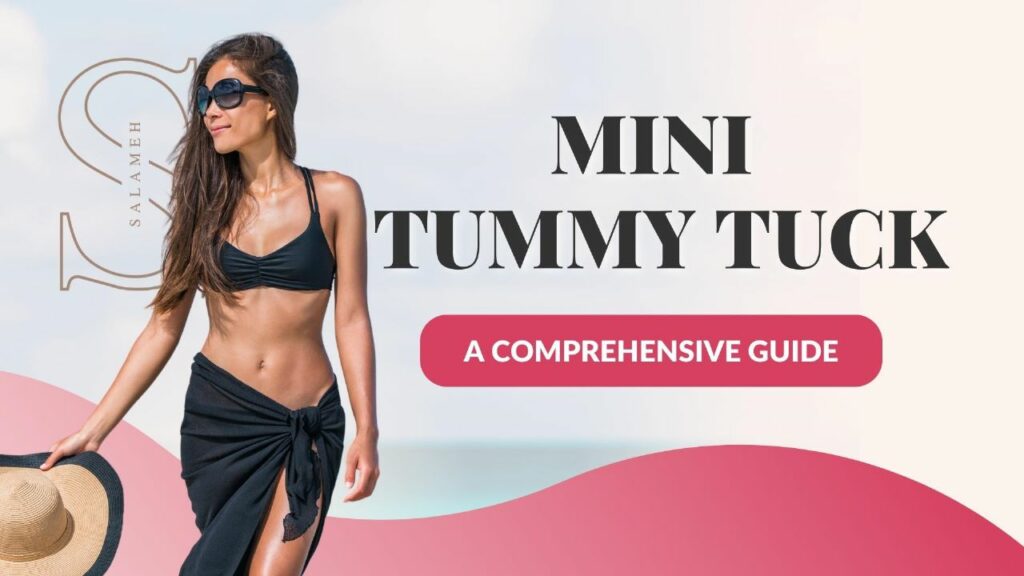 Mini Tummy Tuck: A Comprehensive Guide
A mini tummy tuck is a cosmetic surgical procedure that targets the lower abdomen. It is usually done to remove excess skin and fat, resulting in a flatter, more toned appearance. A regular tummy tuck is a more extensive procedure targeting the upper and lower abdomen. In contrast, a mini tummy tuck is a less…