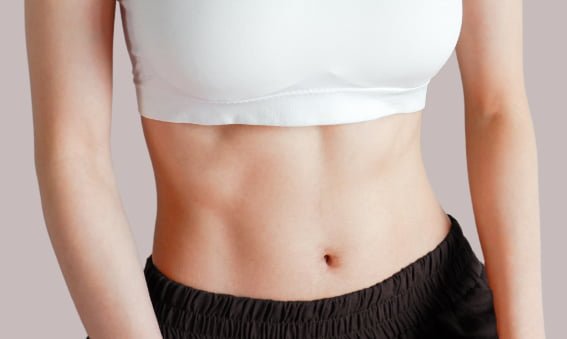 Tummy Tuck in Indiana & Kentucky
If you're unhappy with loose skin around your abdomen, a tummy tuck may be the perfect procedure for you. Over time, weight gain, weight loss, aging, and pregnancy can cause the skin and muscles within the abdomen to stretch and sag. Sometimes, diet and exercise may not work or give you the look you desire. At Salameh Plastic Surgery Center, our team of trained experts can remove fat and excess skin from your abdominal area to give you a flatter stomach.
A tummy tuck, or abdominoplasty, is a highly effective solution designed to tighten abdominal muscles and remove excess skin in and around your stomach area.
Our customized tummy tuck procedures improve the appearance of your abdomen for a smooth, flatter look to help boost your confidence.
Our tummy tuck procedures are performed in our in-house, fully accredited, AAAASF-certified surgical facility.
Tummy tucks at Salameh Plastic Surgery Center include circumferential liposuction to the trunk area, mons (pelvic area) lift, full muscle repair, and excess skin removal.
Salameh Plastic Surgery Center is known for providing tummy tuck procedures with low incision sites that are easily hidden by undergarments and swimsuits and repositioning the belly button to make it look as natural as possible.
 
At Salameh Plastic Surgery Center, we work with you closely to plan your tummy tuck procedure based on your desired outcome. Get started on the path to a slimmer, tighter, more youthful silhouette today.
Tummy Tuck before and after
Results from Our Satisfied Patients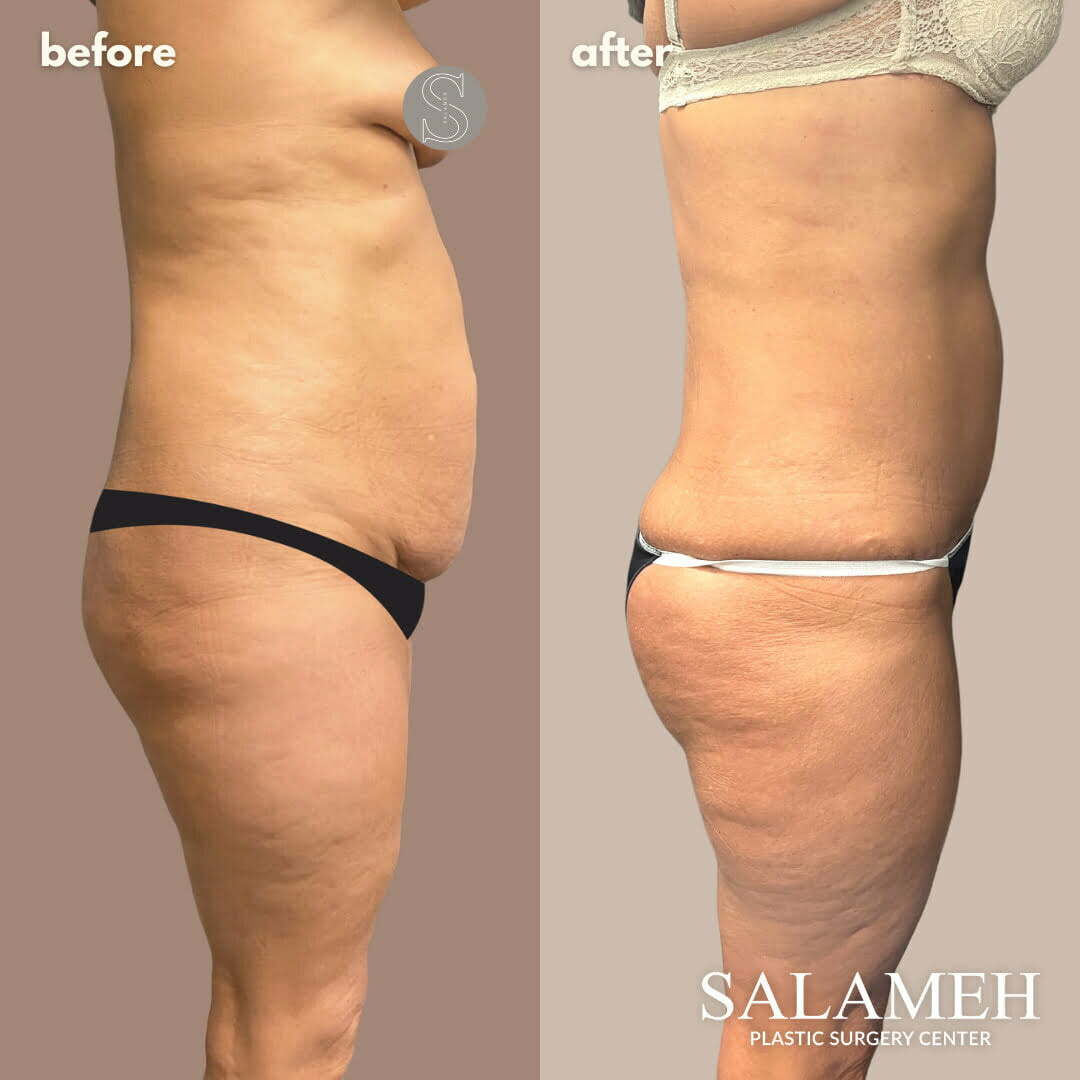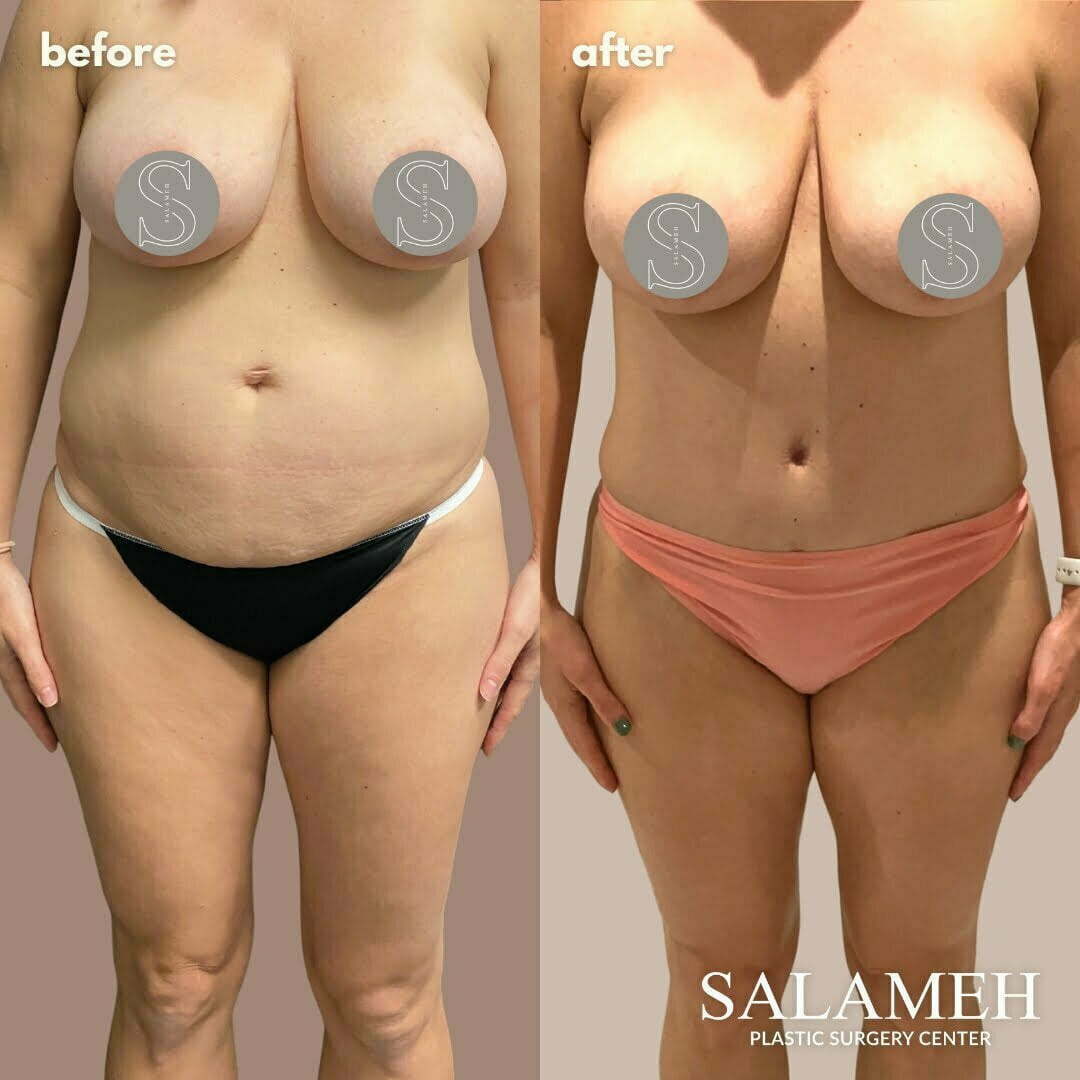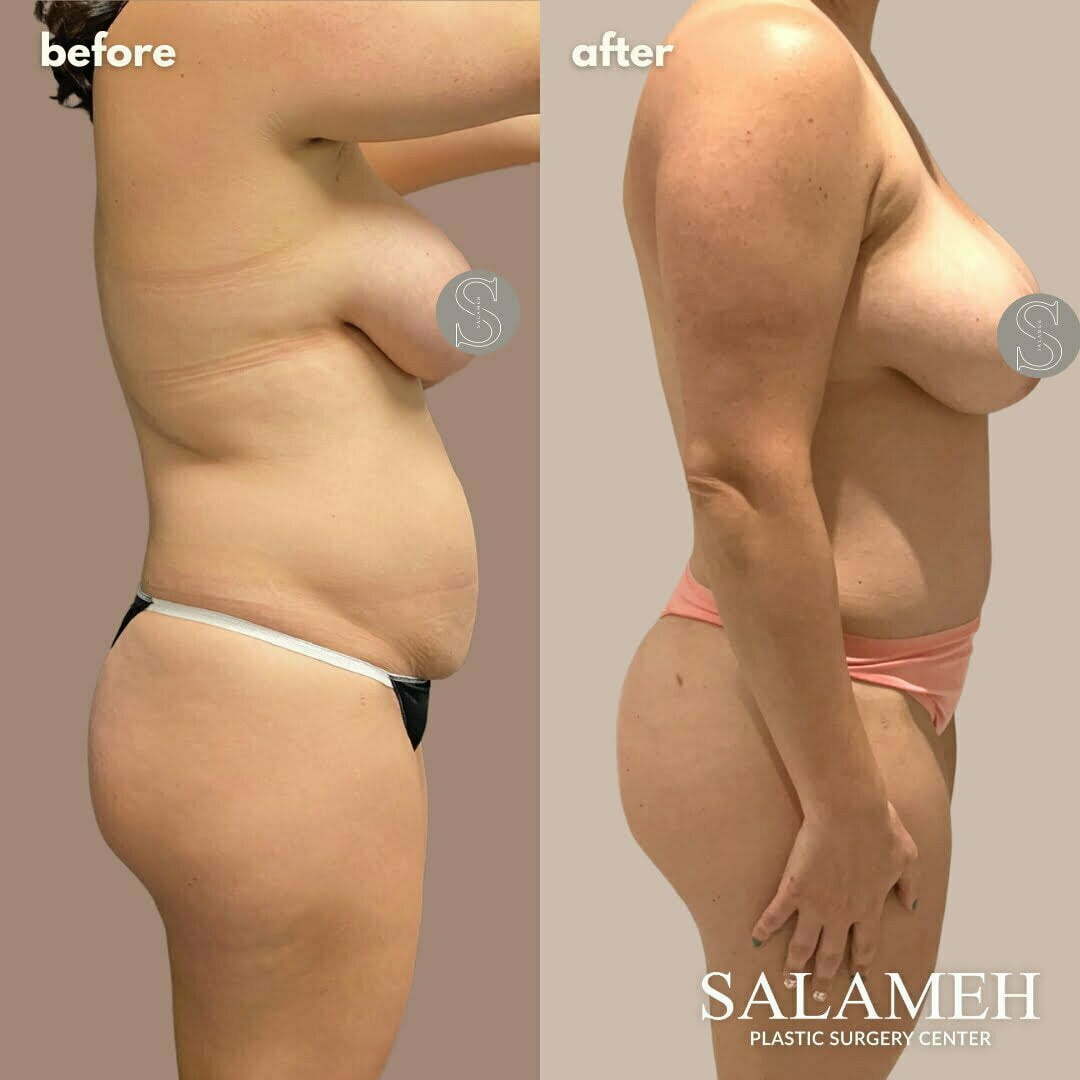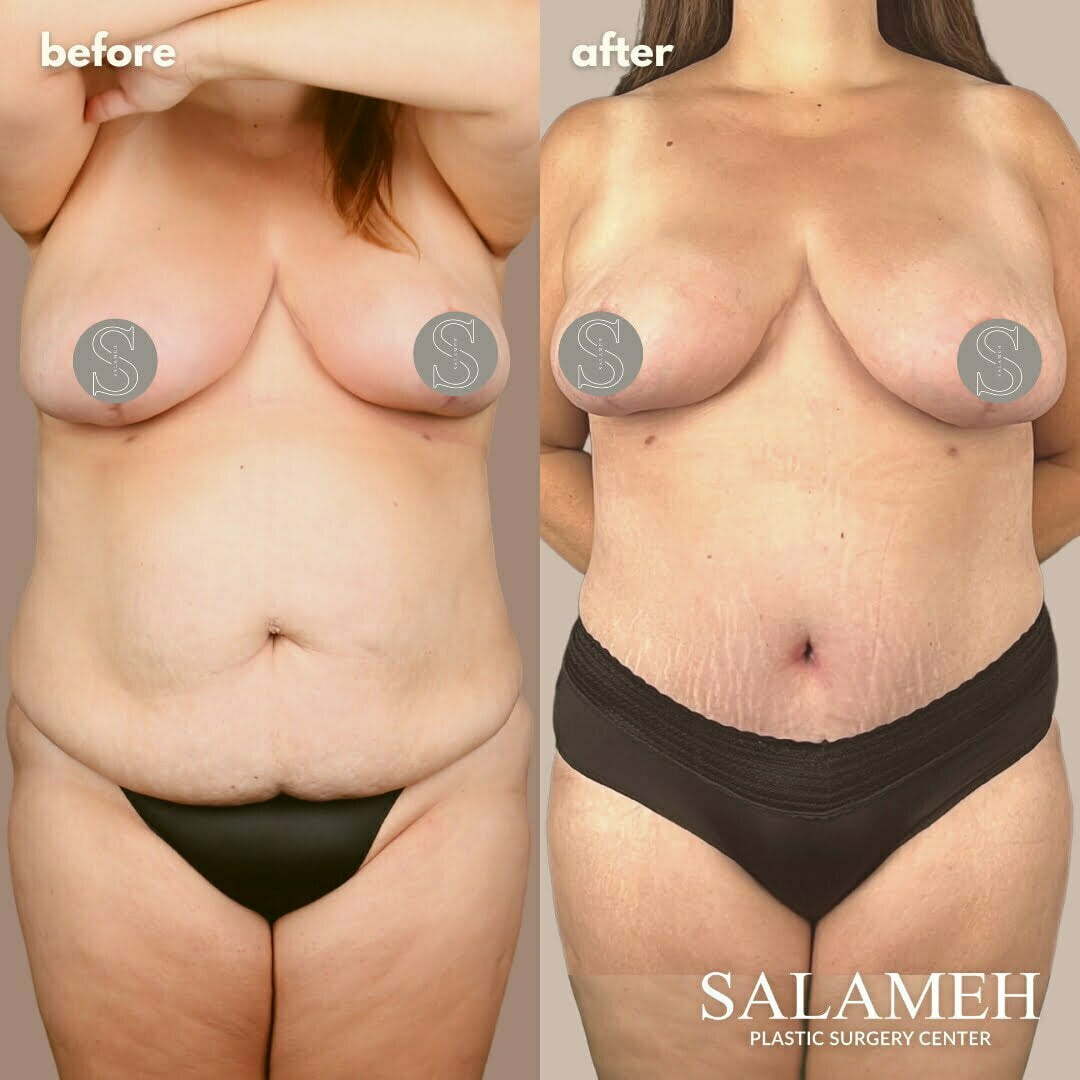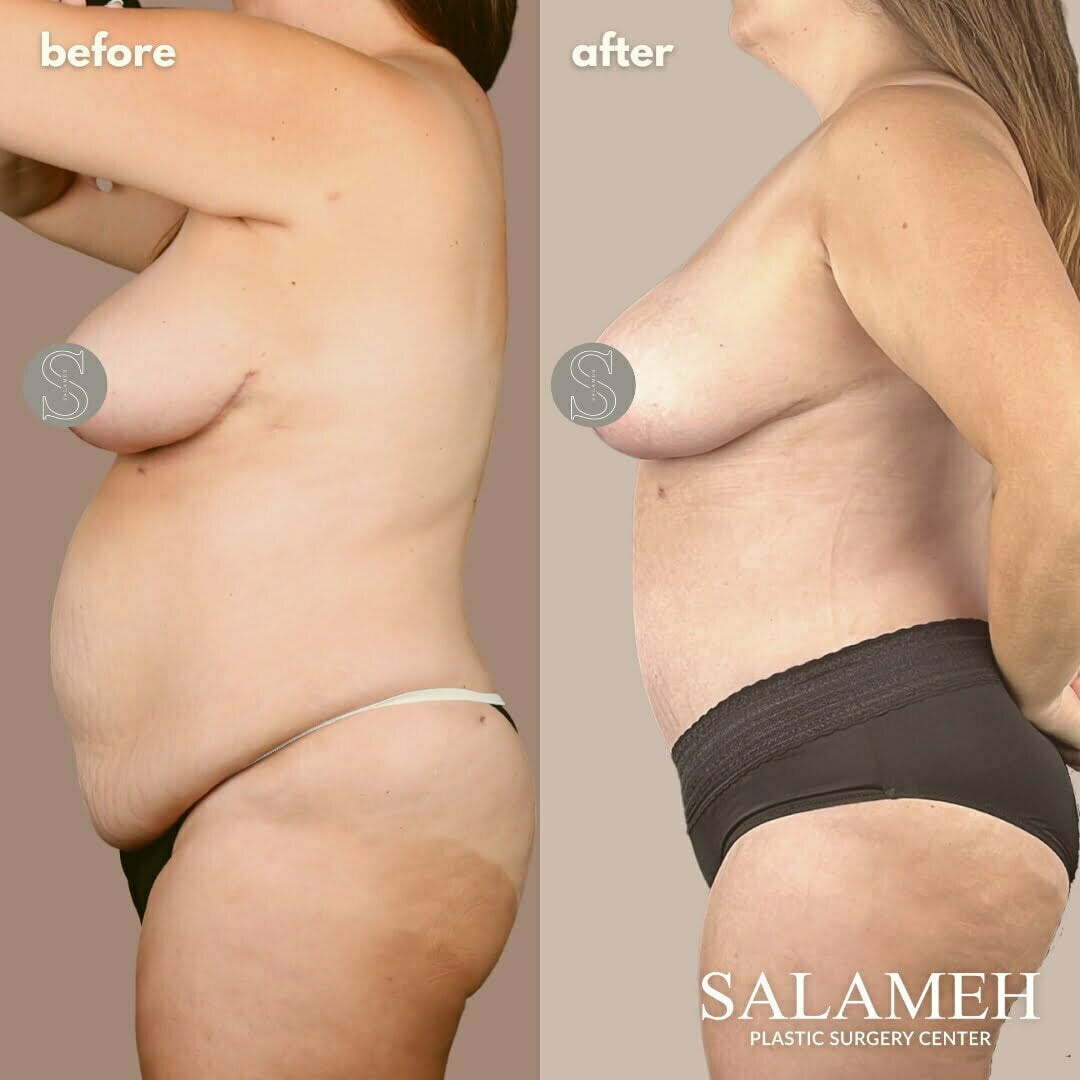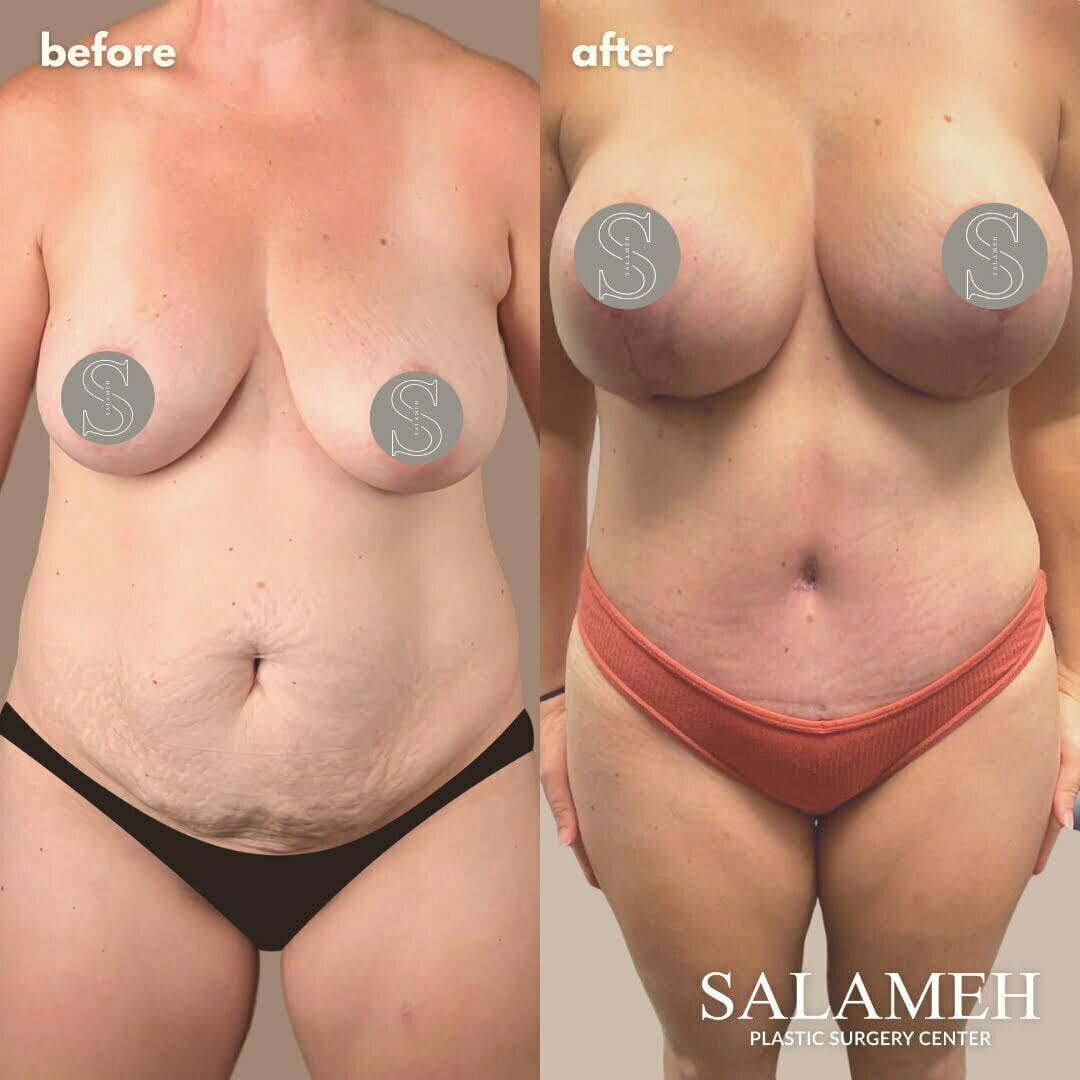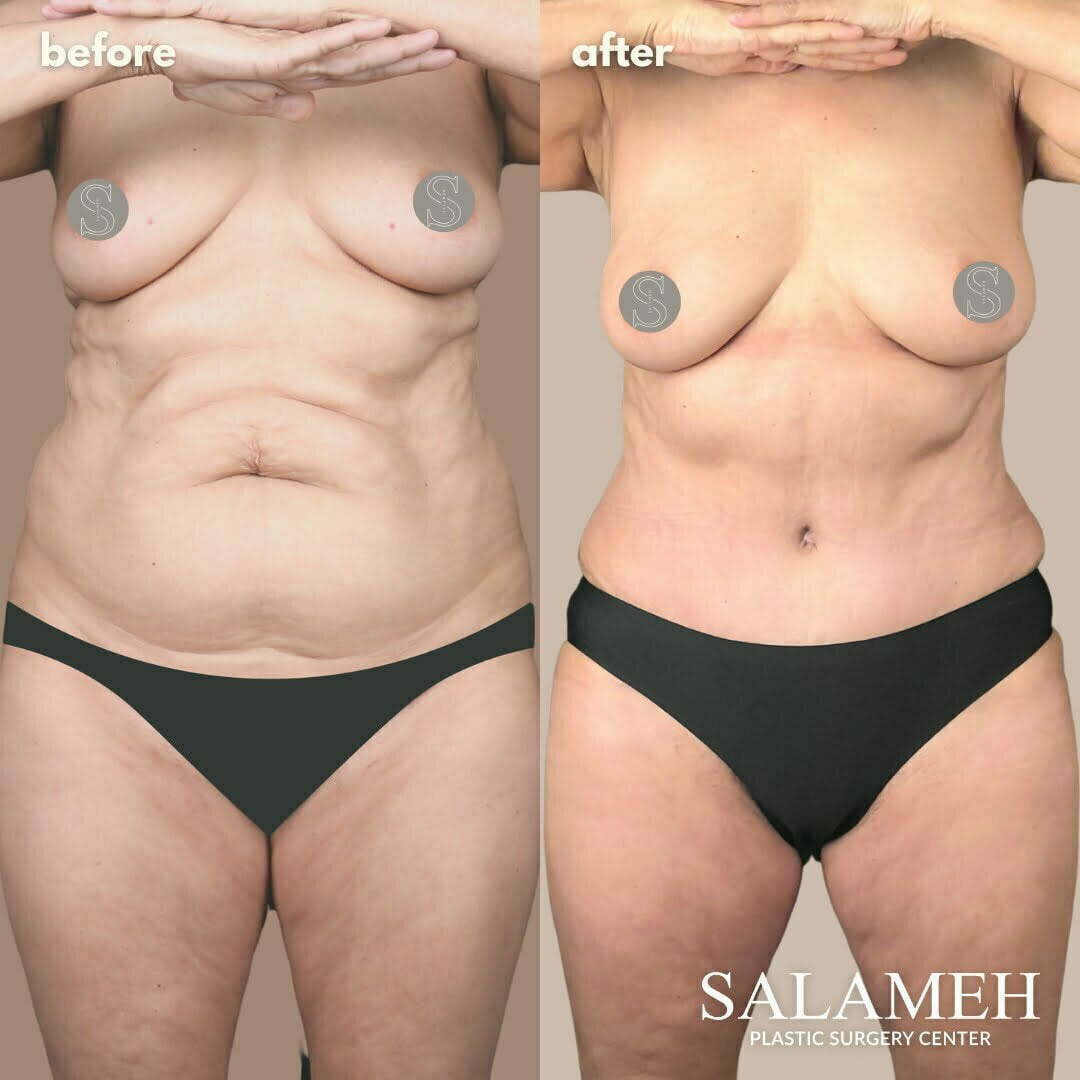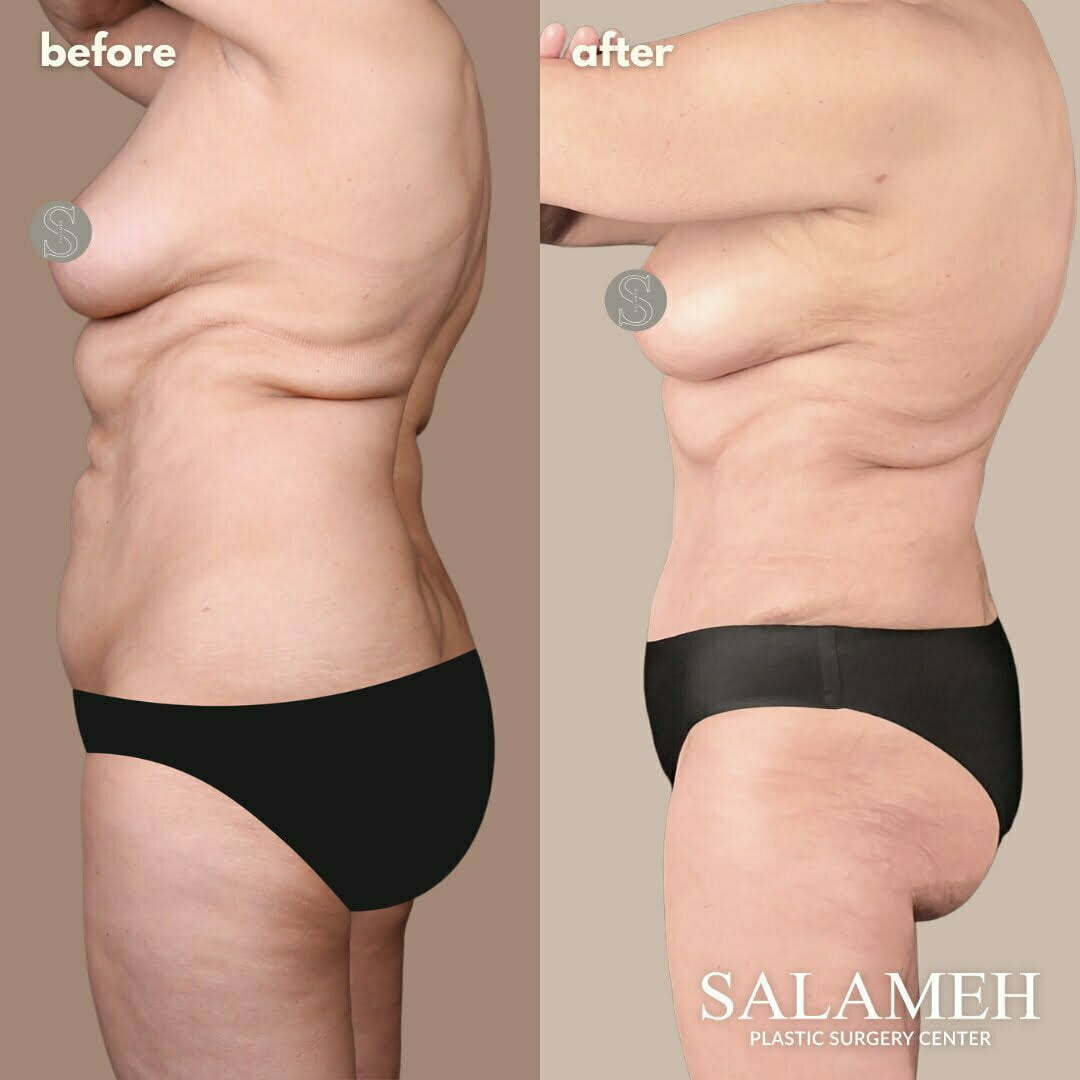 See More Before and Afters
Tummy Tuck Frequently Asked Questions
A tummy tuck, or abdominoplasty, procedure is a highly effective solution designed to tighten stretched abdominal muscles, as well as remove excess skin tissue around the abdomen. This is a corrective weight loss surgery in Bowling Green, KY, and Evansville/Newburgh, IN that is personalized to improve the appearance of your abdomen for a smooth and flat look. If you are unhappy with the appearance of your stomach, a tummy tuck could be the solution for tightening your lax skin and stretched abdominal muscles.

What does a tummy tuck include?

A tummy tuck at Salameh Plastic Surgery Center includes a low incision that is easily hidden, a natural-looking belly button, full muscle repair, excess skin removal, and mons (pelvic) lift if needed. Most patients add liposuction to the trunk for optimal outcomes.

What happens during a tummy tuck procedure?

Our tummy tuck procedures are performed through a very low incision along the lower abdomen near the pubic region so the incision scar can be easily hidden. Stretched Abdominal muscles are then gently stitched together and excess skin is removed. The remaining skin is then tightened to provide a flat, more toned core.

Am I a good candidate for a tummy tuck?

For anyone unhappy with the current condition of their abdomen, and is looking for an effective solution for tightening their skin, you could benefit from a Tummy Tuck in Kentucky and Indiana. If you are unsatisfied with the appearance of sagging skin resulting from weight loss, weight gain, or pregnancy, you could qualify as a candidate. However, the best way to determine if you're a proper candidate for weight loss surgery in Bowling Green, KY, and Evansville/Newburgh, IN, is through a consultation.

How long does it take to see tummy tuck results?

Typically, results are visible in 1-2 weeks once swelling diminishes. You will see your best results when the swelling is completely gone, which may take several months.

What is tummy tuck recovery like?

Most patients need two weeks after surgery to rest and recover, especially since you will remain bent at the waist during this time period. It usually takes patients four to six weeks to resume heavy lifting and vigorous exercise.

How much does tummy tuck cost in Kentucky and Indiana?

Tummy tucks start at $12,900 at Salameh Plastic Surgery Center. Actual cost depends on several factors, including personal history, BMI, and desired outcome. A customized quote will be given during your consultation with our Patient Ambassador team.
Patient Reviews
Based on 623 reviews
W. Eliza
I've had two surgeries, one with Dr. Salameh and one with Dr. Saba. There is some room for improvement with respect to office communication but I have been very happy with my results thus far.  Dr. Saba is an excellent surgeon and has wonderful bedside manner.
B. Charlie
I am a senior male who had a fluer-de-lis abdomoplasty after substantial weight loss.  Dr. Salameh did an excellent job and I am totally satisfied with the results.  Dr. Salameh is a very talented surgeon with outstanding communication skills.  I had no complications, a seamless recovery and an overall positive and satisfying experience.  I recommend Dr. Salameh unconditionally.
M. Marquis
This was the most prestigious plastic surgery places I called and followed through with on my journey to healthy living, and they are the most caring and comforting individuals from questions to operating procedures, and more!  I started with Nolly for my intake but she was my everything and my reasoning to follow through!❣️  That speaks volumes because I hadn't even got to the doctor yet.  Then I ran into the TEAM who answered all my questions and was there every step of the way.  The TEAM was like an extended family for such a major event of my life who was very supportive! ❣️💯.
T. Bethany
AMAZING!! Dr. Salameh is truly an amazing doctor! His work is his passion. He has such a wonderful compassion for his patients and His bedside manner is top notch! I am beyond estactic with my results and how natural my outcome looks. I love the time he took with me before and especially after my surgery. I can't say enough about him and his staff, they are all truly exceptional!
What's In The Blog?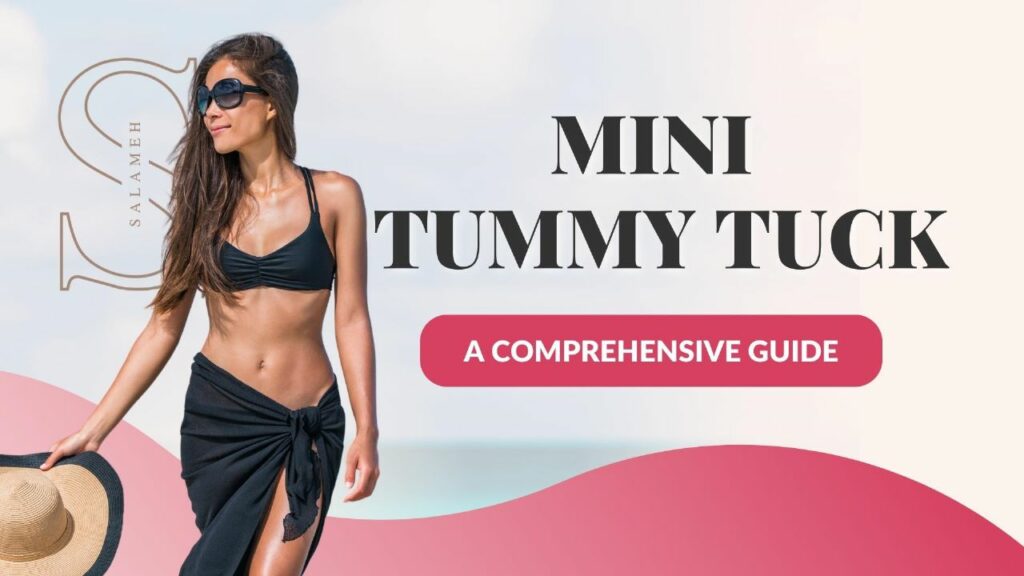 Mini Tummy Tuck: A Comprehensive Guide
A mini tummy tuck is a cosmetic surgical procedure that targets the lower abdomen. It is usually done to remove excess skin and fat, resulting in a flatter, more toned appearance. A regular tummy tuck is a more extensive procedure targeting the upper and lower abdomen. In contrast, a mini tummy tuck is a less…