Breast Augmentation Surgery in Indiana & Kentucky
Breast augmentation, also known as a "boob job" or getting breast implants, is one of the most common cosmetic procedures at Salameh Plastic Surgery Center. Our team of double board-certified plastic surgeons offers the best breast augmentation for patients that desire cleavage, upper pole fullness, and lifted breasts. 
A personalized procedure that can improve your confidence and self-esteem.
Breast augmentation is a great solution for asymmetrical breasts, small breasts, and volume loss.
The procedure often takes less than one hour, with minimal downtime.
FDA-approved silicone implants are placed through a small incision under your breasts,  leading to less pain and faster recovery.
Our Plastic Surgeons and Patient Care Coordinators will work with you closely in the planning phase of your procedure. We will consider your current breast size, physical stature, overall look, and desired outcomes to select the best implant size for you, whether you are looking for a natural or augmented look. You will have the results you desire in no time!
Breast Augmentation Results
Results from Our Satisfied Patients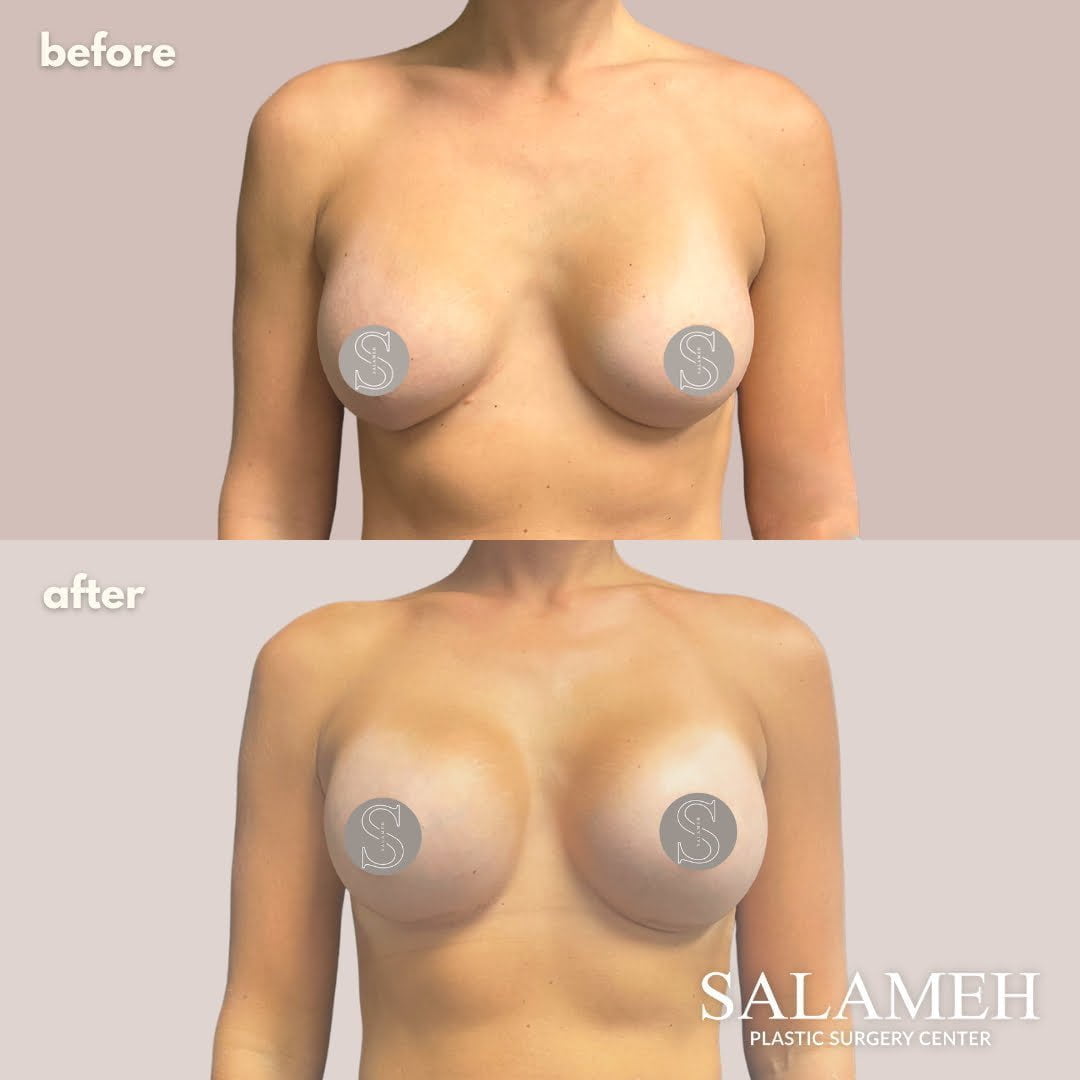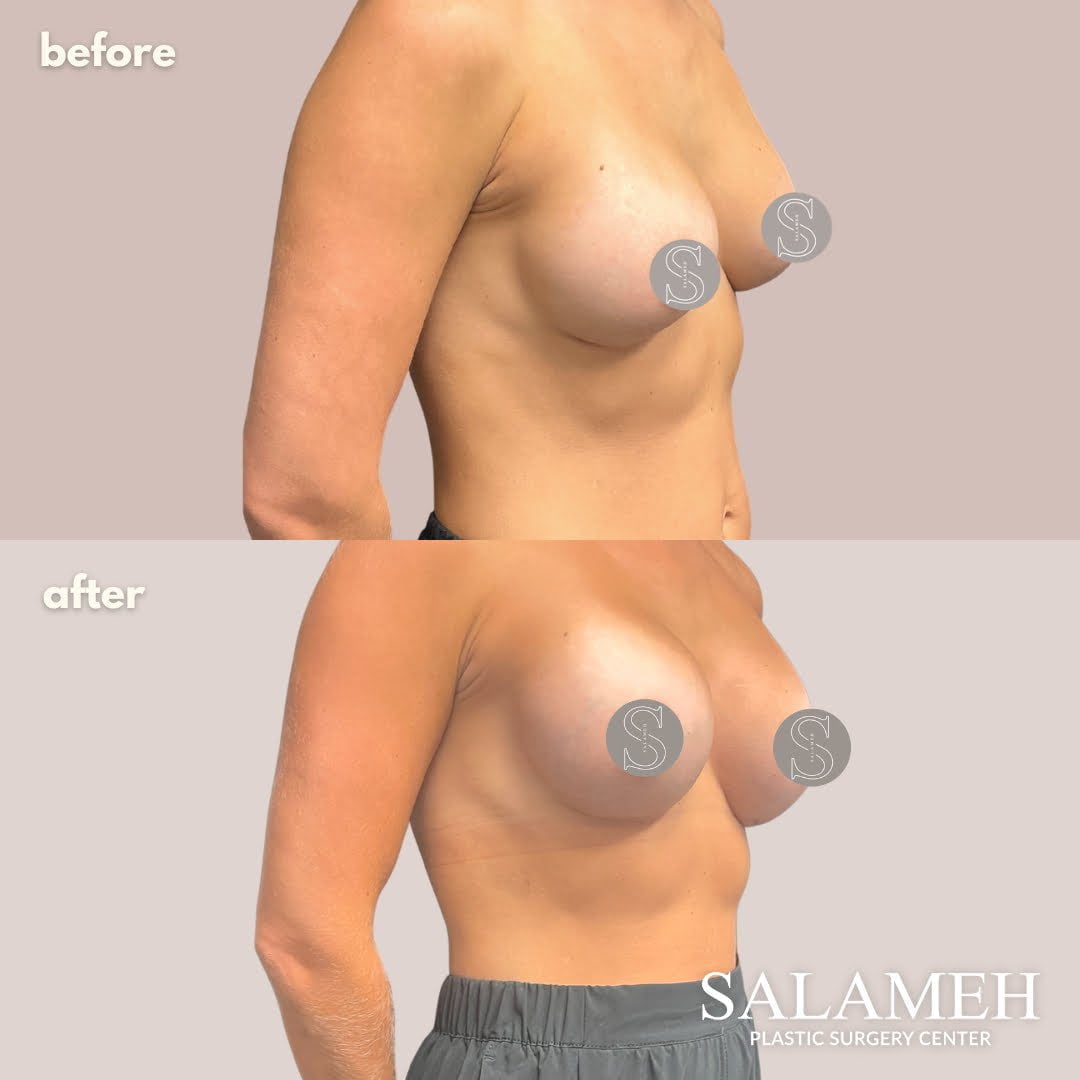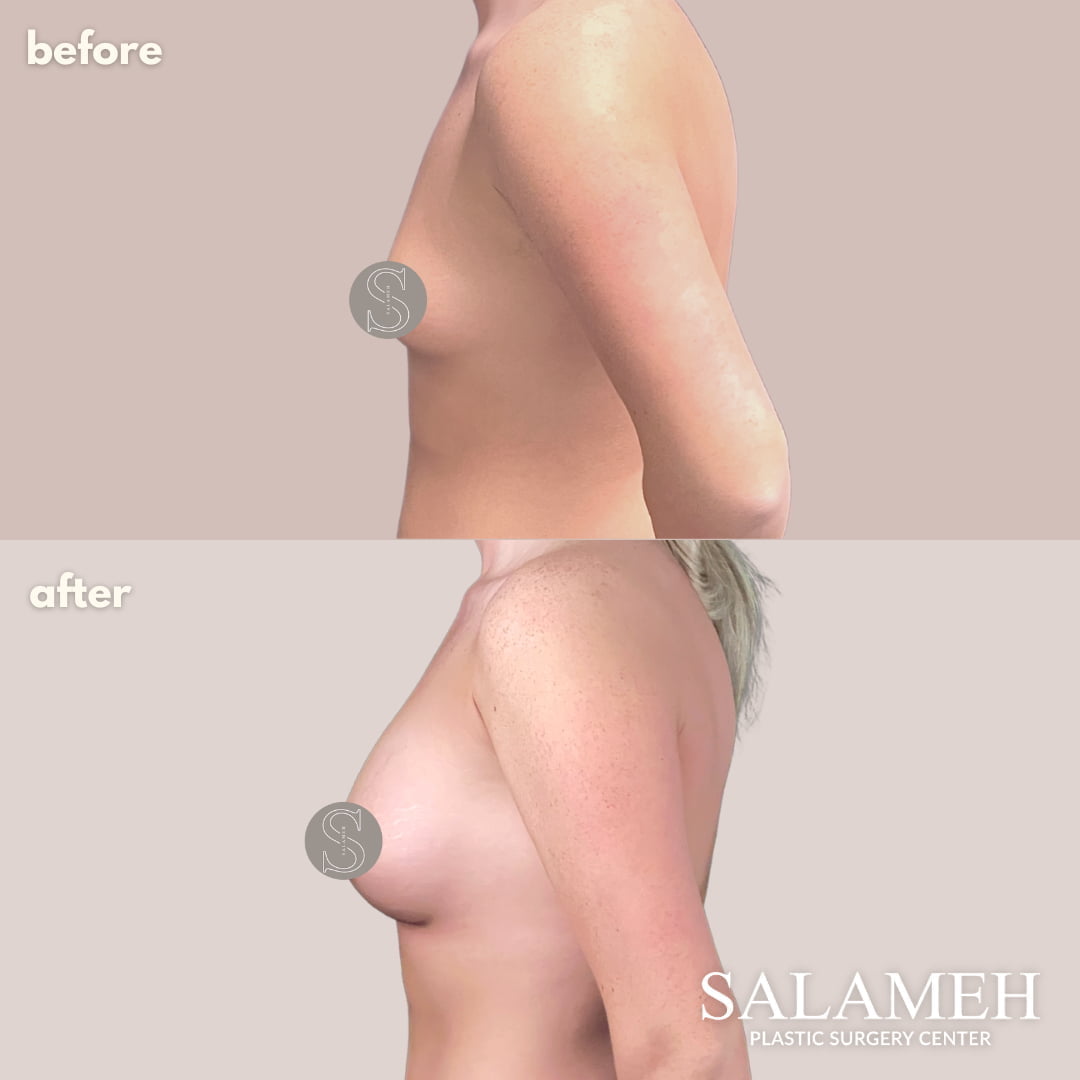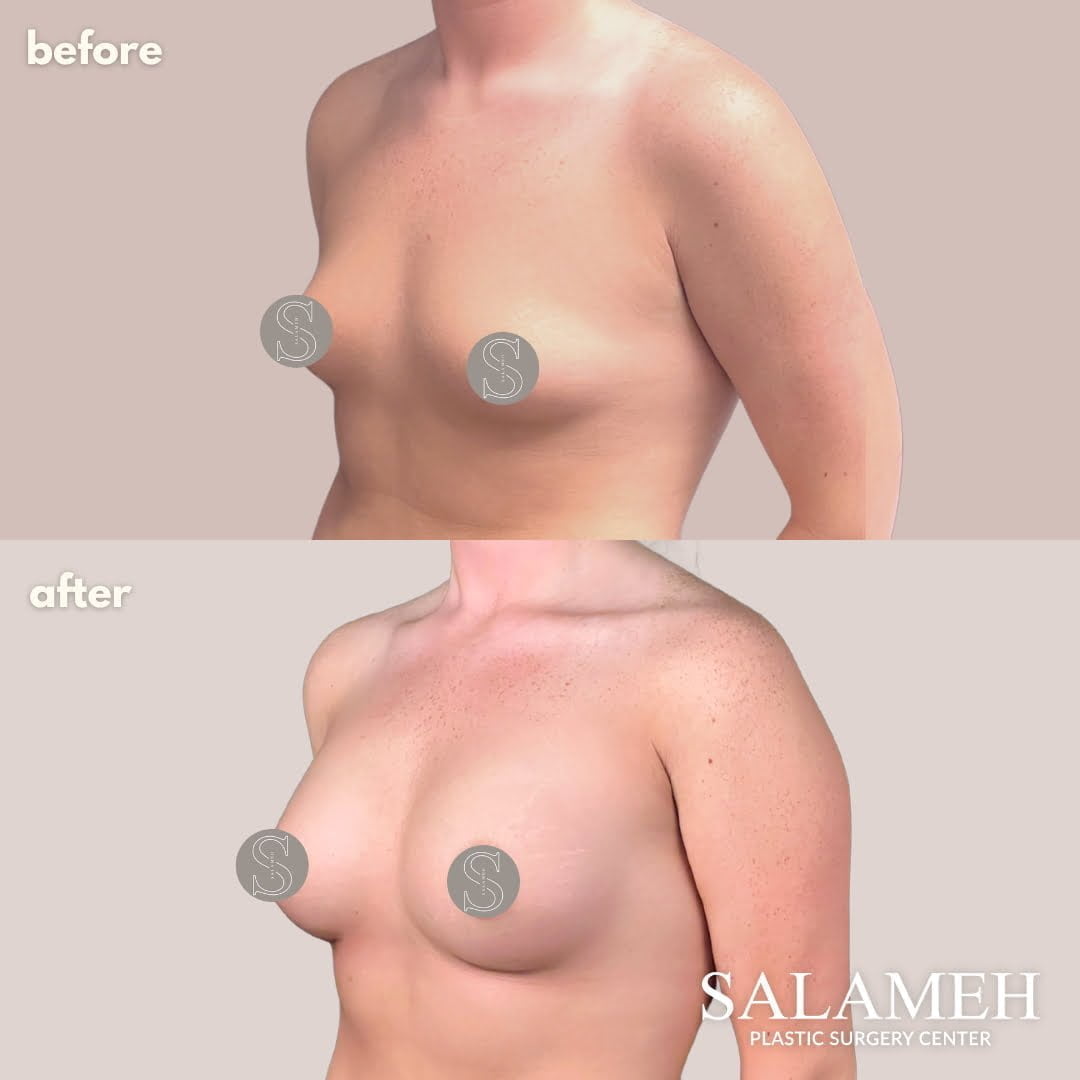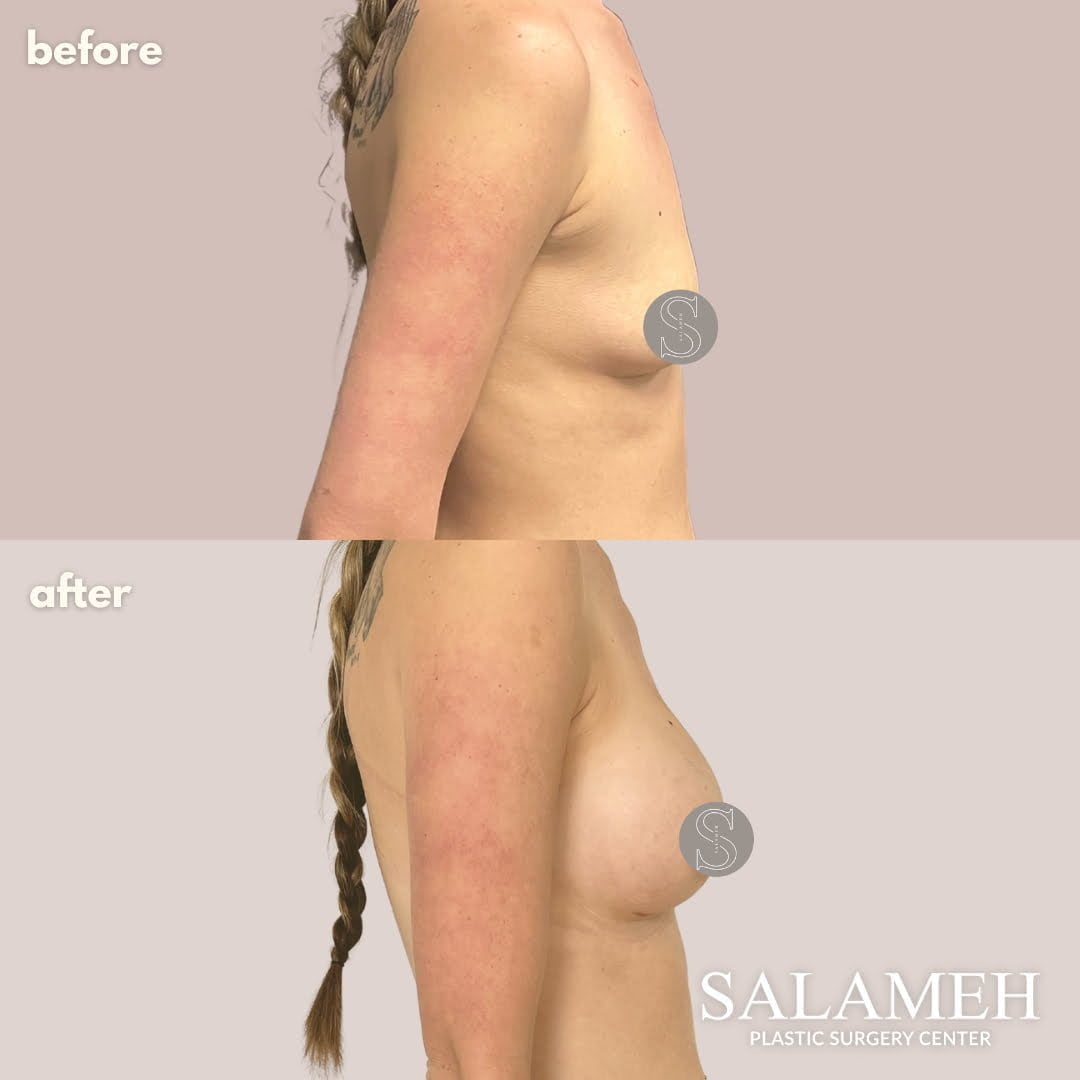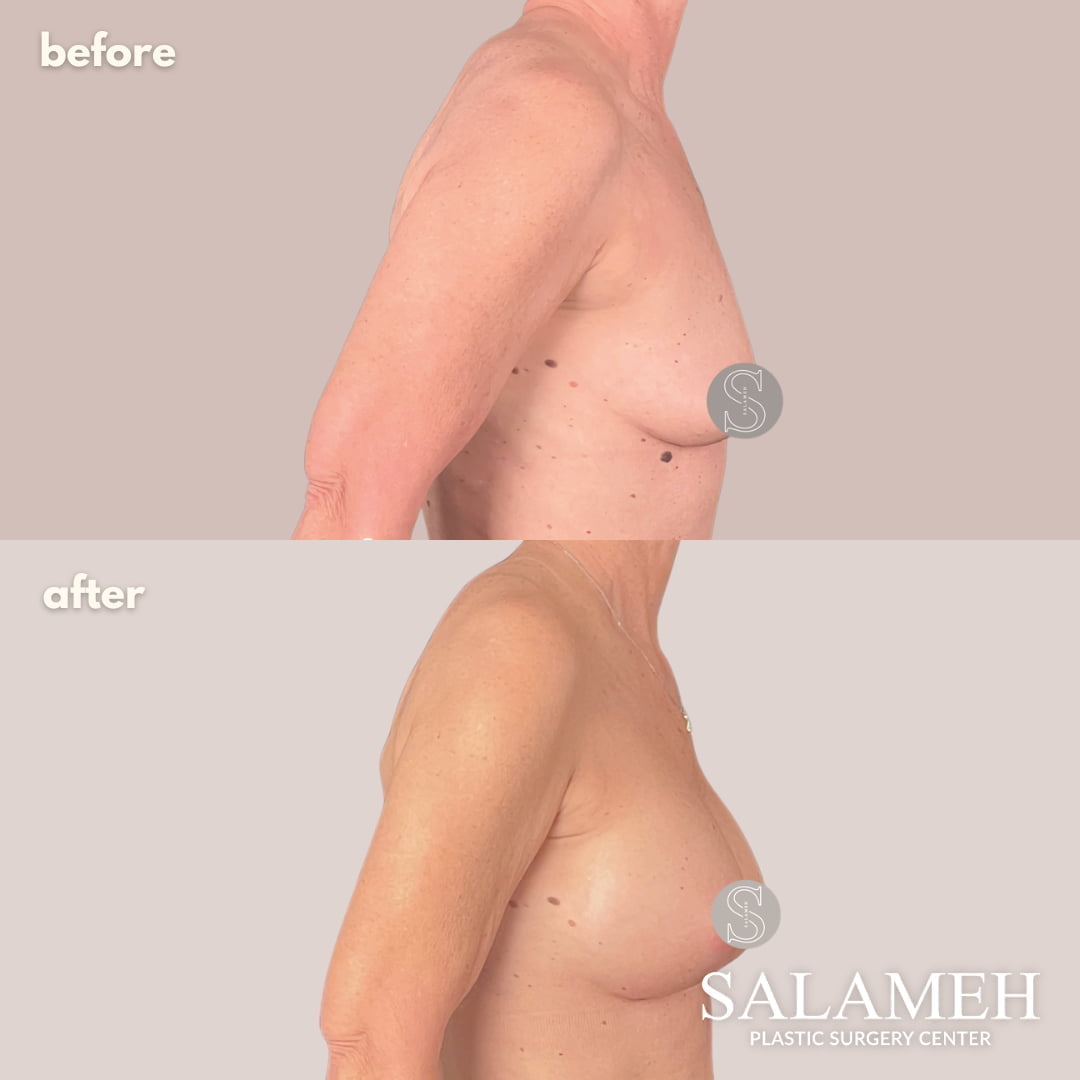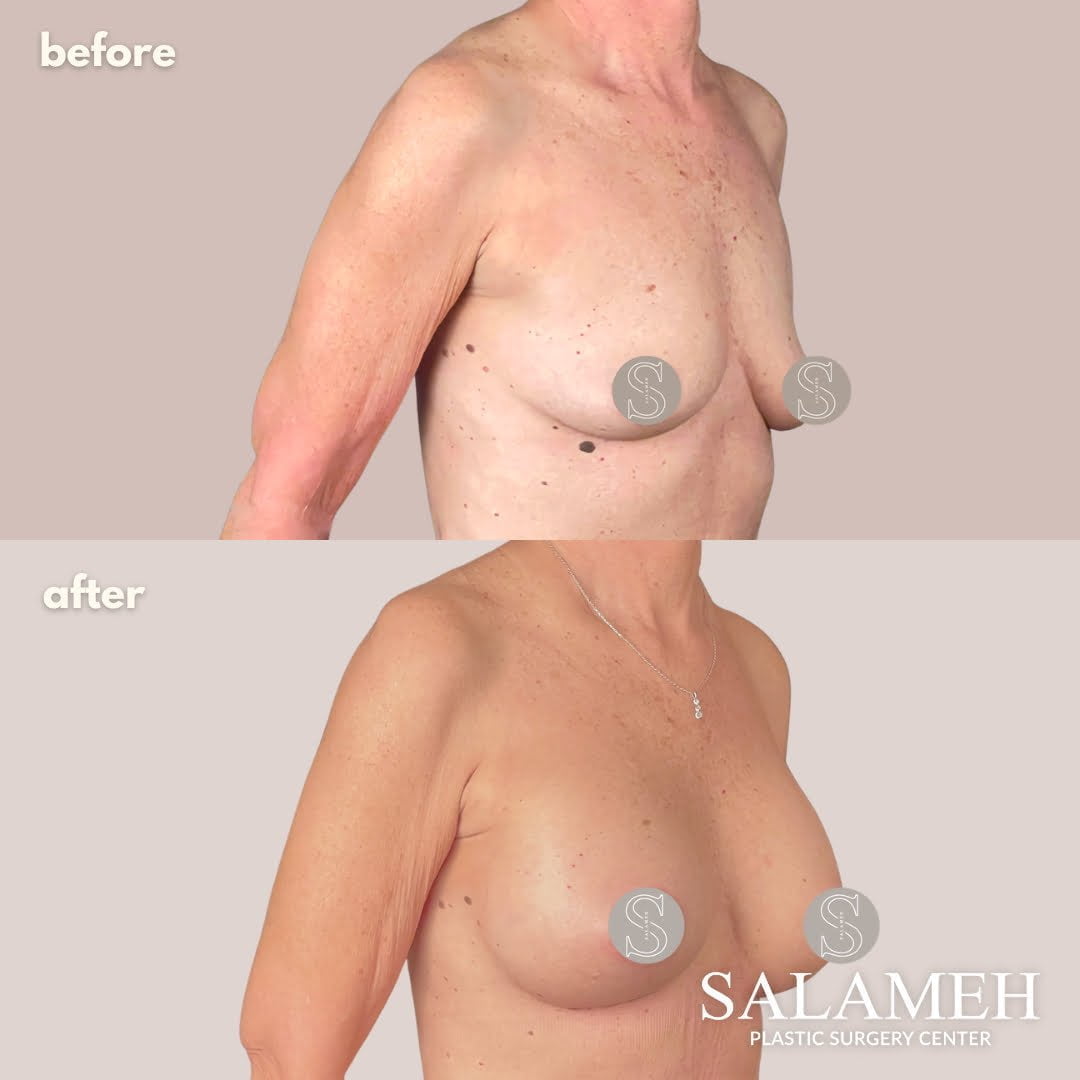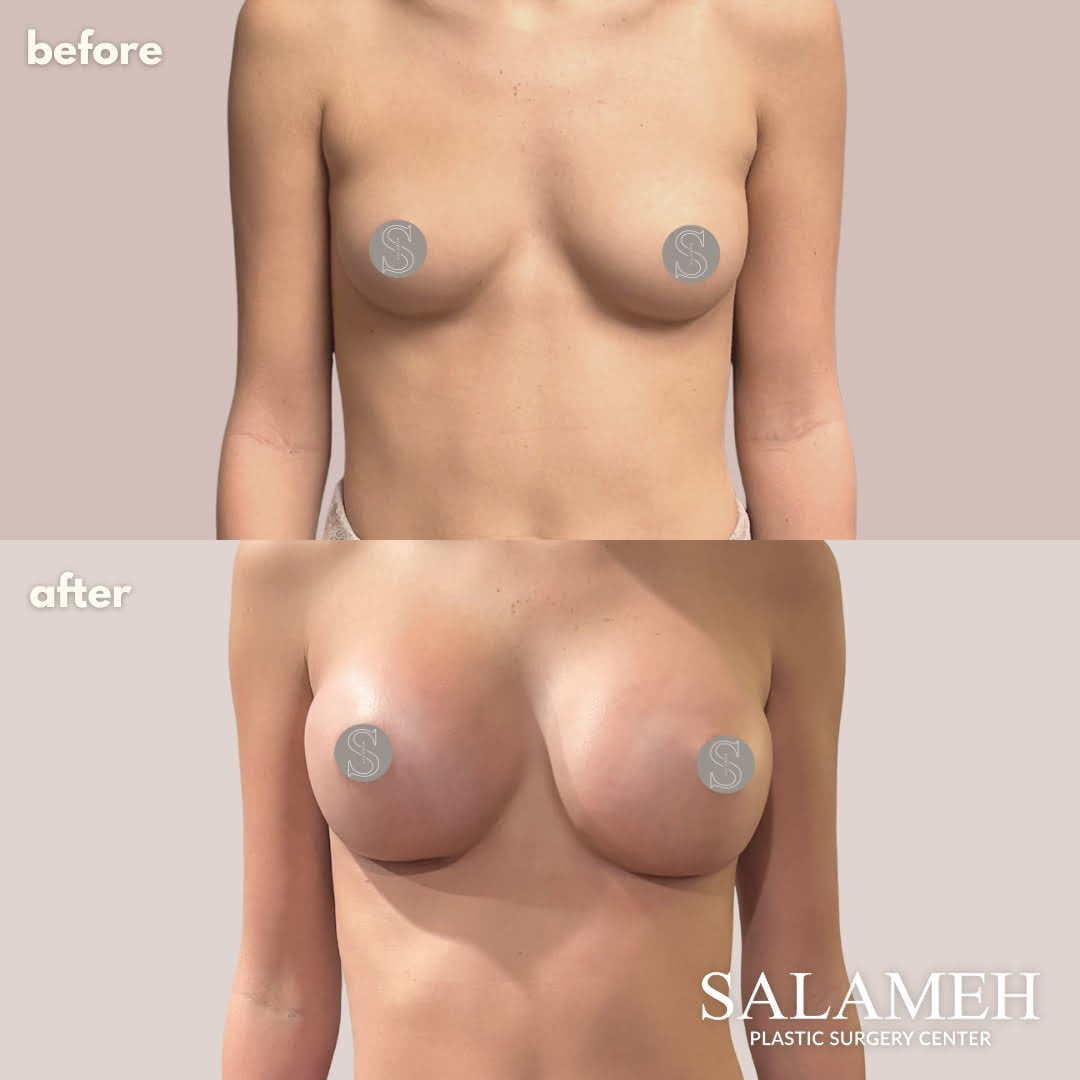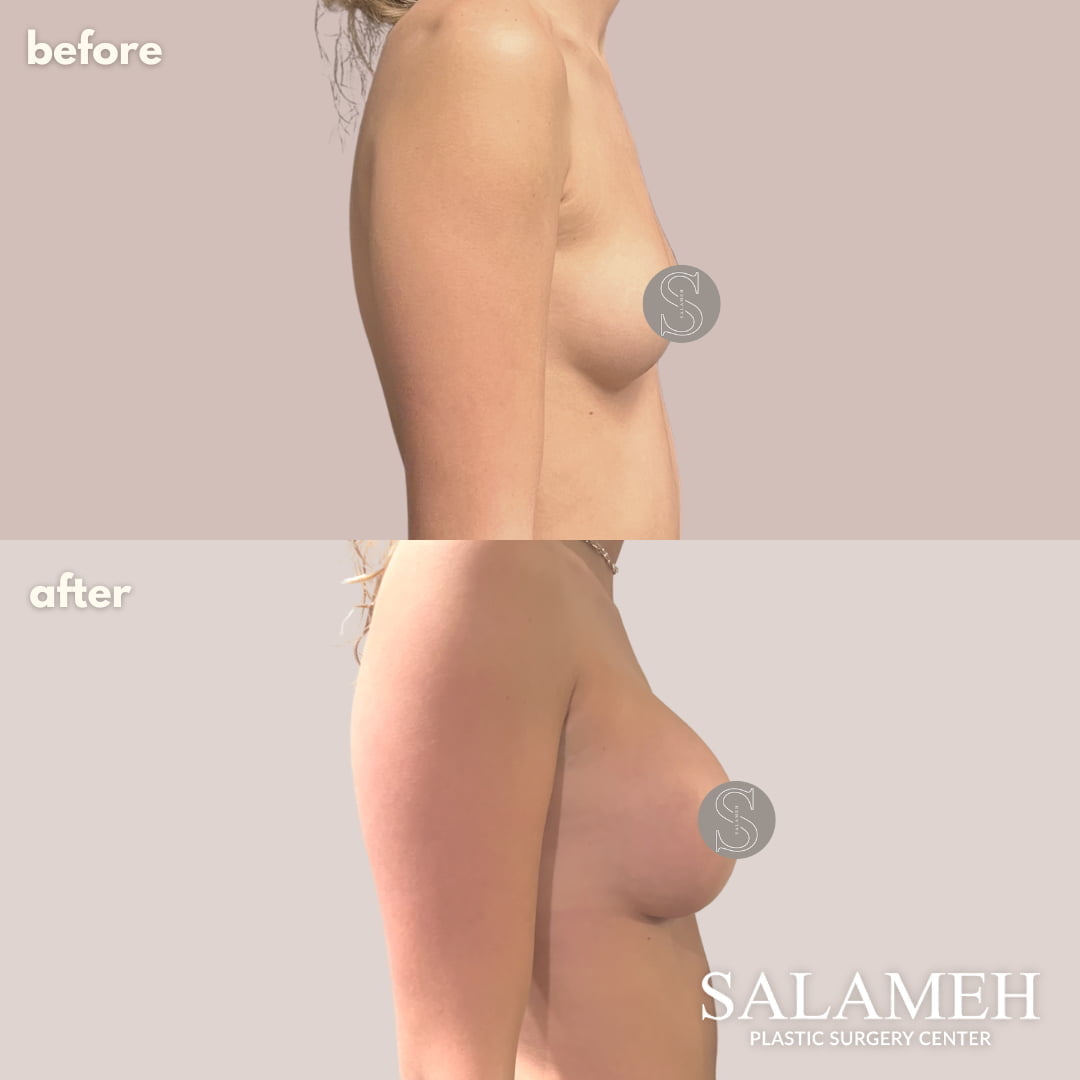 See More Before and Afters
Breast Augmentation Frequently Asked Questions
What is breast augmentation?

Breast augmentation is a cosmetic procedure where a plastic surgeon augments the appearance of the breasts by inserting silicone or saline implants under the skin or transferring fat to the breasts.

What happens in breast augmentation?

A breast augmentation procedure is often used to make smaller breasts appear larger, correct the balance of asymmetrical breasts, or restore fullness to breasts that have diminished due to age or pregnancy. The procedure takes less than an hour, and patients walk out of the office shortly after with minimal pain and faster recovery time. Breast implants can be inserted through a one-inch incision that is hidden under the breast fold for minimal visibility.

What size implants should I get?

One of our Patient Care Coordinators will help you to decide on the perfect size during your breast augmentation consultation. They will show you a variety of cup sizes and allow you to try them on to see what size you like best. As a general rule, every 150 cc is about a cup size. For example, 300 cc implants on a patient with an A cup will get her around a C cup bra size.

Do you use silicone or saline implants?

We use silicone implants about 99% of the time as they feel and look more natural than saline implants and are FDA-approved.

Are implants placed over or under the breast muscle?

We place implants over the breast muscle about 95% of the time. The advantage of this new advanced technique is less pain, faster recovery, less migration of the implant to the sides, no animation deformity (where the muscle pushes on the implant resulting in breast movements), and a more natural look.

 Is it safe to get implants?

Yes. There have been significant advances in breast implants, and the procedure is perfectly safe when performed by an expert plastic surgeon. During your breast augmentation consultation, you can discuss any concerns with our professional team of patient care coordinators.

How long does full breast augmentation recovery take?

Breast Augmentation recovery is one of the easiest recoveries for our patients. You'll have four weeks of no heavy lifting, nothing strenuous to get the heart rate going above its normal range, and no swimming. Most patients return to work within 72 hours, keeping the restrictions in mind. Final results will take several months as implants settle and the breast tissue accommodates the new implant.

Do you offer Fat Transfer Breast Augmentation?

Yes, we offer fat transfer to a variety of areas, including the breasts. However, if you desire to increase your breast size by more than one cup size, implants may help you better achieve your desired results.

How much does breast augmentation cost in Kentucky and Indiana?

Breast augmentation starts at $5,900 at Salameh Plastic Surgery Center. Actual cost depends on several factors, including personal history, BMI, and desired outcome. A customized quote will be given during your consultation with our Patient Ambassador team.
Patient Reviews
Based on 623 reviews
H. Dianna
Dr. Salameh is outstanding. I went to see dr. Salameh for a very serious breast issue  that was going to require special reconstruction. Dr. Salameh and his staff made me feel so comfortable and I'm very vulnerable position in my life. The kindness and attention to detail dr. Salameh spent researching to understanding my situation and preparing for me to have the best result possible was unbelievable. I'm so happy with my results I'm so happy with his personality and his empathy towards my situation highly recommend dr. Salameh and his staff.
L. Ryan
Prior to my breast aug surgery, I would watch Dr. Saba & Dr. Salameh's videos on Instagram all of the time. I couldn't not wait to meet Dr. Saba. I was so happy to find out that he was just as nice in person as he appeared in his videos. I had such a great experience. The entire staff had such amazing bed side manners. I felt very comfortable.
M. Jenni
I had Rhinoplasty and Breast augmentation at Salameh Plastic Surgery. I'm looking better everyday swelling and bruising wise. I've experienced ZERO pain during this whole process. That's right. ZERO PAIN (pain meds and a GREAT anesthetist, Erin).
The experiences I've had with Dr Salameh and his staff, including Botox, fillers, skin care and surgery, are so wonderful, easy and fun! They all treat me like an old friend and Dr Bernard Salameh might be the coolest, sweetest and most talented surgeon on the planet lol! I'm not kidding. He can do anything, most things can be "fixed" without surgery, but if you need surgery he does it in his office in a big beautiful operating room with the sweetest staff I've ever met. Everytime I go in, I wish I could just stay. Lol
M. Cynthia
Dr. Salameh has been a significant part of my breast cancer journey. After my double mastectomy I thought I would be "disfigured" for life but Dr Salemaeh stepped in and on January 15, 2018 he inserted the breast enhancers to stretch the skin and 18 months later I received my implants. I'm me again. During the enhancer process I used TNS recovery process (which I highly recommend) it soften the skin to allow the skin to hurt less with each visit. I'm going to get a hydra facial on May 27th to celebrate ….. take it from this survivor, you don't want anyone else on your team. He's patient, he's kind, he is a perfectionist and he explains everything very clearly and most importantly he cares. He will be your biggest cheerleader and fan. Dr Salemeh is exactly what Bowling Green needed.
What's In The Blog?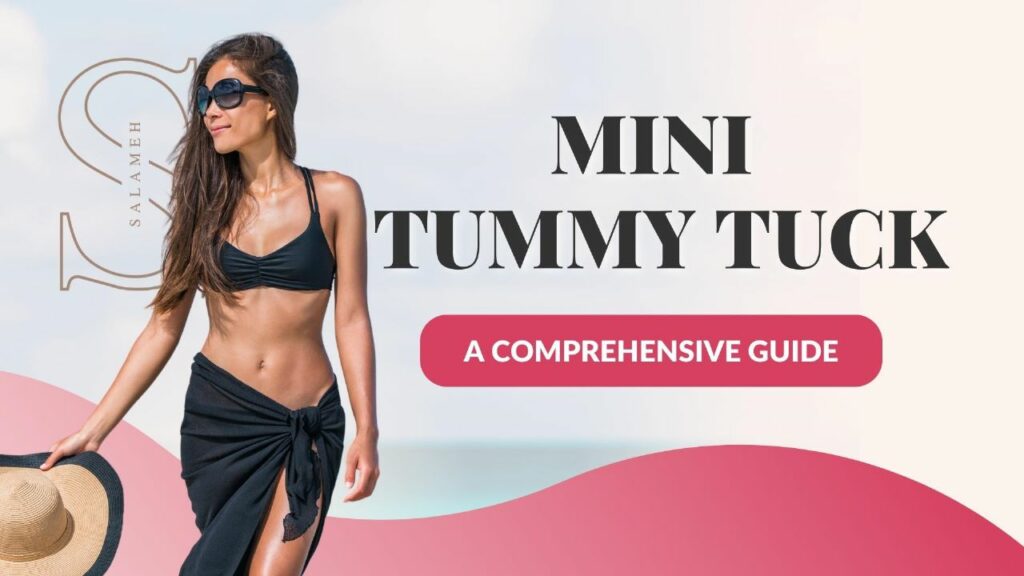 Mini Tummy Tuck: A Comprehensive Guide
A mini tummy tuck is a cosmetic surgical procedure that targets the lower abdomen. It is usually done to remove excess skin and fat, resulting in a flatter, more toned appearance. A regular tummy tuck is a more extensive procedure targeting the upper and lower abdomen. In contrast, a mini tummy tuck is a less…