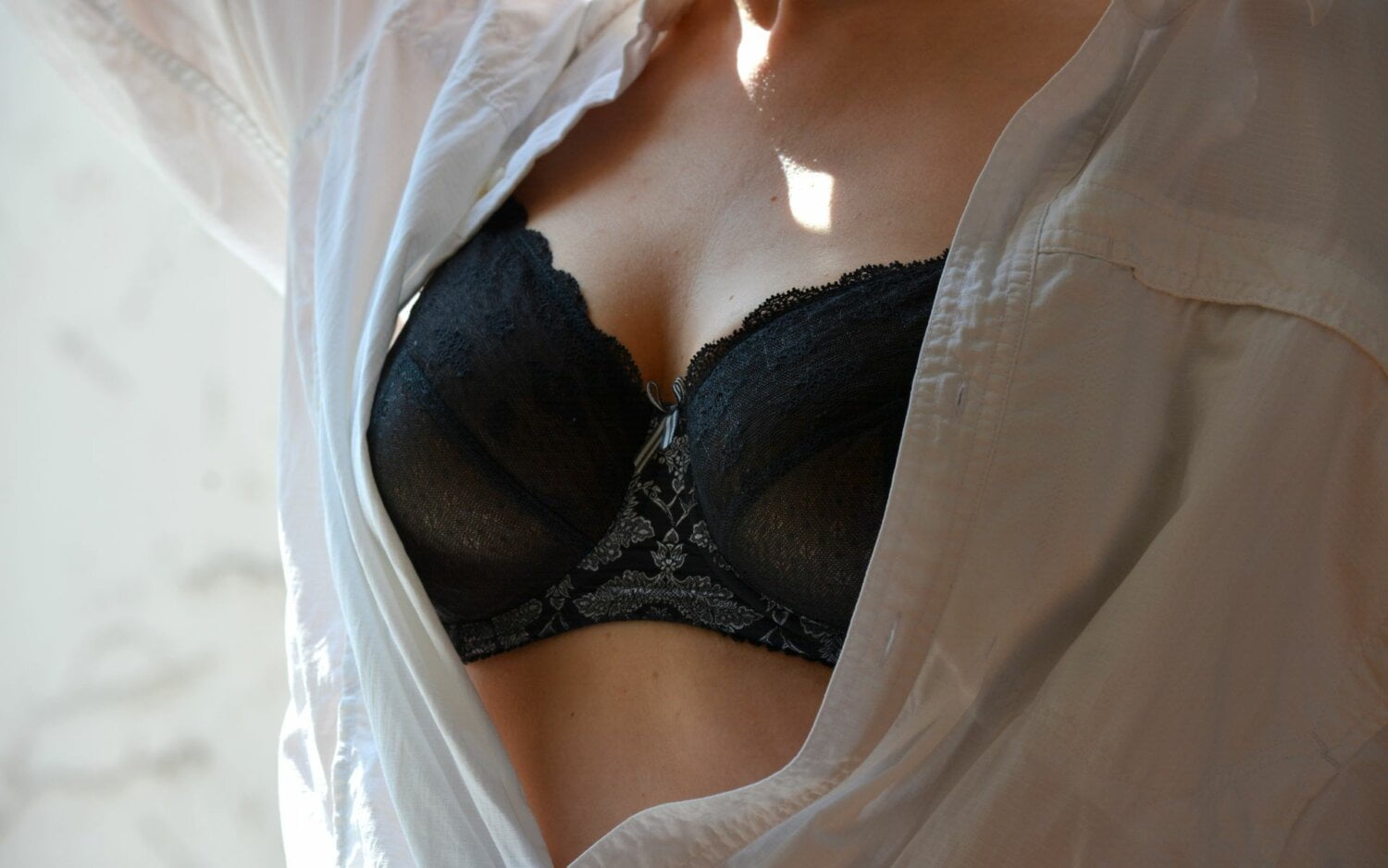 Breast Reduction in Indiana & Kentucky
A breast reduction procedure can help eliminate neck pain, back pain, shoulder grooving, and physical discomfort. Breast reduction also has a huge psychological benefit in making you feel more confident and making everyday tasks, such as choosing an outfit, easier. Genetics, weight gain, and childbearing are all factors that can contribute to enlarged breast tissue. If you are experiencing physical pain or emotional discomfort due to your breast size, a breast reduction procedure may be right for you. 
Our personalized procedures address your specific aesthetic goals based on the condition of your breasts.

Our Plastic Surgeons target and remove excess tissue, fat, and skin during the breast reduction procedure to improve the appearance of the breast and reduce strain on your back and shoulders from the weight of the breasts.

The procedure is performed in our fully accredited, in-house, AAAASF-certified surgical facility.

During this procedure, the plastic surgeon makes the size of the areola smaller and centralizes the nipple over the breast mound to make your breast look as natural as possible.
At Salameh Plastic Surgery Center, we work closely with you to plan out your personalized procedure. We analyze your current breast size, physical stature, overall look, and desired outcomes to help you select the ideal breast size and shape for you. Reclaiming your comfort, confidence, and overall well-being with the help of our world-renowned team is our top priority. 
Breast Reduction before and after
Results from Our Satisfied Patients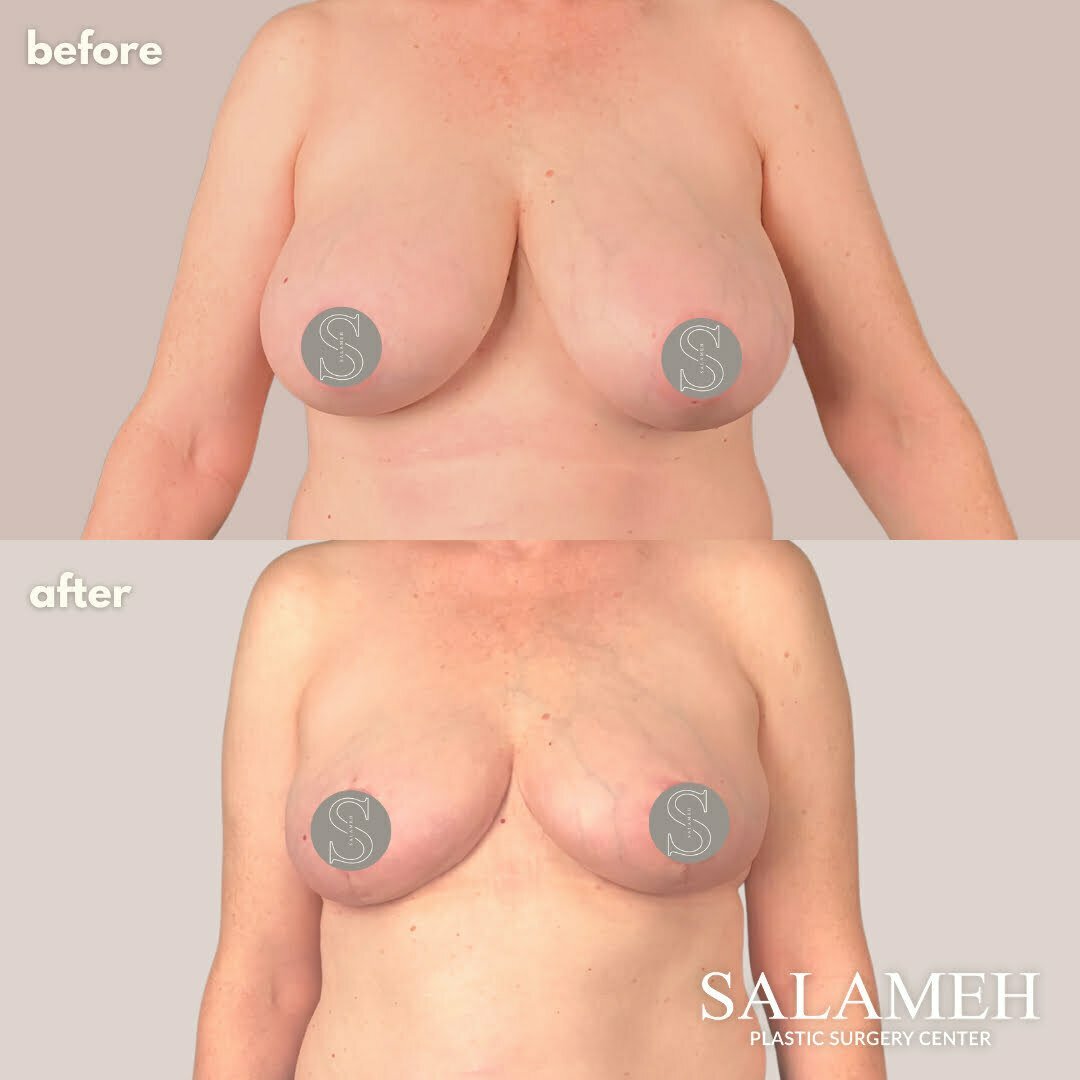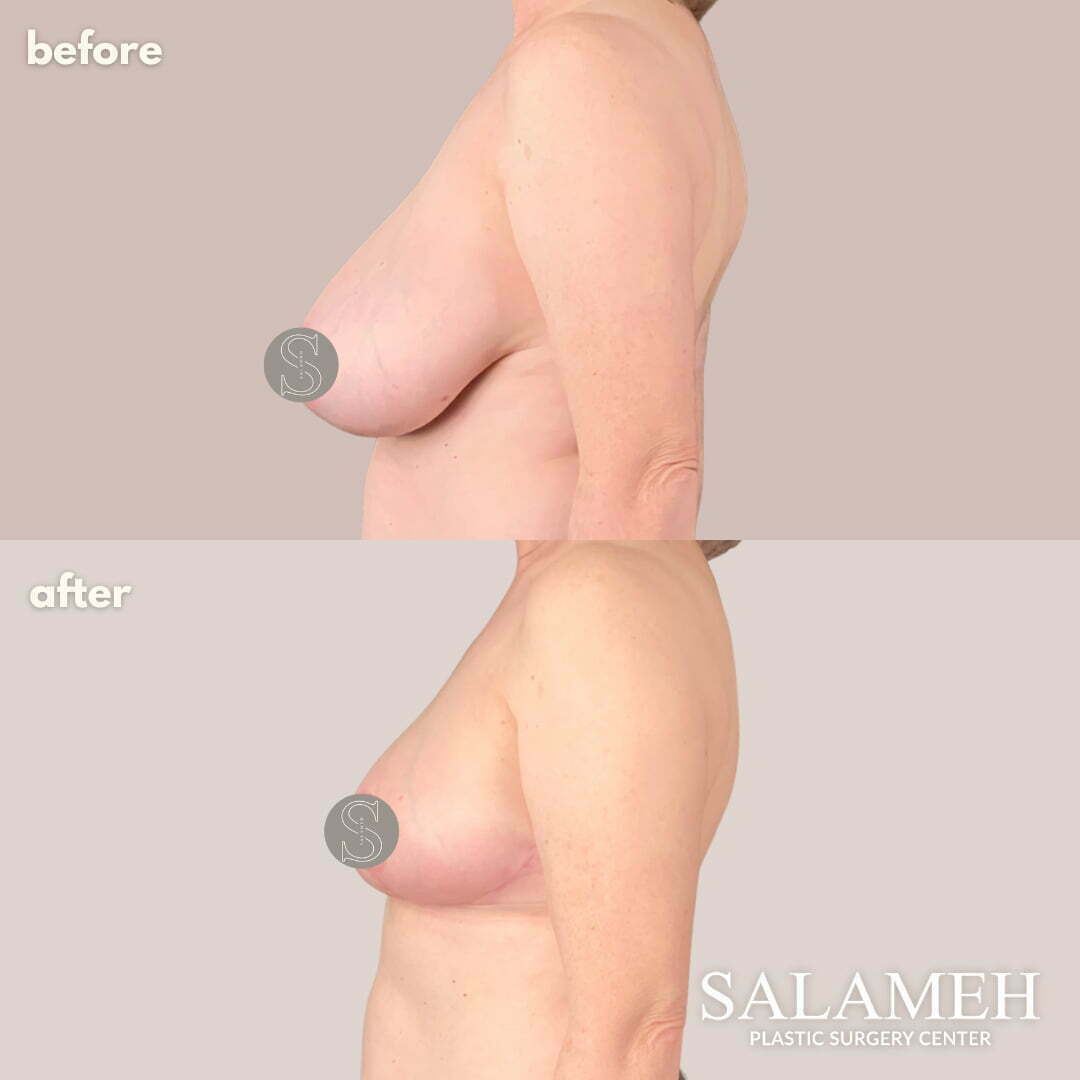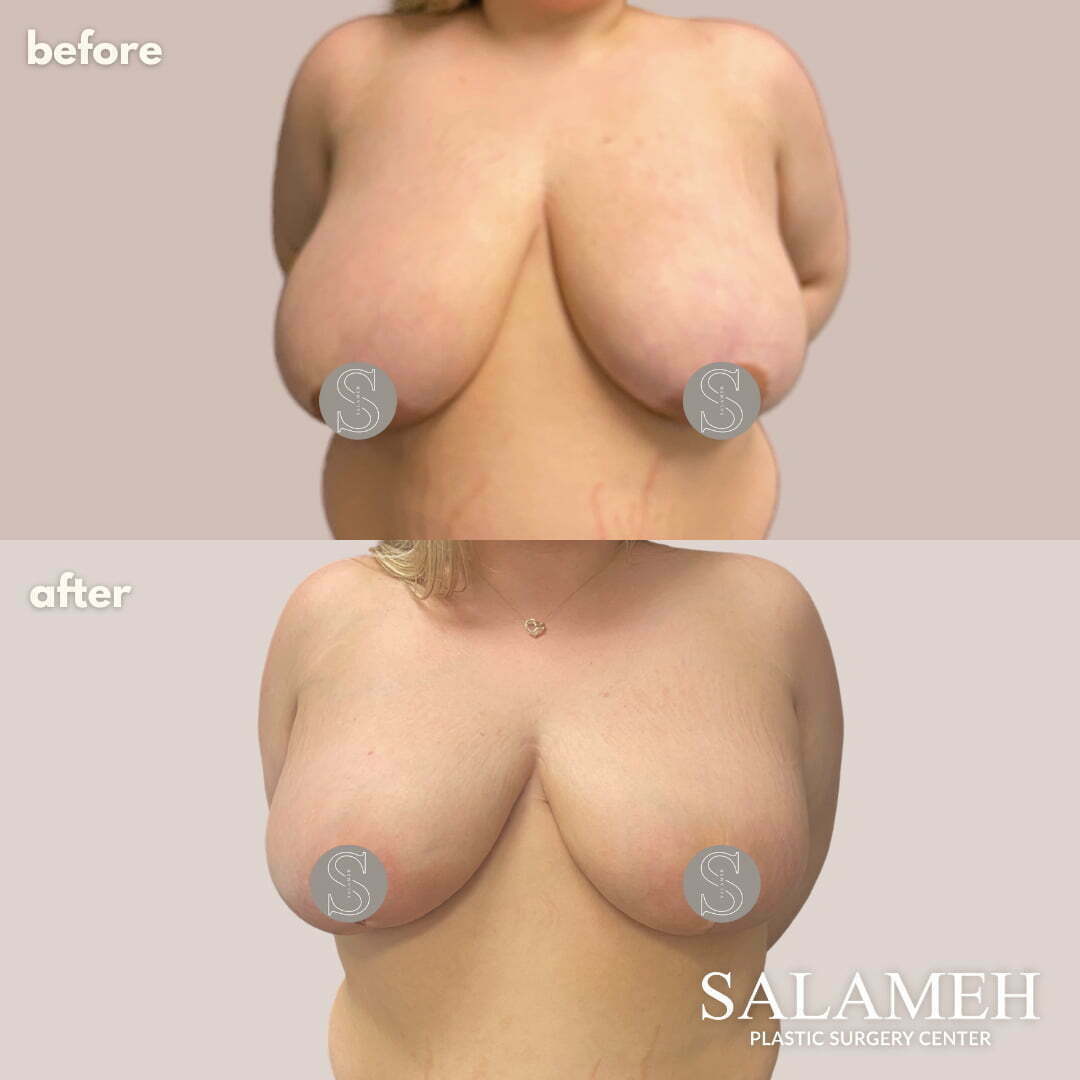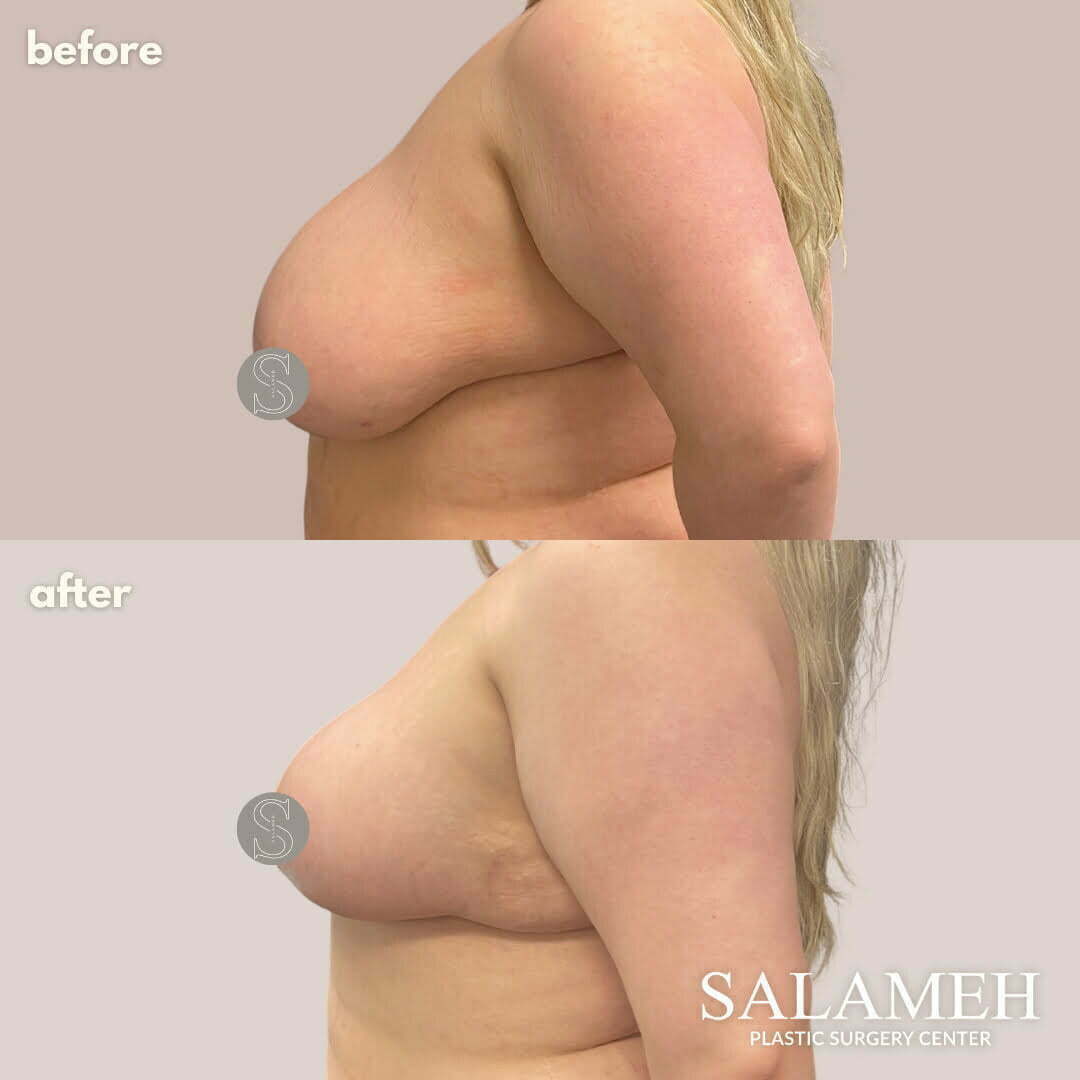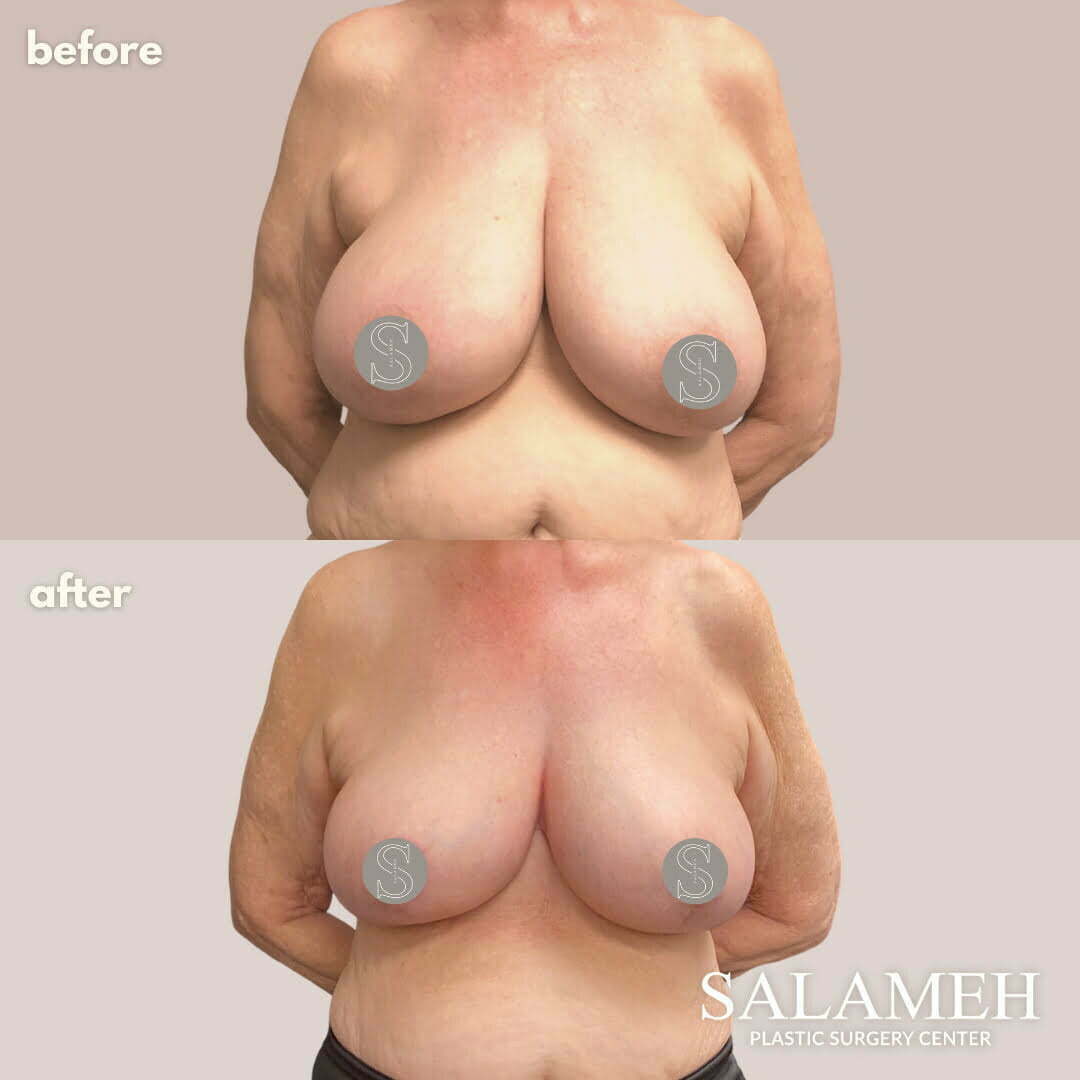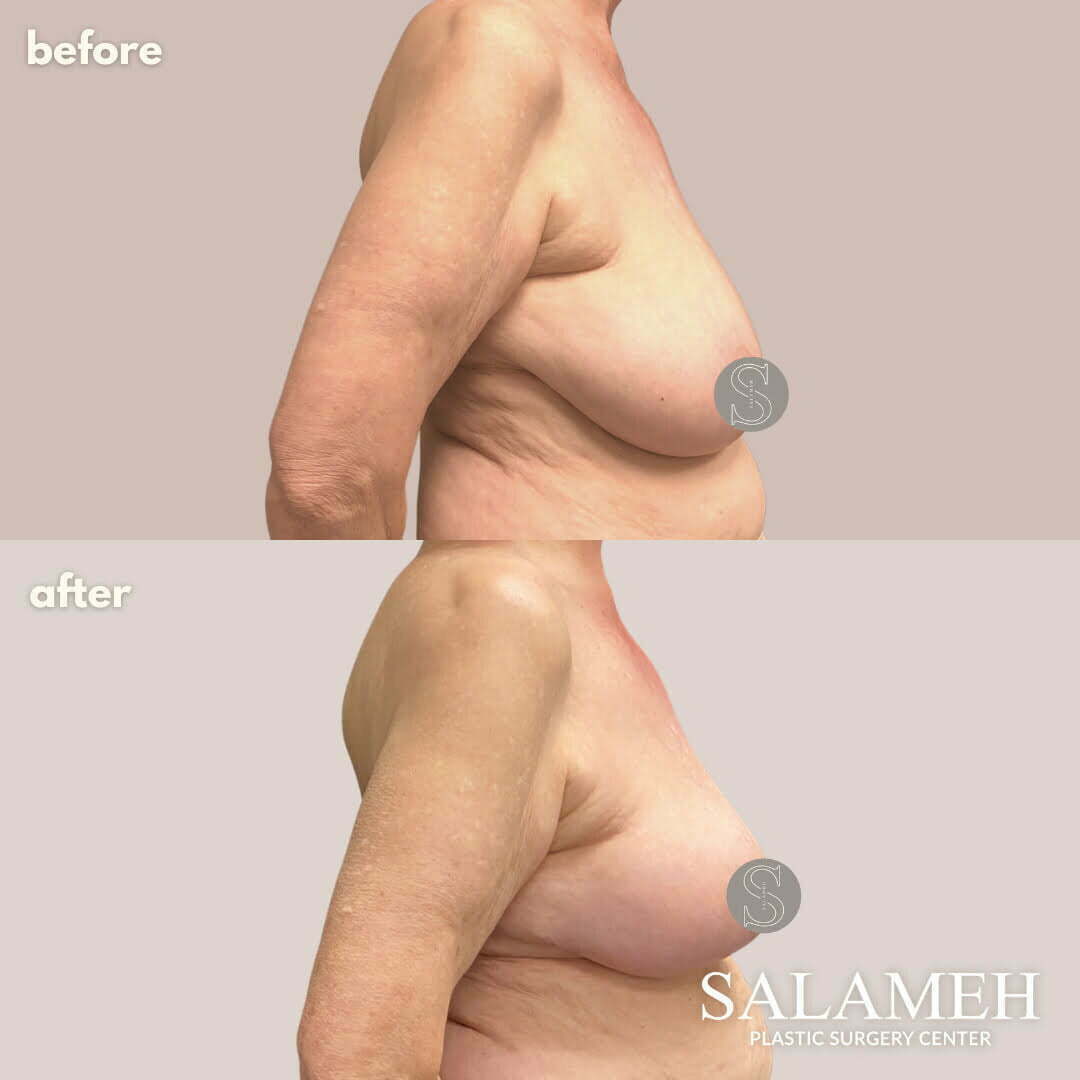 See More Before and Afters
Breast Reduction Frequently Asked Questions
What is breast reduction?

A breast reduction procedure, or reduction mammaplasty, is a specialized procedure designed to remove excess breast fat, tissue, and skin to achieve a smaller and more proportional breast size. It is an effective solution for alleviating the pain and discomfort many women suffer from enlarged breasts. Breast reduction can not only improve the size and shape of breasts, but it can also improve the overall well-being of women and boost their self-confidence.

How does a breast reduction procedure work?

During the procedure, the targeted excess glandular tissue, fat, and skin is then removed. The size and shape are tailored to your goals and preferred shape and size. Our plastic surgeons use a lollipop scar all the way around the border of the areola and then vertically down to the breast crease. The incisions are then closed using a specialized method, bringing together the tissue while reshaping the now smaller breast. This technique will help achieve a smaller, more natural-looking breast with less scarring.

Am I a candidate for breast reduction?

Anyone experiencing physical discomfort due to enlarged breasts could benefit from a breast reduction for back pain. If you are unhappy with your current breast size, you could also qualify as a candidate.

 

If you want to reduce the size of your breasts, reach out to us here at Salameh Plastic Surgery Center.

Will I have scars after a breast reduction?

Surgical scars are an inevitable part of any surgery, but our plastic surgeons use a technique to reduce the visibility of any scars by placing the incision site underneath the breast fold.

How long will it take me to recover from a breast reduction?

Most patients can resume light activities within a few days of the surgery, but it may take four to six weeks to resume heavy lifting and for your body to completely heal. It is best to take at least a week to rest completely after the procedure. You can resume wearing regular bras once the swelling goes down, which can take up to six weeks.

Do you accept insurance for breast reduction surgery?

No, we do not accept insurance as a form of payment, but we offer financing options through PatientFi and Care Credit.

How much does a breast reduction cost?

Breast reduction at Salameh Plastic Surgery Center starts at $9,900. Actual cost depends on several factors, including personal history, BMI, and desired outcome. A customized quote will be given during your consultation with our Patient Ambassador team.
Patient Reviews
Based on 623 reviews
L. Madison
I couldn't be more pleased with the work done by Dr Salameh in Bowling Green, Ky!! Not only was he extremely kind, he was very detailed and thorough when explaining the procedure I needed. He performed a breast reduction to relieve chronic back, neck, and shoulder pain. I was a G cup and now I am currently a D. After all the swelling goes down, I just be at a full C cup. My pain has subsided tremendously and almost immediately after surgery! I couldn't have asked for better results and I highly recommend him as a plastic surgeon, along with his staff who were helpful and considerate in every way! I added a few pictures, two from before the surgery. (one in regular clothes and one in a bathing suit) and then two from after, ( one in a swim suit and one in regular clothes). It was the best decision I have ever made for my self! Not only am I more confident with my body, I am able to do more physical activities so much easier!!!! Go see him and his staff if you are interested in any plastic surgery procedures!!!!
S. April
A super friendly staff and high quality plastic surgery right here in Bowling Green!
H. LaDonna
I can't say enough good things about Dr. Saba and his staff!  I was very apprehensive about having my procedure when I went in for a consultation. I was treated amazingly from the second that I walked through the door.  Dr. Saba spent as much time as I needed to assure me that I would do wonderful with the surgery that I was wanting. I had questions that I forgot to ask at my consultation, so I scheduled another appointment with Dr. Saba to ask those question. He and Gerry ( she is amazing) were more than happy to answer my questions and again they gave me the assurance that I needed to commit to my surgery. It was a GREAT success. Thank you so much for helping me feel good about myself again!!
J. Aimee
Salameh is highly recommend!  Excellent bedside manner and the ladies and staff are phenomenal!
C. Leann
I lost 150+ lbs and had lost over 2cup sizes up top. I went to Salameh after a lot of research for a consultation. This is where I started meeting the team. Dr. Saba came in and was very thorough and real about everything that needed to be done to put my chest back where I wanted it.
What's In The Blog?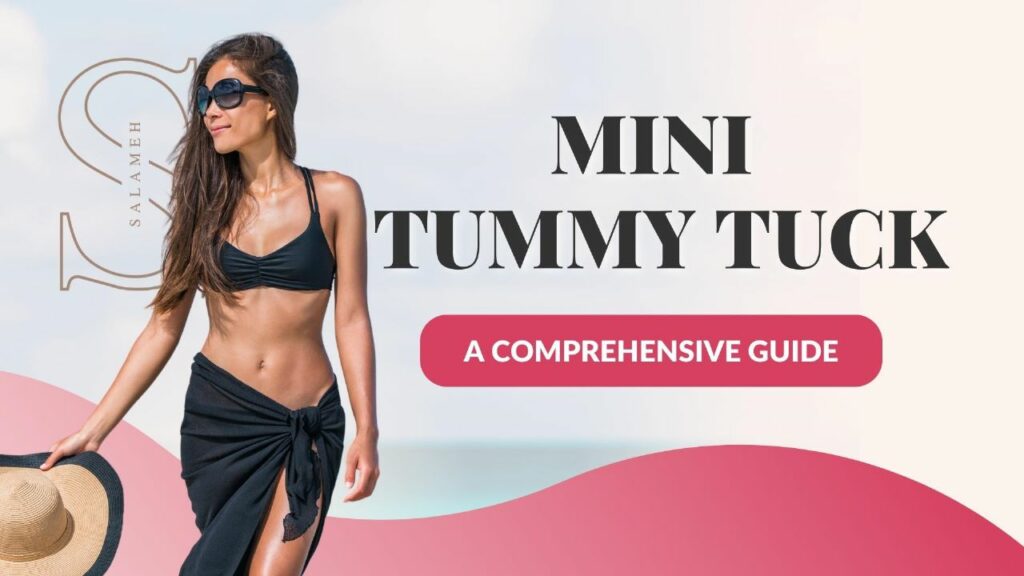 Mini Tummy Tuck: A Comprehensive Guide
A mini tummy tuck is a cosmetic surgical procedure that targets the lower abdomen. It is usually done to remove excess skin and fat, resulting in a flatter, more toned appearance. A regular tummy tuck is a more extensive procedure targeting the upper and lower abdomen. In contrast, a mini tummy tuck is a less…