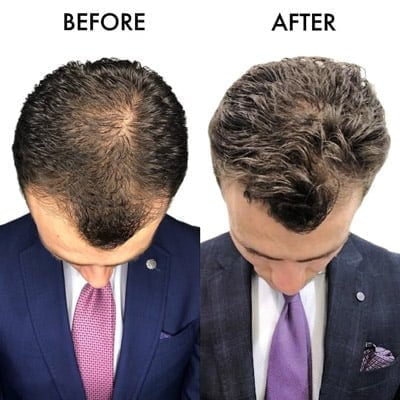 Sometimes you can end up with a transplant you aren't completely satisfied with. However, there is good news! A skilled and qualified plastic surgeon can help you explore your options if you're unhappy with a hair transplant. You have a number of options when it comes to corrective procedures, and we'll be going over a few of them today.
Micrografts
A fairly self-explanatory procedure, micrografting and minigrafting is the process of placing smaller bunches of follicles into the desired area than in traditional grafting. This isn't only a transplant procedure in itself, but can also be used to mask scarring that can occur from botched hair transplants.
PRP Hair Rejuvenation
PRP is short for platelet-rich plasma, and it can be used as a method of correcting a failed hair transplant by injecting the scalp with blood to stimulate follicle growth and letting your hair grow naturally over the affected area. While the procedure is still technically in its infancy, plastic surgeons have seen great results from it thus far, and believe it has an exciting future both on its own, and as a supplemental procedure for hair transplants.
Scalp Surgery
This can be an in-depth and time consuming process, and we only recommend it if your failed hair transplant has caused a significant level of disfiguration. This is the process of grafting a new layer of skin onto your scalp in order to cover up the affected area, and while it is a solution that should only be considered under fairly extreme circumstances it is also an effective way of correcting a mistaken operation.
This is our personal favorite method of reclaiming the hair on your head, simply due to the ease, comfort and streamlined approach to the procedure. The failed hair transplant has become a thing of the past thanks to the way in which ARTAS automates many of the procedures involved in the surgery which used to give surgeons so much trouble. If you've found yourself at your wit's end thinking of ways to correct your hair transplant, ARTAS may very well be the way to go.
Further Options
If you're still looking for ways to make sure your botched hair transplant can stop affecting your life, why not take a visit to our medical spa and take a look at all the methods we have of promoting healthy skin and hair growth? No failed hair transplant is so intense that it can't be circumvented with the right additives, some precise and non-invasive surgical maneuvers, and a bit of good old fashioned pampering. Even after your corrective hair transplant has been implemented and you find yourself looking like a new person, you might enjoy yourself so much that you'll realize you don't want to leave! Additionally, we have a meticulously formulated line of medical grade hair products you'll want to try.
To see what Salameh Hair Transplant can do for you, send us a message and tell us what you're looking to achieve with your personal looks. Whether you need to fix a failed hair transplant or want a tummy tuck that won't stop working after a few short months, this is an institution you can put your faith in. Get in touch with us now and start turning yourself into the person you've always wanted to be.