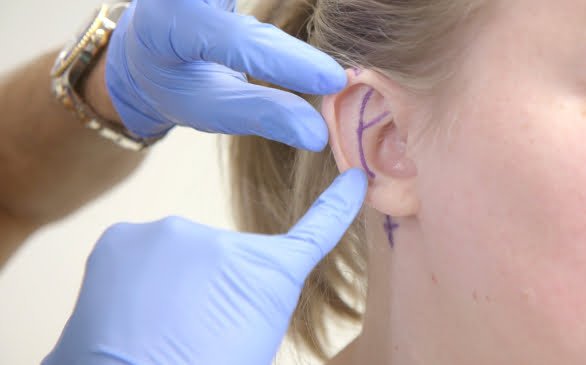 Ear Pinning or Otoplasty in Indiana & Kentucky
Otoplasty, also known as ear pinning, is a procedure that can enhance the shape, proportion, and position of the ears. If you are self-conscious about the appearance of your ears, otoplasty may be the solution you have been looking for. 
Our experienced plastic surgeons at Salameh Plastic Surgery Center have helped many patients achieve the ear shape they have always desired. With our advanced surgical techniques and state-of-the-art technology, we can provide you with natural-looking results that will boost your confidence and self-esteem.
The otoplasty procedure can correct many ear issues, including prominent ears, misshapen ears, asymmetrical ears, and stretched earlobes. During the surgery, our surgeons will make precise incisions behind the ears and reshape the cartilage and skin to create a more natural-looking ear shape. 
Our surgeons will work closely with you to understand your goals and tailor the procedure to meet your individual needs. The surgery is performed under general or local anesthesia, and recovery time is typically one to two weeks.
At Salameh Plastic Surgery Center, we understand that the decision to have otoplasty is a personal one, and we are dedicated to providing you with the highest level of care and service. Our team of experts will be with you every step of the way, from your initial consultation to your final follow-up visit. 
We believe that communication and education are key to ensuring a successful outcome, and we will ensure you are fully informed about the procedure, the expected results, and the recovery process. Trust us to help you achieve the look you have always wanted.
Ear Pinning or Otoplasty Frequently Asked Questions
Ear pinning, also known as otoplasty, is a surgical procedure that is performed to correct the shape or position of the ears.

What happens during an otoplasty procedure?

Otoplasty is typically performed under general anesthesia or local anesthesia with sedation. The surgeon will make an incision behind the ear, and then reshape or reposition the cartilage and/or skin to create a more natural-looking ear shape.

Who is a good candidate for ear-pinning?

A good candidate for otoplasty is typically someone who is dissatisfied with the shape or position of their ears and wants to improve their appearance. Otoplasty is typically recommended for those who have prominent ears or ears that are misshapen. It can also be used to correct issues such as earlobe deformities or stretched earlobes from wearing heavy earrings. It is also commonly used for people with ears that stick out too far from the head, ears that are asymmetrical, or ears with abnormal shape or size.

How long does otoplasty recovery take?

Otoplasty recovery time varies depending on the extent of the surgery and the individual's healing process. Most patients can return to normal activities within 7-10 days, but it may take several weeks for the ears to heal fully.

What does otoplasty cost in Kentucky & Indiana?

Ear pinning surgery cost starts at $8,900. Actual cost depends on several factors, including personal history, BMI, and desired outcome. A customized quote will be given during your consultation with our Patient Ambassador team.
Patient Reviews
Based on 623 reviews
M. Paulina
Probably the best experience with Doctor, Nurses and Anesthesiologist I ever had! Amazing and nice people! I was asking a lot of questions and they were able to answer every single one. I'm so happy I had my surgery there.
H. Kathleen
The entire office staff and doctors are so great to work with…. great bed side manner and so knowledgeable.   Very professional. They toolk the time to understand what my goal was and then do what they can to achieve it.   The anesthesiologist. Dave, really did wonders.   I came out of surgery with no pain,  no brain fog,  and no nausea.
L. Dominique
Dr. Saba and his staff were so kind, supportive and caring. I couldn't have asked for a better surgical team. I was nervous going in, but every single person I encountered made me feel like I was in great hands. I am 1 day post op and my results are better than I imagined.
Thank you, Dr. Saba and team!
B. Lindsay
Dr. Salameh and his team did a wonderful job on my ear pinning surgery. I am so pleased with the way they turned out. I couldn't of picked a better surgeon.
T. Jaye
Everyone at Salameh is beyond wonderful and so eager to help. Dr Saba is an absolute artist, and has the best bedside manner. Tayler is the sweetest person ever. I can't imagine having gone anywhere else for my surgery (and I traveled 600 miles to get here!)
What's In The Blog?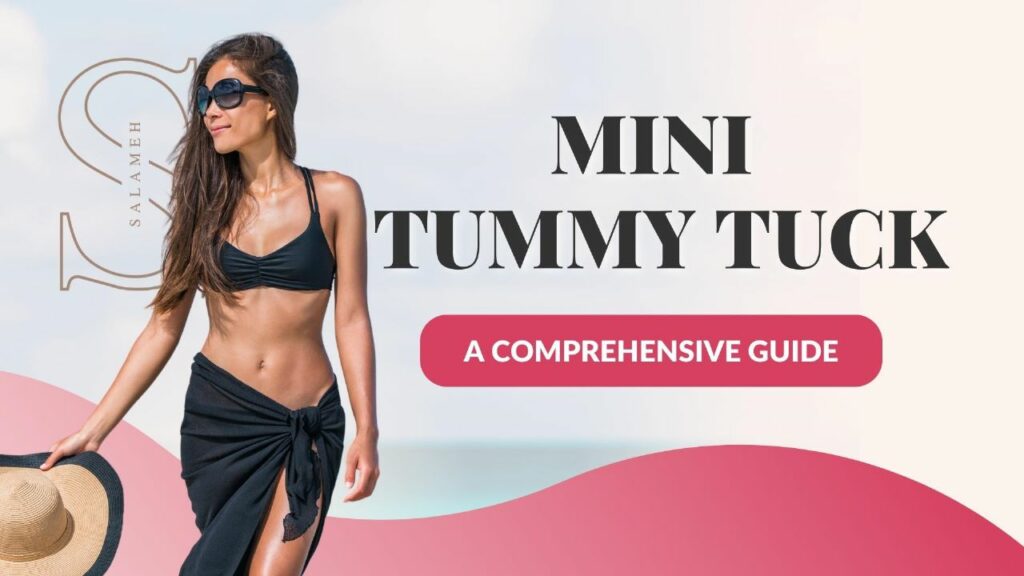 Mini Tummy Tuck: A Comprehensive Guide
A mini tummy tuck is a cosmetic surgical procedure that targets the lower abdomen. It is usually done to remove excess skin and fat, resulting in a flatter, more toned appearance. A regular tummy tuck is a more extensive procedure targeting the upper and lower abdomen. In contrast, a mini tummy tuck is a less…