Facelift Frequently Asked Questions
A facelift is a cosmetic surgical procedure designed to tighten the skin around a patient's neck and jaw, reduce the appearance of wrinkles, and remove excess fat in the face. This gives the face a more rejuvenated, youthful appearance.

What happens during a facelift?

All facelifts have the same general steps. Most incisions are made in front of and behind the ear, placed where it will fall into the natural crease of the skin. On occasion, the incision will extend into the scalp. 


During the actual facelift, the doctor will work with the deeper layers of the face. Usually, the surgeon will separate the skin from the muscle, lift and/or trim what is needed, then re-drape the skin and suture it back in place.

What is facelift recovery like?

The typical recovery period is 7 weeks; most surgeons will recommend a facelift to be done a minimum of 3 months before any major event. Medication will be prescribed for recovery, as mild discomfort and moderate swelling of the eyelids and other facial areas may occur. After two weeks, the swelling will subside enough to allow some social activity.

How long do facelift results last?

Something to remember with a facelift is that no matter how skilled your surgeon is, nature and gravity will eventually take it's effects again. Secondary facelift surgeries are not uncommon, as the skin will sag again, and the areas not targeted by the initial facelift may look laxer than the others.

How much does a facelift cost in Kentucky & Indiana?

Facelifts start at $14,900 at Salameh Plastic Surgery Center. Actual cost depends on several factors, including personal history, BMI, and desired outcome. A customized quote will be given during your consultation with our Patient Ambassador team.
Patient Reviews
Based on 623 reviews
M. Cynthia
Beautiful state of the art facility with a wide range of services and friendly staff.
S. Stacy
Great experience!  I can't say enough positive things about Dr. Saba and his team.  Dr. Saba takes the time to listen, and he will give honest, realistic feedback about your expectations.  He is probably one of the most compassionate and caring Doctors that I've ever met. I love my results, and I would highly recommend Salameh Plastic Surgery
T. Jaye
Everyone at Salameh is beyond wonderful and so eager to help. Dr Saba is an absolute artist, and has the best bedside manner. Tayler is the sweetest person ever. I can't imagine having gone anywhere else for my surgery (and I traveled 600 miles to get here!)
W. Rachel
I had very positive interactions with both Dr. Salameh and his staff. He was very thorough during my consultation and took time to answer any questions I had regarding my upcoming procedure. During my rhinoplasty, his team members contacted my emergency contact multiple times with updates on how the surgery was going, which was very reassuring (we all know how moms can be!). Following the procedure, Dr. Salameh and his staff went out of their way to ensure I was comfortable and had a complete recovery. Bowling Green is very lucky to have such a talented surgeon in the area.
H. Kathleen
The entire office staff and doctors are so great to work with…. great bed side manner and so knowledgeable.   Very professional. They toolk the time to understand what my goal was and then do what they can to achieve it.   The anesthesiologist. Dave, really did wonders.   I came out of surgery with no pain,  no brain fog,  and no nausea.
B. Shelly
Dr Salameh and his staff are the greatest!  They are very polite and understanding!  They exceptional knowledge in what is best for you in whatever procedure you are having.  Kara is always very thoughtful and willing to listen.
What's In The Blog?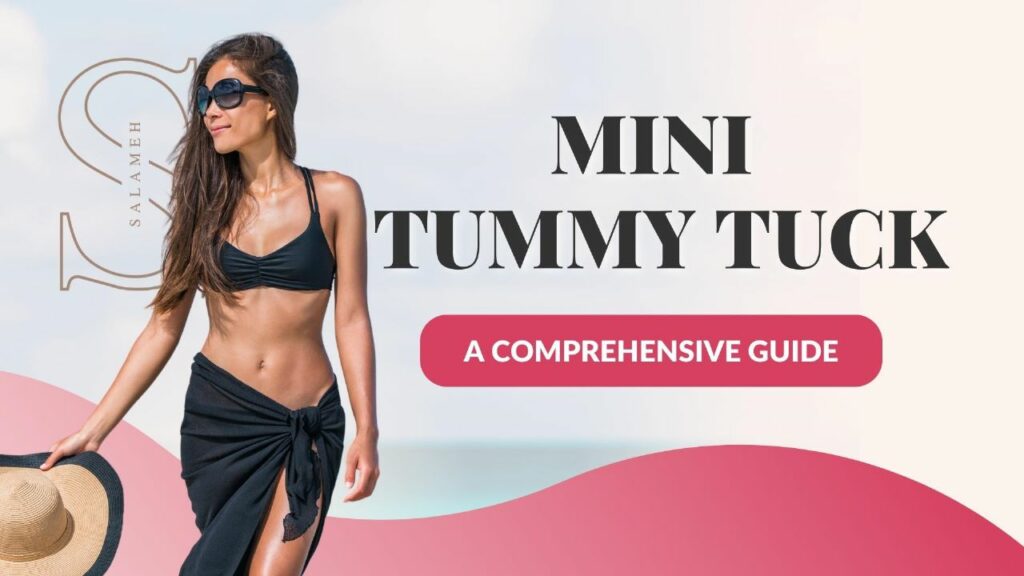 Mini Tummy Tuck: A Comprehensive Guide
A mini tummy tuck is a cosmetic surgical procedure that targets the lower abdomen. It is usually done to remove excess skin and fat, resulting in a flatter, more toned appearance. A regular tummy tuck is a more extensive procedure targeting the upper and lower abdomen. In contrast, a mini tummy tuck is a less…