You only have one body, so every part of it should be treated with the highest level of care. Your hair is just as important as any other body part, which is why Dr. Salameh never uses anything but the best hair restoration technology. The ARTAS system has proven time and again to be the best hair transplant technology available today. Here are a few of the reasons why it is the only type of hair restoration machine that Dr. Salameh will use.
1. Relative Ease of Use
New or cutting-edge medical technology has a reputation for a lengthy and complex learning curve, but not ARTAS. This robotic follicular unit excision (FUE) hair transplant system is not only among the best hair restoration options for results, but qualified plastic surgeons are able to utilize the system with ease. This, in turn, means that your surgeon can better apply his skills toward focusing on you as an individual and guiding the robot to a flawless procedure.
2. Comfort for the Patient
At Salameh Plastic Surgery and Hair Transplant, our top priorities are not only that you leave our grounds 100% satisfied with your procedure, but also for your procedure to be as painless and comfortable as possible. Our emphasis on patient comfort is just one of the many reasons our patients swear by our techniques, and why Dr. Salameh considers ARTAS the best hair restoration option for his clinic. ARTAS provides a fast and relatively comfortable mode of receiving a hair transplant that outdated options are unable to match.
3. Quality of Results
Of course, ARTAS's ease of use and its comfort for patients would mean very little if the results themselves were not remarkable. The incredible results pictured in our before and after photo gallery demonstrate why this system is one of the best hair restoration options available. ARTAS works faster than traditional means, is more comfortable than other kinds of hair transplants, and provides naturally fuller results for individuals of all hair types. Is it any wonder this robotic FUE hair transplant device is Dr. Salameh's first—and only—choice?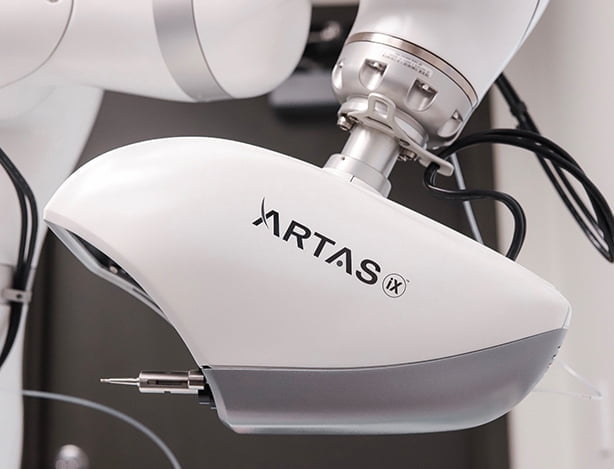 4. It Works Well with Other Restoration Techniques
One of the reasons ARTAS is the best hair restoration technology in the world today is that it allows for a complementary blend of rejuvenation techniques. The robotic FUE hair transplant machine can be easily used in conjunction with cutting-edge therapies like PRP restoration. It's also compatible with a wide variety of highly effective medical-grade hair products. ARTAS complements other hair enhancement strategies well, allowing you to target your hair goals through a variety of approaches.
5. It's Always Improving
Like many types of the best modern technology, ARTAS is always on the cutting edge because it allows for improvements and modifications to be made by the plastic surgeon. A person who wants a great hair transplant is no longer confined to outdated and limited methods. Now, the best hair restoration technique is one that is always adapting to the needs of individual patients and surgeons alike. The creators of ARTAS are constantly looking for new ways to push it forward, and we cannot wait to see where it goes.
Get the Hair You Deserve at Salameh Plastic Surgery and Hair Transplant
As you can probably tell by now, Dr. Salameh and the rest of us at Salameh Plastic Surgery and Hair Transplant are avid proponents of the ARTAS hair transplant system. Obviously, there are many good reasons we consider it to be the best hair restoration technology in the world today. But the best way to see what puts this robotic FUE hair transplant technology ahead of the rest is to try it for yourself! Your needs will always come first when you put your beauty in the hands of our intimately-sized staff of experts. At Salameh Plastic Surgery and Hair Transplant, we go to every length possible to ensure you will not leave our offices feeling anything less than totally satisfied with your results.
To give your hair a new luster and robust body, get in touch with us now to inquire about our rates and availability. Our facility is located in gorgeous Bowling Green, Kentucky, where we take great pleasure in treating our patients with the best hair restoration technology available. If other treatments have not lived up to your standards, drop the idea of second-best hair restoration. Receive the best treatment available with Salameh Plastic Surgery and Hair Transplant today.